By Peter Bailey  Photography by Nikki Wesley
The new market in Square One offers great eats in a hip atmosphere.
Shoppers who head to the Square One Shopping Centre in Mississauga this holiday season are in for a culinary treat as they seek a place to rest their weary feet and enjoy a drink or a snack that's out of the ordinary. The Food District, which opened in April, now has its full complement of artisanal merchants offering such things as fresh fish, sheep's cheese, pizza, Niagara wines, Hungarian doughnuts and Mexican street food. One of only a few in Canada, this is not your average food court. Here, the emphasis is on quality, hand-made food sourced locally, and the 40,000-sq.-ft. area provides plenty of space for consumers to stroll from one vendor to another.
At the entrance from the outdoor parking lot at the corner of Prince of Wales Drive and Square One Drive lies La Carnita. It offers street food with a Mexican flavour, serving locally made tortillas and 12 different hot sauces made from scratch. Eighty per cent of the menu is or can be gluten-free, says manager Sam Duggen, and the chicken and beef are both halal and locally sourced.
The bar offers a full selection of liquors as well as such craft beers as La Carnita pilsener and Dagger lager. But the unique treat is a chance to savour a glass of Widow's Ghost Chardonnay or Devil's Kiss Cabernet Sauvignon, from the vineyard of actor George Clooney. La Carnita is the only outlet in Canada that offers these wines. On Thursdays, they're half-price per glass or bottle.
Next door is Sweet Jesus (pronounced "hay-soose," Spanish-style). If you want an ice cream dessert to take the bite out of a spicy Mexican meal, stop here. The outlet offers flavours like Red Alegria, Oh Hungry, Bangin' Brownie, Rocky Road Rage and Cookies, Cookies, Cookies and Cream.
The most popular choice is the outrageous looking Krusty the Cone. Customers love to take photos of the concoction, and crowds have to line up toward the end of the week after 7 p.m. to place their orders.
Sweet Jesus also sells in-house ice cream cakes year-round. A serving for eight costs $35.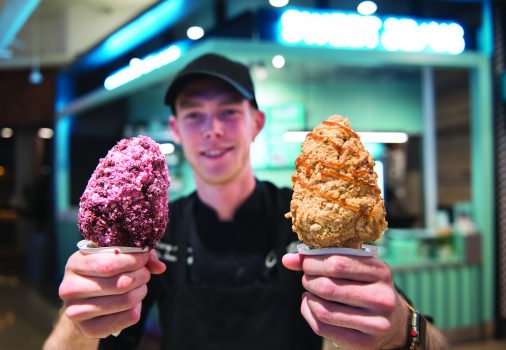 A little further up the aisle lies Secret Lands Farm, a family-run business that specializes in sheep milk, sheep cheese, yogurt and probiotic lactose-free kefir cheese. It also offers salads, sandwiches, pastries, smoothies and lamb's meat.
Owner Sophia Burova is passionate about healthy eating, and laments that "80 per cent of the food in modern supermarkets didn't exist 100 years ago." Her products are non-GMO, as well as free of added sugar or preservatives.
That same concern for pure ingredients can be found at The Box Donut, selling gourmet doughnuts that are square shaped and free of preservatives or additives. As a result, they're more expensive than traditional chain brands in Canada, but that doesn't seem to faze the thousands of fans who snap up one of the 30 flavours being offered.
One of the favourites is pistachio raspberry, which features a raspberry jam from Hungary, pistachio cream and a Belgian Callebaut white chocolate. But customers also like to watch the staff prepare the crème brûlée doughnuts with vanilla cream centre, using a small blow torch to heat the sugar topping.
Doughnuts range from $3.99 to $5.99 each, and a box of 12 can set you back $50 or more; a growing number of fans think they're worth it.
Nearby is the Kingston Olive Oil Co., which
offers 26 different flavours of extra virgin olive oil, along with six gourmet brands. It also offers various flavours of balsamic vinegar, all in large or small bottles. They make perfect household gifts as well as essential ingredients for your own kitchen, and the company's website offers dozens of tempting recipes from around the world. In keeping with the company's aim to reduce waste, if you return an empty bottle for a refill, you get a 10 per cent discount on your next purchase.
Near the other end of the Food District lies Ray Woodey's Craft Chippery, a Waterloo business 10 years in development. It specializes in gourmet chips and nachos. The chips are made from potatoes, sweet potatoes, casaba, plantain, tarot and pork rinds. "It's a healthier product," says founder Ray Woodey. "We use non-hydrogenated sunflower oil and sea salt."
Because his chips are preservative-free, they have a shorter shelf life than standard brands. "But the advantage is you're buying a fresh product, better quality and you can mix and match. Our bags are also 100 per cent compostable, which costs us more, but I think that's the direction we should go."
Woodey adds that his chips and nachos are gluten-free, and the company also sells a variety of dips and salsa.
It's clear consumers are increasingly becoming foodies, interested in good nutrition and new food trends and ideas. To that end, Square One also features the District Kitchen, a space where young and old can begin or upgrade their cooking skills under the guidance of accomplished chefs and bakers.
According to the Kitchen's website, "Built as a community hub, this space embraces the region's food scene and places a spotlight on local talented chefs, mixologists, nutritionists, food influencers, and more."
As well as cooking classes, the Kitchen hosts Supper Club food parties for groups of up to 36 enthusiasts, providing a semi-formal multi-course meal under the guidance of a chef.
It also offers a wide range of clinics focusing on "nutrition, mental health, better living and specialty services." Qualified staff offer advice for better living and improved diets for groups of up to 36 people.
The District Kitchen website provides monthly calendars of upcoming events and plenty of information about the classes offered, or you can sign up for email updates by regular newsletter.
According to Square One general manager Greg Taylor, the idea for the Food District came from "looking for ways to provide a new experience" for shoppers. The reaction was "absolutely tremendous," he says, with two million people walking through the aisles in the first few months.
Based on the response to this unique approach to food marketing, it's clear more and more of these types of venues will begin to appear in our nation's shopping malls.
If you happen to be wandering the halls of Square One this holiday season, treat your tastebuds to some gourmet coffee or tea and a delicacy you can get nowhere else. Holiday shopping can be stressful enough.
Go on – spoil yourself!