By Peter Bailey
In November of 2016, two friends from Oakville stepped into a restaurant at 121 Lakeshore Road West in Port Credit and set the course for the rest of their careers. Chef Frank Mazzonetto, 34, and chef Anthony Maniccia, 33, didn't know it then, but their dreams of owning their own restaurant were about to come true.
The pair had operated a food truck in the area for the past four years but were keeping an eye open for a good restaurant site. And now they felt they had found it.
"We spoke to the owners, and had a great conversation," Mazzonetto says. "We told them what we were planning and that was that. But three weeks later, they called us and offered to sell the restaurant to us."
"Frank and I redesigned the whole place," Maniccia proudly recalls. "We completely renovated it, enlarged the open kitchen, changed the bar, designed the dining room and the washrooms. We had to make it all function properly, and that took quite a bit of work."
The walls of the dining room feature striking paintings by local artists. The furnishings are simple and functional, and the pair are proud of the wall behind the bar that features Italian wine crates accented by the burgundy colour of the décor.
The renovation took the two men three months. "But you do it once, and you do it right," Mazzonetto adds.
The result of their efforts, Ombretta Cucina & Vino, opened on June 1, 2017, and has been a culinary success story ever since. An ombretta, they explain, is a small drinking glass, and the restaurant's logo depicts a wine stain left by the bottom of the glass. The two chefs describe their creations as "elevated Italian traditional dishes with a modern interpretation."
Mazzonetto and Maniccia have been friends for 25 years, having met in grade school.
"My father owned a couple of restaurants," Maniccia says. "I fell in love with the business. I dreamed of opening my own place." He brings 15 years of food industry experience to the partnership.
"This is my twentieth year," says Mazzonetto. "I started as a dishwasher. My mother told me that when I was in grade six, I told her I wanted to be a chef like Emeril Lagasse."
The two make an affable pair, jumping into one another's conversations and often finishing the other's sentences. As they prepare for the evening's sittings, they share friendly banter with host and server Leo De Benedictus, 55, who has more than 30 years' experience in the restaurant business in Italy and Canada.
What has been the reaction from diners who come to Ombretta Cucina? "They like having an upscale Italian restaurant here," says Mazzonetto. "Not many restaurants in the area have owner chefs. For the most part, I'd say 95 per cent, the owners are not in the kitchen. And no one has as much passion for their business as an owner chef does. We want to make sure everything that leaves our kitchen is top notch."
The two say customers seem equally divided between those who have a favourite dish and order it every time versus those who want to experiment and try something new from the menu. The pasta dishes range from $23 to $32. In spring and summer, the restaurant serves Italian white truffle ravioli for $45 to $50. Other popular dishes are Bolognese spring rolls and shrimp and scallop fettucine.
The restaurant's signature dishes are ossobuco, a braised veal shank with fried gnocchi, mozzarella and gremolata and, in spring and summer, a marinated peach salad.
Both chefs are happy to cater to customers' dietary requirements or restrictions. The wine list features Italian wines that are not available in the LCBO, as well as California and Chilean brands.
While there, I sampled grilled Sicilian cauliflower and artichokes with capers, the Gnocchi Fritti with N'Duja sausage, tomato sugo and mozzarella di bufala along with a Puttanesca pasta dish with black olives, capers and grilled chicken. The mix of flavours was tantalizing and well-balanced. The meal was paired with a fruity 2016 Lotus Cabernet Sauvignon from California.
Ombretta Cucina & Vino, which sits 60, is open from 5 p.m. to 10:30 p.m., Tuesday to Saturday, and is a good choice for families or couples, especially those who are on "date nights." Is it wheelchair accessible? No.
Reservations are recommended Thursday, Friday and Saturday nights. The pair are happy to accommodate private functions on Sunday or Monday and are also capable of catering to groups of up to 200.
Maniccia shares the Google reviews the restaurant has received, which at time of writing was 4.7 out of 5 stars. He attributes it to the pair's constant quest for quality food at its freshest, grown locally and supplemented by premium items imported from Italy.
As Mazzonetto concludes, "You can't make good food with bad ingredients."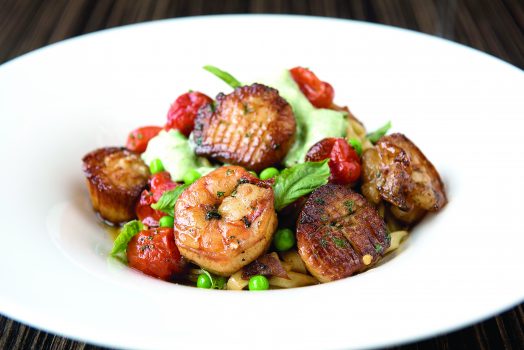 Shrimp & Scallop Pasta
Serving Size: one
Ingredients:
Single portion pasta
3 large fresh sea scallops
3 large fresh tiger shrimps
10 cherry tomatoes, halved
5 asparagus spears, trimmed, sliced thin on the bias
1/4 cup sweet green peas
2 cloves garlic, sliced thin
2 tablespoons butter, unsalted
1/2 cup extra virgin olive oil
1/4 cup white wine
Salt and pepper to taste
Crushed chilli peppers to taste
1 tablespoon chopped parsley
3 large basil leaves, torn
Directions:
Bring a large pot of salted water to boil and heat half the olive oil in a medium fry pan.
Season scallops and place in frying pan to sear 90 seconds on each side. Add seasoned shrimps, butter and garlic.  As soon as the butter starts to brown, deglaze the pan with the white wine. Add tomatoes, peas, and asparagus. Turn heat down and simmer 90 seconds.
Add pasta to boiling water and cook until al dente. Drain pasta reserving 1/4 cup of pasta water. Add pasta to pan with chilli flakes and toss well to incorporate all ingredients. 
Add pasta water, if needed. Serve in a bowl with the vegetables, shrimp and scallops on top. Garnish with basil and parsley and finish with a little more extra virgin olive oil.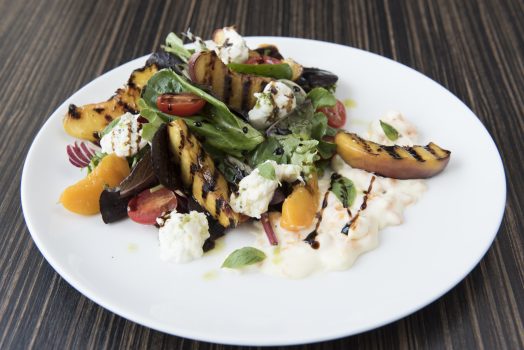 Summer Peach Salad
Serving size: two
Ingredients:
Mint and basil vinaigrette:
(Makes one litre)
1 bunch of basil
1 bunch of mint
1 tablespoon honey
1/4 teaspoon of salt
1/4 cup of orange juice
1/4 cup of white wine vinegar
1/2 cup of vegetable oil
1/2 cup of olive oil
Balsamic glaze for drizzling
Salad:
2 cups of spring mix salad
1 whole grilled peach
1 whole marinated peach
8 cherry tomatoes cut in half
3 tablespoon of peach
mascarpone
1/2 fresh mozzarella ball 
Peach mascarpone: 
4 tablespoons of mascarpone
2 whole marinated peaches
1 pinch of salt
Directions:
Vinaigrette: Pick the leaves off the mint and basil, put in a food processor. Add honey, salt, orange juice, and white wine vinegar. Mix until the mint and basil are well incorporated, then slowly add vegetable oil and olive oil while mixing to make an emulsification. 
Peach mascarpone: Place marinated peaches in a mortar and pestle and mash into small pieces. Fold in mascarpone and salt for 1 minute. 
Salad: Add lettuce and cherry tomatoes to mixing bowl. Dress with 4 tablespoons of mint and basil vinaigrette and toss well. Add fresh mozzarella and peaches to the top of the salad just before serving. Drizzle with a little more of the vinaigrette and finish with balsamic glaze.