By Rebecca Dumais / Photos courtesy Ce Soir |
Your evening should include refined cocktails, fine wine & food…
Ce Soir Brasserie is the newest dining spot in downtown Oakville, taking over the location of Seasons Restaurant.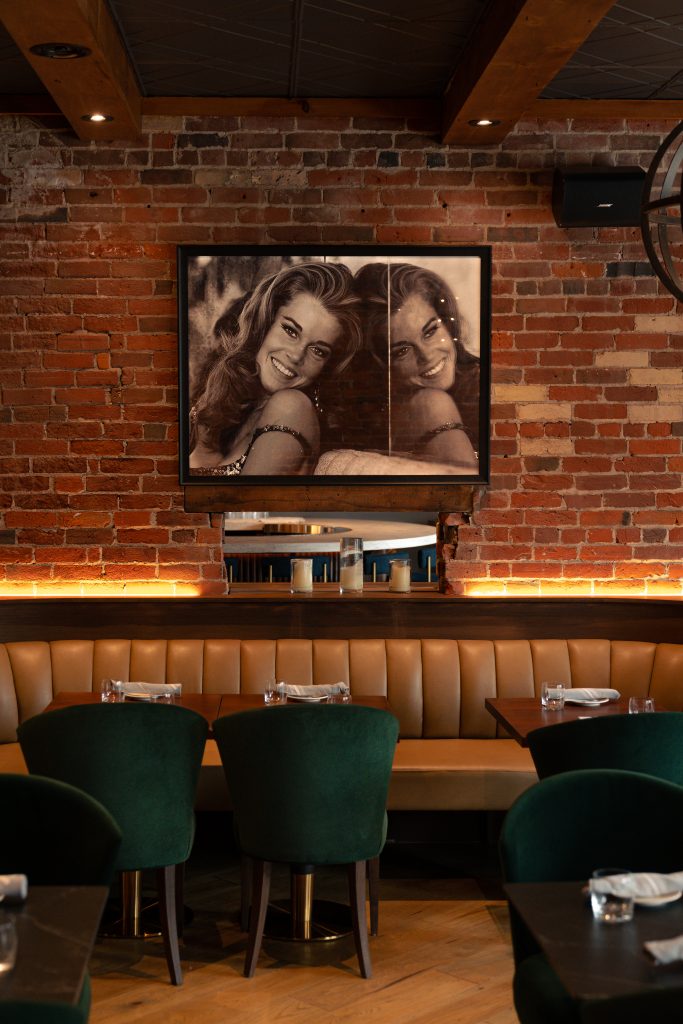 In full upscale fashion fitting with the demands of its clientele the restaurant was a fun way to pay homage to the French cuisine offered (and evening vibes) and "to let our guests know that we're here – come over tonight. We want (them) to feel like they're in their living room or a friend's place where they're treated to fine food, cocktails and wine. But still have that touch of casual," says Afran Miftari, senior operations manager of Aidan Hospitality Group (AHG).
AHG's first location outside of Toronto is Beacon Social House, just a short drive down Lakeshore Road. "Honestly, Beacon was such a smashing success and Oakville was so kind to us, the idea in general of being in Oakville just made sense because it's a beautiful town," Miftari says.
The newly renovated space includes custom furniture, lighting and a custom-designed 20-foot bar stocked with every type of spirit and liquor you could imagine. Part of the new design also highlights the building itself and its character. "We didn't want to take away from that," he says. Spotlights on the floor shine up to emphasize the brick and lighting behind the booths shine up to the walls, "to show off that gorgeous history that the building has to offer."
Chef Kiru Subasjini is the executive chef for AHG and currently spending time in Ce Soir's kitchen. He also creates the menu for Beacon and other locations. "He's well-versed in classic French and Italian food. Chef Kiru did an incredible job," Miftari says. "He was able to curate a menu that's fine French and also has that modern contemporary approach." Some of Seasons' previous chefs were retained on staff, and Miftari is greatly appreciative. "It's an incredible team here."
Nicholas Madella is the charming, charismatic sommelier you'll see walking the floor, and responsible for building an incredible list of consignment wines, bin ends and reserve wines – some older vintages that you may only be able to enjoy once, Miftari notes. "Nicholas could talk about wine for days. I think that's been an incredible aspect of our business as well."
When asked to name the top two menu items, Miftari quickly opines his recommendations: Escargots Bone Marrow, and the Crispy Duck Confit. The escargot dish is served with broiled bone marrow. "It's so decadent. Every single time someone has it they think it's the star of the show."
The duck is confit in its own fat and served with a bean and pork cassoulet. "It's hearty, rich and filling. People have been wowed by that one for sure."
The cocktail menu is a carefully curated, elevated mixology program. They offer a French twist on classic pours with upscale ingredients. "Many of our cocktails include things like chartreuse, we use Courvoisier Cognac, French gin – things to make it more (authentic)," he explains.
Two signature beverages are the Ce Soir Boulevardier and the Voulez Vous. The Boulevardier is made with bourbon, Campari and sweet vermouth. "But we infuse our sweet vermouth with coffee (which is then barrel aged) so it gives a lot of oak and vanilla notes to the cocktail."
Voulez Vous is Bar Manager Alek Pop-Icev's creation. "He uses beet-infused vodka to make it purple. And we use pomegranate juice, lime juice, and in-house-made thyme syrup."
The transition from Seasons to Ce Soir was easy. When AHG took over they continued to run under the Seasons name for some time. Miftari acknowledges George's commitment to owning and operating Seasons for so many years. "George did an incredible job keeping it going. It was a staple in Oakville. He is such an incredible person. George is involved still – he helps out with our events. Sometimes he serves tables, sometimes he helps manage the floor. He's really been an ally to us and helps wherever we need it. Not too often would you buy a restaurant and the owner stays around to help you."
There were ideas to keep the Seasons name, but during renovations, it was apparent the new space needed a new identity. "As much as we want to pay respect to what a beautiful restaurant that was there for so long, we needed our guests to understand they were coming to a whole new place."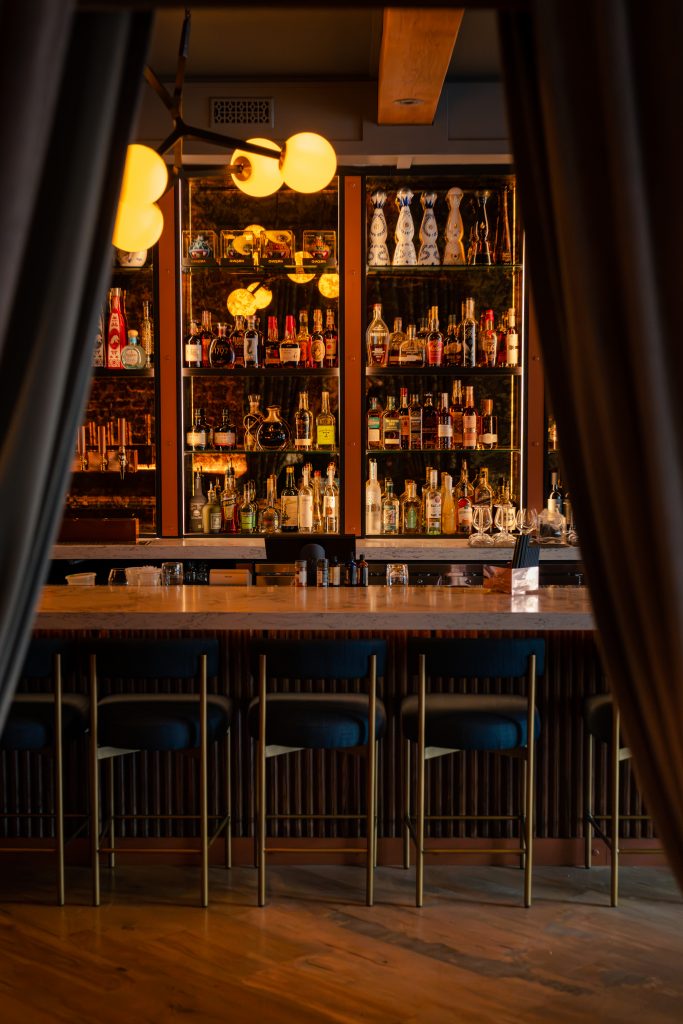 Another familiar face on staff is Ashley Hum, the former general manager of Seasons. She's taken on the role of managing events, bookings, event menus, and event sales. "It's great for the community to see those familiar faces, and they're absolute pros and know what they're doing, so it's great to have their advice and expertise," Miftari says.
Guests are invited to start their evening with a cocktail, have a bottle of wine with their meal, and then when afterwards linger and listen to the DJ that provides a contemporary lounge atmosphere on Friday and Saturday nights. "It feels almost like a five-star hotel lobby in there. It's quite something."
This au courant brasserie embraces modern, French contemporary cuisine – fine dining with a brasserie bent that includes a casual, friendly touch. "Yes you're going to get fine dining service, fine dining wine and cocktails, but by the end, you'll know the server's name and they'll know yours. They'll make you feel at home," Miftari says.
For more visit Cesoirbrasserie.com