By Linda Barnard |
Hawaii entices with warm turquoise waters and picturesque beaches, rich culture and caring values found in one word with many meanings: Aloha.
The 50th American state has been the ideal antidote for winter-weary Canadians for decades. But with six main islands to explore, how to decide where to go?
Just think OK – Oahu and Kauai.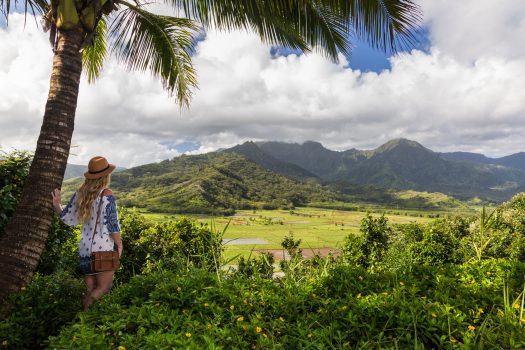 Oahu, with its capital Honolulu and famed Waikiki Beach, moves to an urban beat that draws families as well as tourists of all ages. Find hotels, restaurants and retailers along the wide, palm-lined sidewalks of Kalakaua Avenue, the busy main drag, which runs parallel to the beach and adopts a party vibe after sundown.
Restaurant menus reflect Hawaii's melting pot population in franchise food chains and food trucks, as well as high-end dining rooms under the banner of celebrity chefs.
After a breakfast of coconut pancakes with divinely sweet pineapple, or belly-filling traditional Hawaiian favourite Loco Moco (burger patty, white rice, mushroom gravy and a couple of over-easy eggs) swim, learn to surf, rent a paddleboard or walk along the three-kilometre stretch of Waikiki Beach with the view of Diamond Head in the background.
About a 40-minute drive from Honolulu, explore lush, mountainous scenery on one of several tours at Kualoa Ranch, a location that boasts starring roles in hundreds of Hollywood movies, including Jurassic Park.
Getting on the water is an ideal way to see bountiful wildlife and inspiring views. It's also a key part of Hawaiian culture.
"All the Hawaiians in some way, are all connected. And we all can trace our lineage back to the very first Tahitians that found their way across the Pacific here to the Hawaiian Islands," said waterman Zach Arreola-Chun as we sailed along the Oahu coast in a traditional twin-outrigger sailing canoe.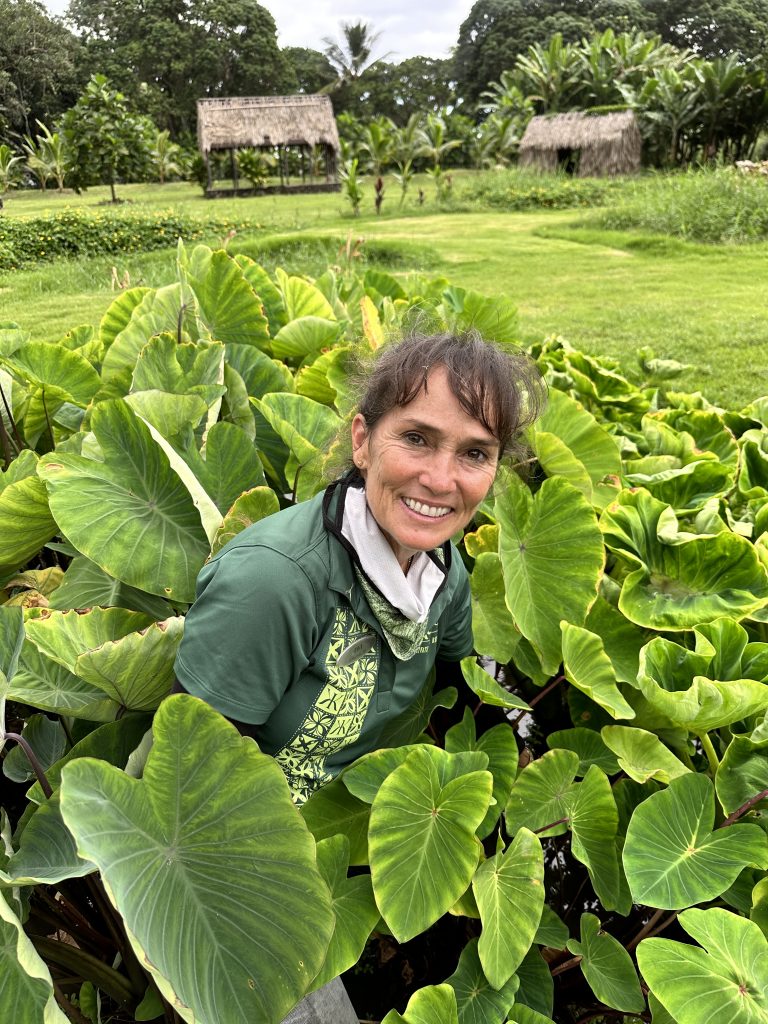 Hawaiian Ocean Adventures runs the snorkel and sail tours from the beach at the Four Seasons Resort Oahu at Ko Olina on Oahu's west coast. It's part of the hotel's #FSWayfinders program of weekly culture, history and hands-on workshops for guests, including traditional hala tree leaf weaving led by Pi'iali'i Lawson.
Arreola-Chun stood at the tiller and blew a conch shell as we moved into the open ocean from the beach. Within minutes, endangered Hawaiian green sea turtles – called honi in Hawaiian – were lazily cruising beneath the canoe. They were easy to spot in the clear water from our perch on the mesh trampolines on either side of the vessel. Spinner dolphins formed a playful escort at the bow.
Arreola-Chun explained that, unlike freshwater turtles, honi can't retract their legs or head. But they make up for it by being speedy swimmers when they need to make a quick getaway.
Curious to try another slice of Hawaiian life, we headed to Kauai, a 40-minute flight from Oahu. Dubbed Garden Island for its lush vegetation, it's the northernmost and oldest island in the Hawaiian archipelago. The pace is slower and quieter there, with charming small towns and a considerable population of comical feral chickens and roosters descended from the ones liberated from their coops 30 years ago by Hurricane Iniki.
One main road spans about three-quarters of the way around the island, stopped by the breathtaking accordion-shaped cliffs and isolated, paddle-in beaches of the Nāpali Coast.
Multicoloured canyons, valleys, aquamarine oceans and rainforest-covered mountainsides in every shade of green create vistas that make even the most seasoned traveller emotional. Intermittent, misty rain creates a daily succession of rainbows. No wonder the word mentioned most often in tandem with Kauai is "magical."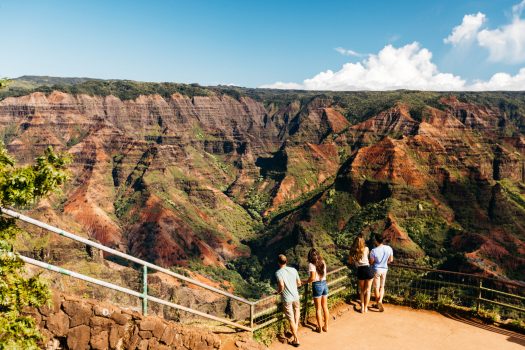 It's fitting that people here tell a tall tale almost worth believing — that a sadly abandoned Puff the Magic Dragon of '60s folk song fame can be seen pining for Little Jackie Paper in a mountain range beside the picturesque curve of Hanalei Bay on the North Shore.
Later, we sailed up Kauai's breathtaking Nāpali Coast aboard a Holo Holo Charters catamaran, past secluded beaches and green valleys where Hawaiian villages once stood. Waterfalls tumbled from 1,000-metre sea cliffs.
The day before, we took the winding road to the rim of Waimea Canyon State Park and stood in silent awe at the Kalalau Valley lookout. The view 1,200 kilometres down the green valley and vertical mountain range to the blue ocean was breathtaking. Now, we could admire it from below as we sailed past.
Dozens of spinner dolphins followed the boat. Several demonstrated how they got their name by shooting snout-to-sky from the water in a series of vertical spins that would make any figure skater dizzy.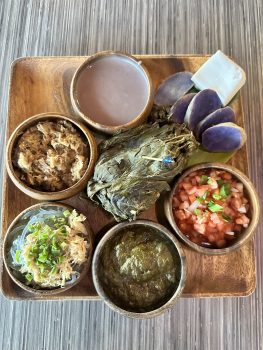 We snorkelled in a clear bay at another cliff base. I watched brightly-coloured tropical fish of all sizes and spotted a small octopus, then hovered above a green sea turtle, following along from a respectful distance as it glided around rocks and coral.
Hawaii stays with you, many visitors say. A statewide program initiated in 2020 gives mindful tourists a chance to repay the favour by leaving their mark, perhaps for generations to come, through a volunteer program called Malama Hawaii.
Signing up to spend a couple of hours planting koa trees, protecting wildlife with a beach clean-up, or repairing a heritage fish pond brings rewards beyond the satisfaction of contributing, including a free hotel night, resort credit or breakfasts. Plus, it's fun.
A malama experience in a lush valley at Kualoa Ranch was how we found ourselves calf-deep in the cool, squishy mud of a lo'i kalo taro patch, laughing as we struggled to stay upright while tending the plants.
Nutritious taro is known as "the staff of life" in Hawaii. The once-sacred plant feeds people from infancy to old age. The heart-shaped leaves are used in a variety of ways. The corm, or root, is boiled and pounded into a paste for the custard-like Hawaiian staple, poi. Hawaiians love it, but poi's sour, fermented taste makes it a tough sell for many visitors.
I ate taro in a variety of dishes as I travelled. Kulolo was my favourite; it's a thick pudding-like dessert made with sugar and coconut milk. Poi is also good mixed with salty lomi lomi, a salad made from ceviche-like salmon, tomatoes and onion.
"The malama aina (caring for the land) tour allows guests to come in and be hands-on. You get to dive into the culture," said guide Iwi Kurosu, a native Hawaiian who is in charge of volunteer experiences at Kualoa Ranch.
"I dub you all mahi'ai (farmer)," she said.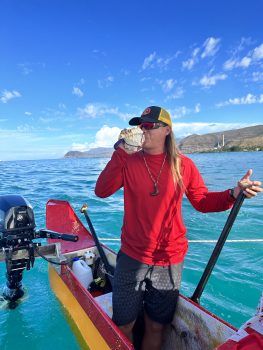 After we arrived at the taro patch, Kurosu faced the vertical emerald folds of the Kualoa mountain range for a traditional chanted blessing, called mele oli. Kurosu explained she was giving thanks and asked for protection for us, the land and the elders.
Kurosu was showing gratitude but we were the ones who had so much to be grateful for during our time on these sublime Hawaiian islands. This brings me to another Hawaiian word that got a lot of use during our stay: Mahalo – thank you.
For more information, visit Gohawaii.com/ca