Hamilton's newest steakhouse shows bright promise | By Peter Bailey | 
The renaissance enjoyed by the city of Hamilton over the past few years now means the success of its steel industry has been replaced by medical research facilities and – perhaps most surprising – the film industry. TV series and movies have brought in many millions of dollars to the city's coffers, and that has helped spark a boom in fine dining all over the city.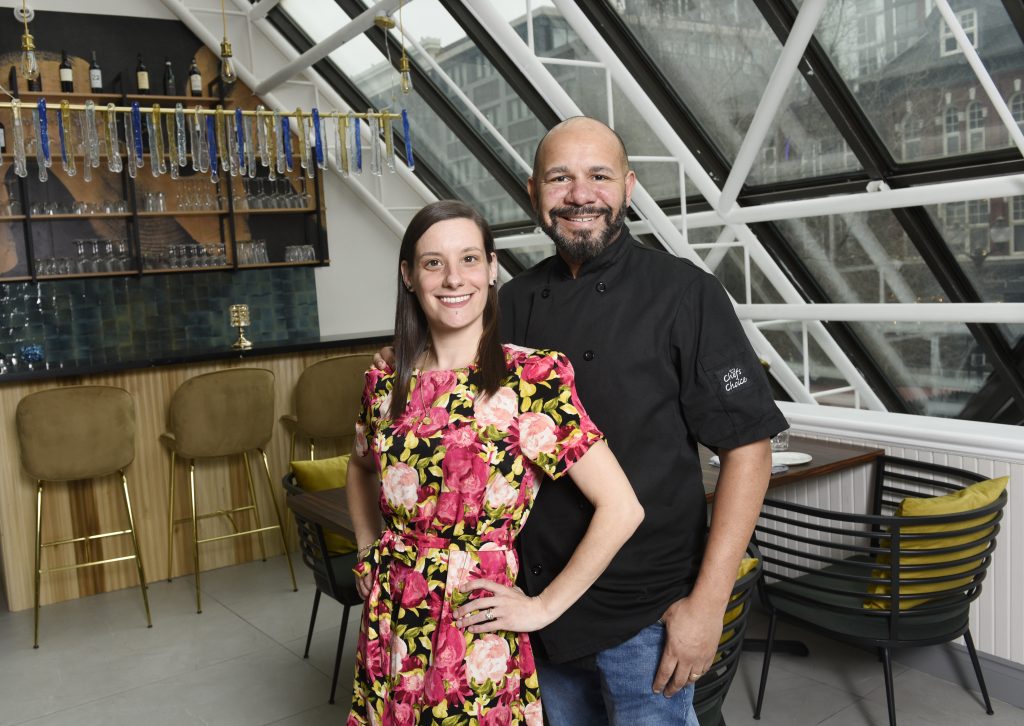 Nestled downtown on King William Street is a community of interesting restaurants that cater to professionals and food enthusiasts throughout the week, and the newest of those is Conversate Steak and Seafood. The restaurant is the brainchild of Michael Middlemost and his wife Jessica, who launched the business in the New Year to great reviews.
Michael formerly owned Mattson & Co., a popular Hamilton restaurant, and learned his trade studying under some of the best chefs in the city over the course of 25 years. Both say their work philosophy is to lead by example, provide a family environment for their staff and keep them happy. "Jessica and I do whatever needs to be done, whether it's hosting or scrubbing floors," he says, "and we allow no compromise on quality, no matter the cost."
Conversate is bright, airy and spacious, with white walls and a second floor with more seating, an additional bar, and an elevated view of the outside through a two-storey sloped glass roof – a comfortable setting even on the rainiest of days. The stained-glass decorations and furnishings blend both modern and old-school dining atmospheres, pulling off a truly upscale experience.
The house dinner specialties are, aptly, steak and seafood. The signature meat dish is Beef Wellington ($72) with a favourable choice of sauces, seasonal vegetables and a choice of accompaniment. The striploin and tenderloin are certified U.S.D.A., and the ribeye, Delmonico and tomahawk entrees are certified Angus beef. Michael, who also worked as a chef at the Lord Nelson Steak House in Burlington, says the demi glaze for his Beef Wellington takes two days to make.
Among the seafood favourites offered are lobster tail ($90) or Ahi tuna ($47). Michael is especially proud that their oysters are provided locally by the Shuck Truck in Hamilton and are harvested four days before, then flown in from Eastern Canada.
The lunch menu depicts delicacies such as charred octopus, shrimp cocktail and Wagyu meatballs, as well as king salmon, chicken supreme focaccia and steak sandwiches. Prices for lunch range from $40 to $60, with dinners costing from $40 to $100.
Jessica adds that the bread is also provided locally by Turtledoves Bakery in Burlington, and part of their offering also includes gluten-free loaves. "I'm celiac," she explains. "So, we make a special effort to provide gluten-free products to our customers."
"Ninety per cent of our menu is gluten-free," Michael adds.
Dietary requests don't need to be given beforehand. Jessica says they can simply request gluten-free items tableside. "We also offer vegetarian options as well as dairy-free dishes."
The staff at Conversate are seasoned professionals, Jessica explains. "We were lucky when we hired them, so many good people were available." She adds that working at The Keg taught her a great deal about treating staff well. "That was a valuable experience. The Keg ensures the consistent quality of its food, sets staff up for success, all within a creative culture. I want to bring that attitude here. Workers' expectations are getting higher."
Conversate's wine list is mostly Italian and Californian, although Jessica adds they're starting to feature more Niagara wines from Creekside, Queenston Mile Vineyard and Angel's Gate, along with a variety of beers.
Her eyes light up when she describes her inventions of "craft cocktails," which vary from Barfly Boulevardier (Jim Beam Devil's Cut Bourbon, Martini Rosso, Campari and Giffard Creme de Violette) to Coconut All Day (Casamigos Reposado, coconut, banana, Creme de Cacao and Triple Sec).
Both owners agree Conversate is an ideal location for families as well as couples enjoying a date night. "We can also accommodate a grandmother's birthday or a business gathering," Michael says. Their only caution is to make reservations for Friday and Saturday nights, which are getting busy now that word is out there's a new restaurant on the block.
Conversate can seat 140 diners, with room for 70 more customers on their large new flagstone patio. There is a wheelchair ramp leading to the patio from the sidewalk, and there is an accessible washroom on the main floor just next door to the restaurant.
The location is within easy walking distance of the city's art gallery, historical sites such as Whitehern Historical Home, performances at the FirstOntario Concert Hall, or sports events at the FirstOntario Centre.
If you haven't travelled to Hamilton in a while, it's time to see for yourself what the proud city has to show, and to taste what its newest fine dining location has to offer.
For more info visit Conversaterestaurant.ca