Re-discover Canada's coolest grape
By Carmelo Giardina
One of the world's most versatile wines, riesling is grown in regions around the globe and is increasing in popularity among winemakers and consumers alike – especially in New World countries like New Zealand, Australia, the United States and Canada. As a cool-climate grape, it can be grown in many areas where the climate is not conducive to growing other varieties.
Joyfully aromatic, food friendly and filled with personality, riesling wines deftly reflect the unique terroir of its region and vineyard. Made in a wide range of styles, it is no wonder that this wine is a favourite of chefs, sommeliers and wine professionals.
It's unclear as to where riesling was first born, but most believe that it hails from Germany in the regions near the Rhine River. The grape was documented as early as the 1400s, and as producers moved their vines up steep slopes into poor soils over time, riesling boomed.
By the turn of the 20th century, riesling was the king of white wines and often served by royalty around the world. It's seen its ups and downs since then, but its popularity is steadfast in Canada, where the grape thrives in all of the key wine-producing provinces, but especially so in Ontario and British Columbia (Quebec and Nova Scotia are the other two).
With its cool-weather climate, Ontario enjoys a special status as one of the few regions in the New World where riesling is a signature variety. In fact, it accounts for 17 percent of Ontario's total annual production, with more than 96 wineries producing an annual average of 400,000 cases of riesling, some with vineyards that are now more than 30 years old.
The Okanagan in British Columbia is one of the world's most northerly wine regions, with a latitude that is comparable to those in France's Alsace, Germany's Mosel and Rheingau, and Austria's Wachau – regions that arguably produce the world's best rieslings. Many vineyards in BC benefit from large diurnal temperature shifts, which is the difference between the warmest temperature in the day to the coolest temperature at night. Riesling loves this because cool nights enable growers to maintain riesling's hallmark acidity.
Although it is often consumed young, riesling wines have high acidity and can last and improve in the bottle for decades. Over the course of aging, the wine often develops a chemical compound known as TDN. High concentrations of this compound impart an almost petrol-like aroma. While it might sound off-putting, wine enthusiasts view the petrol aroma as a hallmark of high-quality aged riesling.
In its younger form, riesling is known for expressive fruity, floral notes. Depending on where the grapes are grown, the fruit character can range from bright citrus to luscious stone fruits and pineapple. Jasmine and citrus blossom are common floral descriptors, while it's not uncommon to also pick up honey, beeswax, ginger, minerality and that signature petrol note.
Within Canada, riesling can be made bone dry, off dry, lusciously sweet, or everything in between. It's often used for producing Icewine, specifically in Niagara, and riesling Icewine is widely considered to be the most prized of the Icewine varietals. Its naturally high acidity is the perfect foil for the style's high sugar levels. The best examples are super aromatic, crisp and refreshing, focused and intense, with a mouth-watering acidity that makes you thirsty for more.
Martin's Lane 2016 'Naramata Ranch' Riesling

This particular single vineyard riesling comes from vines that sit on red granite and volcanic, silty soil. According to winemaker Shane Munn, "The Okanagan is a very unique and dynamic place to grow and make riesling. The soils are challenging." The style here is off-dry, textured and complex. Munn pushes the skin contact more (to around 48 hours) and uses more alternative vessels (1,250L German oak and ceramic for the fermentation and elevage). The results are phenomenal, with tantalizing floral and wet stone aromas that lead to tangy and savoury flavours of tangerine, lemon and minerality on the palate. Definitely a step up in price from most, but the reward is absolute. ($55)
Cave Spring 2017 'CSV' Riesling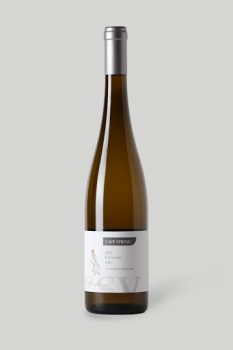 Crafted from the finest parcels at their estate in Jordan, Ontario, this dry, complex riesling embodies Cave Spring's highest commitment to quality and authenticity. The nose is complex, with aromas of wet stone, grapefruit, pear, honeycomb and ginger. Medium bodied and seamless, the palate is creamy up front with a rich, dense and mineral middle offering ripe orange, pear, honeyed almonds and spice. Riesling is always fashionable with spicy homemade foods but try this one with Ontario trout with dill sauce. ($29.95)
CedarCreek 2019 Platinum 'Block 3' Riesling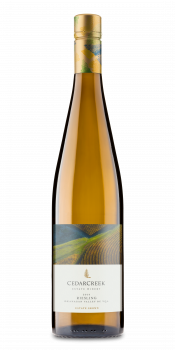 One of the original eight wineries in British Columbia, CedarCreek makes three different rieslings from their home vineyard on the eastern shores of Okanagan Lake. This Platinum Block 3 riesling is sourced from a single block planted in 1991. Fermented in stainless steel and some oak foudres (large oak vessels), this is rich and remarkably textured. Lime zest, wet stone, nectarine, dried apricot and lemon blossom. It's got wonderful complexity with beautiful acidity that lingers on and on. ($30)
Thirty Bench 2017 'Wild Cask' Riesling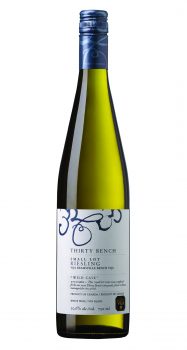 Crafting world-renowned wines for over 25 years now, Thirty Bench has firmly placed itself among some of Canada's finest wineries. The winery sits on one of the most important pieces of vineyard real estate in the country. In fact, this was a trailblazing property first planted to riesling in 1980. This 'Wild Cask' offering is fermented with wild yeasts in neutral wood puncheons and held in bottle for a year. It's medium-bodied and off-dry with a very textured mouthfeel and intriguing aromas of wet stone, lemon, pear and green apple. Refreshing mineral notes and pineapple linger on the finish. ($29.95)