Penny's Motel is a Boutique Motel Hub for Your Stay on Georgian Bay | By Rebecca Dumais & Photography by Jenna Kitchings |
It used to be that a roadside motel was merely a waypoint, serving little more purpose than a place to rest, and a dismal cup of coffee. Today, remodelled motels have been popping up that are far from the typical places your family frequented in the 1970s.
Guests at Penny's Motel & Après Snack Bar will find that not only have they walked into a balanced atmosphere of relaxation, style and comfort, but also a place that provides opportunities to explore, connect and chill.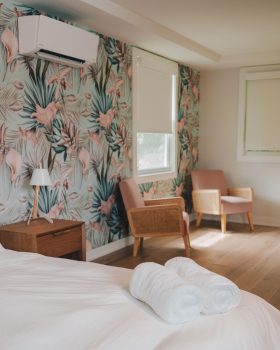 Located in Thornbury, the motel opened in July 2021 after owner John Belknap and his family decided to move from Toronto and delve into something new. "I come from a restaurant background. You try to create a high-energy experience for people at a restaurant, but when guests are staying here in the rooms you want to create an atmosphere of relaxation and allow them to unwind and enjoy the area," he explains.
Penny's Motel is set against the backdrop of the escarpment. "There's so much to do here all year round, and it made sense to (establish) something here," he says. "The motel suits my personality a bit better than a boutique hotel – Penny's is more casual."
Belknap chose Thornbury because of its familiarity – and family. His wife's family farms in Beaver Valley, and he grew up coming to the area to ski for most of his life and knew the area well. The appeal of its four seasonality was also a plus. "I always found it an awesome little destination that's right on the water and has everything you need," he says. "Other than the village in Blue Mountain, there was no place with a bit of personality and passion behind it that promoted the area. I wanted to create something a bit different that (made) you feel a little like a local, and you could find things to do in the area that everyone wants to do."
The motel was built in 1974, and yes, the sign is original. "I do love that 70s vibe and the motel era, mixed with a little bit of modern-day design," reveals Belknap. "We wanted to keep the architecture (original). We liked that vibe of what we were taking over. I wanted to keep that torch lit."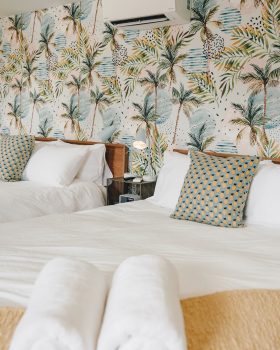 There are 13 rooms available. Three rooms have two queen beds, eight rooms have one queen bed, and two rooms have a king bed.
Extensive time and effort went into designing every room. Although they're on the smaller, cosier side, Belknap says they maximized efficiency. Each one is equipped with a heated floor, plus a flat-screen smart TV, Bluetooth speaker/alarm clock, Malin + Goetz Apothecary toiletries, and a bar kit "so that when you come from whatever you were doing that day in the area you're able to have some comforts of home but also be able to relax and enjoy yourself."
Each room is adorned with unique wallpaper accents and a feature wall, and it was important for Belknap to incorporate the colours and tones common to the area: blue from the lake, pink from the salmon, and Mother Nature's greens and browns, "without overdoing it," he says. "It worked perfectly – the beauty around here is pretty easy to work with."
What also breaks the property out of the traditional motel mould is the use of the various spaces.
Besides amenities that include direct room access, complimentary Wifi, self-check-in and check-out, there's a unique lobby bar and oyster bar, a large patio, an herb garden, a bocce ball court and a fire pit.
Belknap created several spaces on the property for activities or mingling, whether you want to sit at the bonfire and enjoy s'mores or a drink or play a game of bocci ball. "We try to keep that energy mix so it's not too subdued but provide a great vibe in terms of a little bit of energy and (allow guests) to participate in all the areas out here. Or if you want to go to your room and relax, you leave feeling rested."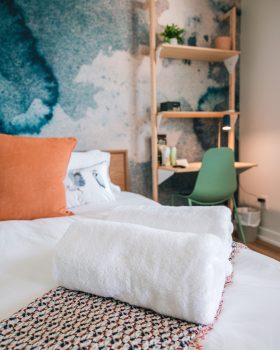 It's those welcoming common areas on the property that act as a unique conduit to encourage guests to socialize outside of their rooms. "So, one of the ideas was to build an area in front of the rooms that was once a parking lot, and we came up with the idea to close it off with an art wall/fence," he explains. "Art is a big focus, so we try to use local and Canadian artists around the property to contribute to the overall esthetics."
New this year, Belknap plans to have the outdoor kitchen running all year round. The patio is covered and heated or you can sidle up to the bar inside to enjoy the Après part of Penny's. "That's a big component of who we are," he says, noting that the sizes of the rooms are what helps create an opportunity for guests to exit and explore or mingle if they wish. "Growing up (as a skier) it was always fun to come back and relax however you wanted, and Après was built to add a different layer to the property."
You won't find a typical reception area here. Instead, you'll find the cosy bar, which serves the best oysters and more, and it's also your destination to grab your morning coffee. Belknap felt it was natural to bring the two elements of accommodations and food together. "The reception area creates a cool space – (it's) a vibe when you come in for some cocktails."
Oysters are always on the menu however, everything else featured is based on seasonal ingredients. "In the cooler months, you want something that's a little more comfort based and we have brunch in the mornings. It's changing weekly almost." Watch for the soon-to-be-created apple Manhattan cocktail, as a nod to the area's Apple Pie Trail.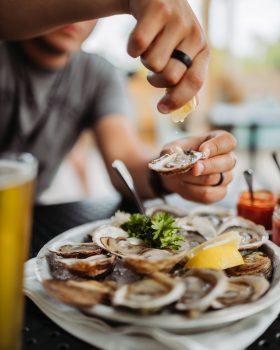 Like Belknap says, there are some amazing businesses, places to see and things to do all year round. Not only has he strived to capture those elements in a guest's stay, he also encourages them "to participate in what the whole area has to offer."
Daytime exploration or après ski evenings can be spent anywhere nearby. Thornbury, downtown Collingwood, Creemore and Meaford have many options for excursions as well as places to shop and eat.
South Georgian Bay Tourism outlines all of the benefits of the area's four seasonality appeal. When the snow flies, the Scenic Caves offers 10 kilometres of snowshoe and hiking trails and also 27 kilometres of cross-country ski trails (be sure to capture an insta-worthy photo at the iconic Suspension Bridge). Free Spirit Tours offers snowshoe tours.
Any ski or snowboard enthusiast is familiar with the nearby Blue Mountain Resort in Collingwood, but for non-skiers, there's snow tubing and skating. The Woodview Mountaintop Skating at Blue Mountain is a 1.1 kilometre ice skating loop with amazing scenery and views along the Niagara Escarpment.
For a trail of a different kind, explore the Apple Pie Trail. Inspired by the South Georgian Bay's apple growing history, the trail amalgamates restaurants, cideries, orchards and adventure-based businesses within the community. Winter expeditions on the trail include stops at Kaytoo Restaurant and Bar, Thornbury Craft and Coffin Ridge Boutique Winery. Float and find bliss at the Scandinave Spa for hot baths, cold plunges and spa treatments. Enjoy adventurous snowshoeing on the Bruce Trail, followed by a wine and cider tasting and charcuterie at Georgian Hills Vineyard.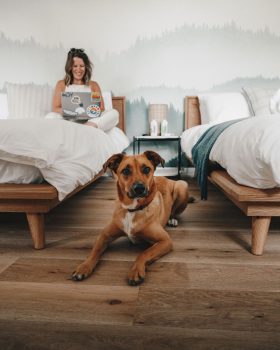 After bidding farewell to Toronto and settling into the area Belknap is proud of everything the area has to offer. "You could come up dozens of times and still find some little gems," he says.
For more information visit Pennysmotel.ca