by Barbara Ramsey Orr
Travel can be a minefield of decisions and choices, but cruising can sail around many of the obstacles of planning a trip. On a cruise, baggage, accommodation, meals, drinks, excursions and entertainment are all taken care of. Often the cruise line supplies flights, and many cruises add on two or three day packages ahead of the voyage. Throw in the fact that you never have to unpack, and that all the headaches are taken care of by someone else, and you have an effortless and memorable vacation.
Here are two cruise lines that take care of all the travel details in fine style.
Ocean Cruising: The SeaDream Yacht Club: SeaDream 1 and 11:
Every cruise I have done with the SeaDream Yacht Club has featured champagne as a favourite libation during its cruises. Launched in 1985, the line's twin sister ships, SeaDream 1 and 11 are designed to deliver a small yacht sailing experience for every passenger. The SeaDream 11, with its wooden decks, pale wood trim and blue and white decor still looks fresh and elegant – the result of good bones in the beginning and ongoing upkeep.
She's old school but in the best possible way.
When I sailed, roundtrip from Marigot, St. Maartin, there were 78 passengers and 98 staff, making it feel like your own private luxury yacht. The 56-stateroom yachts are casually elegant, the style is informal, the service personal. Your fare includes an open bar and gratuities.
Dinner the first evening was as good as I remembered, beginning with an asparagus bavaroise and organic smoked salmon tartar with caviar cream, followed by a curried red lentil soup, a raspberry sorbet, to cleanse the palette, fillet mignon and a perfect coconut soufflé with Malibu rum sauce. The wines included in the meal were a crisp Sauvignon blanc and a quite drinkable Valpolicella .
Because the number of passengers is small, seating at all meals is open. Dinner is served daily in the formal dining room and, if the weather is fine, often on the top deck as well. I'd dine on deck under the stars every night – it's magical. On one evening, we were guests of the captain, and sat in a quiet nook near the bow of the ship, – the ocean, the stars, the good conversation, the excellent food and expert wine pairings – it was a memorable meal.
There was a bottle of chilled champagne as an extra greeting in each cabin on sailing, and each room has a stocked refrigerator with beer, wine, soft drinks and water. There is a flat screen tv, telephone and safe, bath robes and slippers.
At each port there was a variety of shore excursions to choose from, some for the active passengers, and some less challenging.
The thing that SeaDream is most famous for is the personal service of its staff. They are professional, efficient and intuitive. They never intrude and never neglect – that's a fine balance. Because the ship is small, they know your name and how you like your coffee by the second day.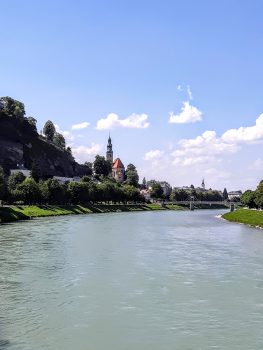 In addition to their celebrated level of service, there is their famous Surfside Champagne and Caviar barbecue celebrated on every cruise. This time it was held on the quiet and perfect Chrishi Beach on Nevis. Corks popped, caviar was served, along with all the traditional toppings, and we sunbathed, ate bbq and spent an extravagant and indulged afternoon in paradise.
This is not the cruise for those looking for big entertainment, multiple specialty restaurants and indoor rock climbing walls. This is a more sedate and elegant cruise, with time for relaxing, with no pressure to be or do anything. It's classic cruising at its best.
That may all change – the ship will get a complete facelift in May 2020. The pictures I have seen of its new iteration look gorgeous, very modern and clean lined. Hopefully the thing that the ship does so well – provide intimate and unhurried cruise experiences at the top end, with all the details taken care of – will not change.
www.seadream.com
River Cruising: AmaMagna by AmaWaterways
For those new to cruising, a river cruise is a good choice – the boats are never far from the shore!
Sailing down the Danube on the new, double-wide AmaMagna is as stressless as travel gets. The newest riverboat in the 23 strong AmaWaterways fleet, and by length the largest riverboat sailing the European rivers, the AmaMagna is double the width of standard boats on the rivers. She began sailing itineraries in May 2019 along the Danube, the only river with locks large enough for her to pass through.
For guests who have been accustomed to ocean cruising, the AmaMagna is a good choice – sort of the entry drug to river cruising. Not only is the ship more spacious, it has a spa, a theatre, five bars, a pool and jacuzzi. Unlike most other river boats, there are three dining options in addition to the main dining room. In The Chef's Table Restaurant, Chef Adrian Chirita prepares a seven course tasting menu, while Jimmy's Wine Bar serves dishes on sharing platters at long communal tables. With free flowing wine and new friends, it is a cheery place to dine. The Al Fresco Restaurant is open and light, with retractable windows and a casual tapas menu. Cabins are generous, with a full balcony, marble clad walk-in shower, double sinks, large screen tv's and a big screen Apple computer. The ship is fully accessible, with a pop-up elevator that will take guests to the upper deck.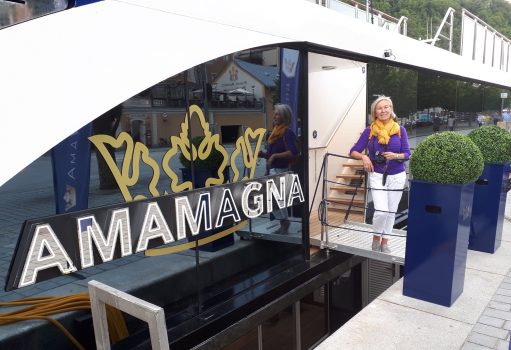 Shore excursions can be soft adventure or challenging and active – your choice.In Vienna for example, there were bus tours and walking tours in the morning, along with hiking and biking, but in the afternoon the ship ran a regular shuttle to the centre of the city for independent exploration. I took the opportunity to visit the Albertina Museum and enjoy a slice of sachertorte 'mid schlag' at the famous Demels' Cafe.
On the last night I sat on the balcony with a view of Budapest's Szechenyi Chain Bridge, watching the boat traffic, and decided there was no easier way to explore the famous rivers of Europe. No worries, just the pleasure of a well designed itinerary on a well run ship.
www.amawaterways.com