A culinary adventure along Georgian Bay, Ontario
By Sherri Telenko
Fresh baked apple pie. If you think I'm tired of it after my fourth slice in two days, you'd be wrong. This time I'm at Blackbird Pie Company in the Beaver Valley hamlet of Heathcote, exactly the type of quaint bakery you'd expect to find along a country road. Only here, Blackbird Pie Company is part of the Apple Pie Culinary Trail winding its way through Grey and Simcoe Counties near Collingwood. Stop for lunch and stay for the pie (or butter tarts or brownies) — that's what the trail is all about.
The Apple Pie Trail, a self-guided tour along Georgian Bay, is a map of apple-themed stops: restaurants, farms, bakeries and even galleries. The circuit starts about a 90-minute drive from Toronto and focuses on apples, apples and more apples (though not always pie). Pick-your-own apple orchards are the highlight during the fall apple season.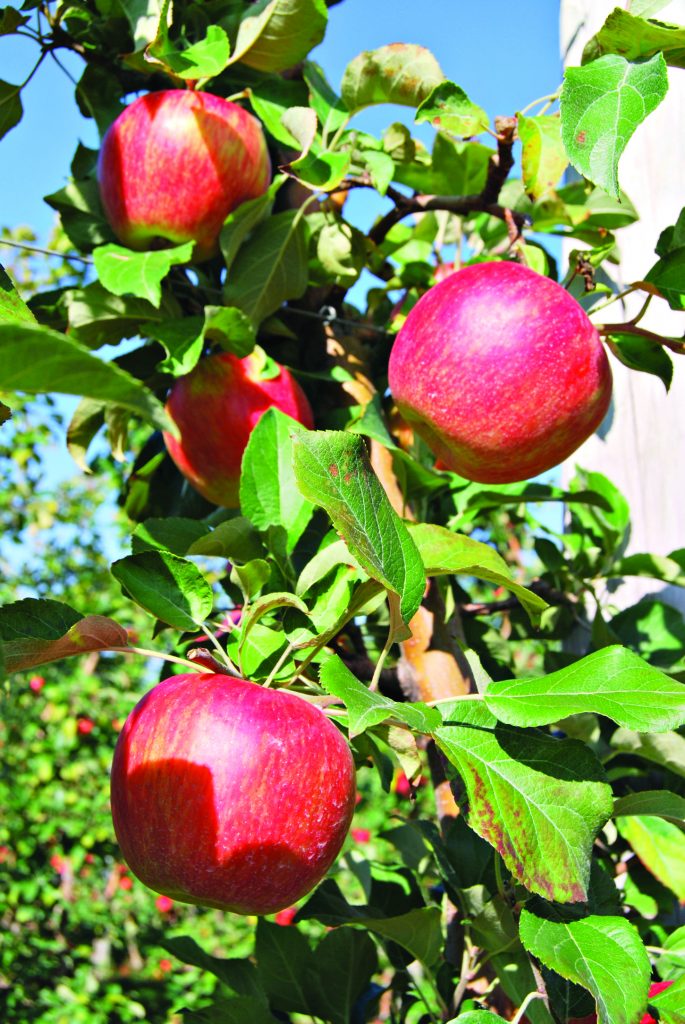 You can do this self-guided culinary route through rural ski country two ways: the active way and the indulgent way.
First, the active way: don your overalls, breathe in the bucolic fall air and pick your own apples at any number of farms anchoring the trail and providing the theme.
Located in Clarksburg, northwest of Glen Huron, the Farmer's Pantry (stop #23) is open until October 31, but September is when you want to go. This one's for the kids: Enjoy apple picking, wagon rides pulled by a tractor, a children's play area with goats and bunnies and meet Ozzie, the family dog and farm mascot.
Things get serious at T&K Ferri Orchard (stop #22) in Clarksburg. Maximum apple production is the goal, and it's the only orchard using the 'spindle' style of tree growing, common in Italy where space is tight. Trees are wrapped in bundles like tall grape vines along polls. 
"We're in the business of growing apples, not wood," says co-owner Karen Ferri. "Smaller trees produce more new tree limbs and new limbs are more prolific producers of apples." Trees are contained, shorter, narrow and laden with apples, making picking easier.
End furthest south at Giffen's Country Market (stop #1), a family-run business since 1939, near Creemore. Several generations of Giffens currently run this farm that's part 130-acre orchard of Macs, Empire, Spartans, Honey Crisp (and more) and part baked goods market and lunch counter – with homemade apple pie, of course. In 1983, the family expanded their roadside stand into today's country store and kitchen, also selling apple cider thanks to the invention of a portable pressing unit and wine-box style packaging that lasts up to a year unopened.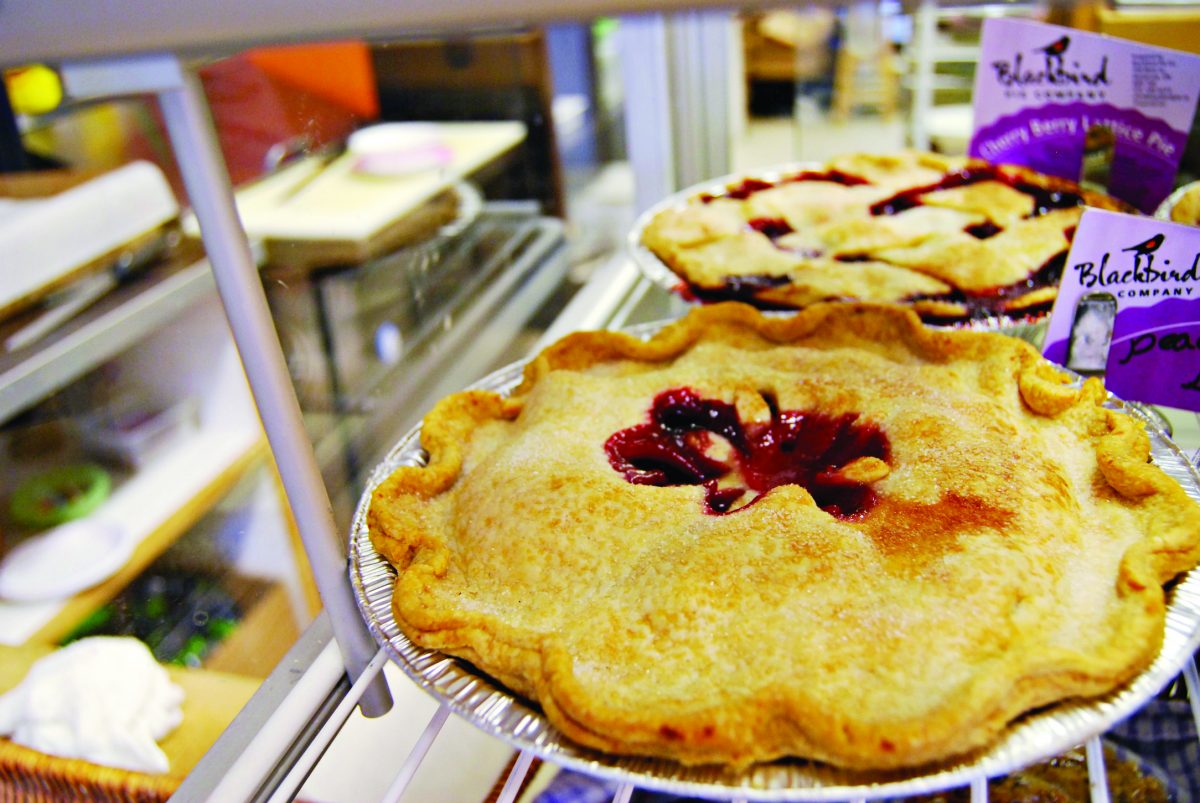 Come to the region to stock up on farm-fresh apples and cider or experience the Apple Pie Trail my way: eat and drink your way through it, letting someone else handle the picking and prep.
Stay at The Westin Trillium House at Blue Mountain and enjoy condo amenities like suites with sitting areas and kitchenettes (popular during ski season). Start with breakfast at Oliver & Bonacini inside the Westin and enjoy some non-snow season activities around the pond and promenade at Blue Mountain Village behind the hotel, including a hillside open-air gondola.
Then hit the trail: follow the map to art galleries, such as Bonnie Dorgelo Jewellery & Painting Studio (stop #14) in a renovated 120-year-old former school house. Dorgeloo counts abstract colourful apples among her stock, along with handcrafted silver and Swarovski crystal jewellery and charms (including apple shapes, of course).
Nearby, along the trail, Side Launch Brewing Company (stop #12) is pulling a sample brew for anyone (of age) who stops in. What's a microbrewery doing on the Apple Pie Trail? There's no apple beer, but there is a treat for Fido called Maverick & Zeus Doggie Bites made from spent grain left over from the brewing process and, surprise, apples. Very popular, the dog treats sell out quickly and the beer is good too.
Side Launch Brewing Company has Mountain Lager, Pale Ale, Wheat and Bavarian Dark Lager made from either North American or European hops (depending on the beer) but all using local Collingwood filtered water. Lastly, the key to unique Side Launch flavour is no filtering or pasteurizing of the final product.
If you prefer grapes over hops, the trail has that covered too. Head west to Georgian Hills Vineyards in Thornbury (stop #21) and indulge in a wine flight tasting among the vines. Include apple ice wine in your selection, of course.
Dinner at Azzurra (stop #8) in Collingwood is worth the drive to ski country anytime of the year. A night here is like sitting in your aunt's shabby chic dining room, while a European-trained chef prepares sharing plates based on farmers' market finds from that afternoon. Azzurra specializes in family-style or 'pranzo' dining for six or more. Otherwise, order from a variety of salads, pastas and mains — noting the special feature is apple and maple sweet potato gnocchi.
End the tour at the piece de resistance (or start there and don't leave): the Scandinave Spa Blue Mountain. Located on a 25-acre rustic wooded setting a 10-minute drive from the nearby ski hills, driving ranges and popular Westin Trillium House hotel, this day resort is designed to recreate the natural hot springs of its namesake countries.
The change rooms lead to the outdoor pool area, a mystical place of wooden decks, Muskoka chairs, steaming waters and Nordic waterfalls, as seen through the floor to ceiling windows when you first check in. Despite the Canadian winters, the spa is open all year, so you can sunbathe in the summer or polar bear dash from pool to steam room during snow-covered months.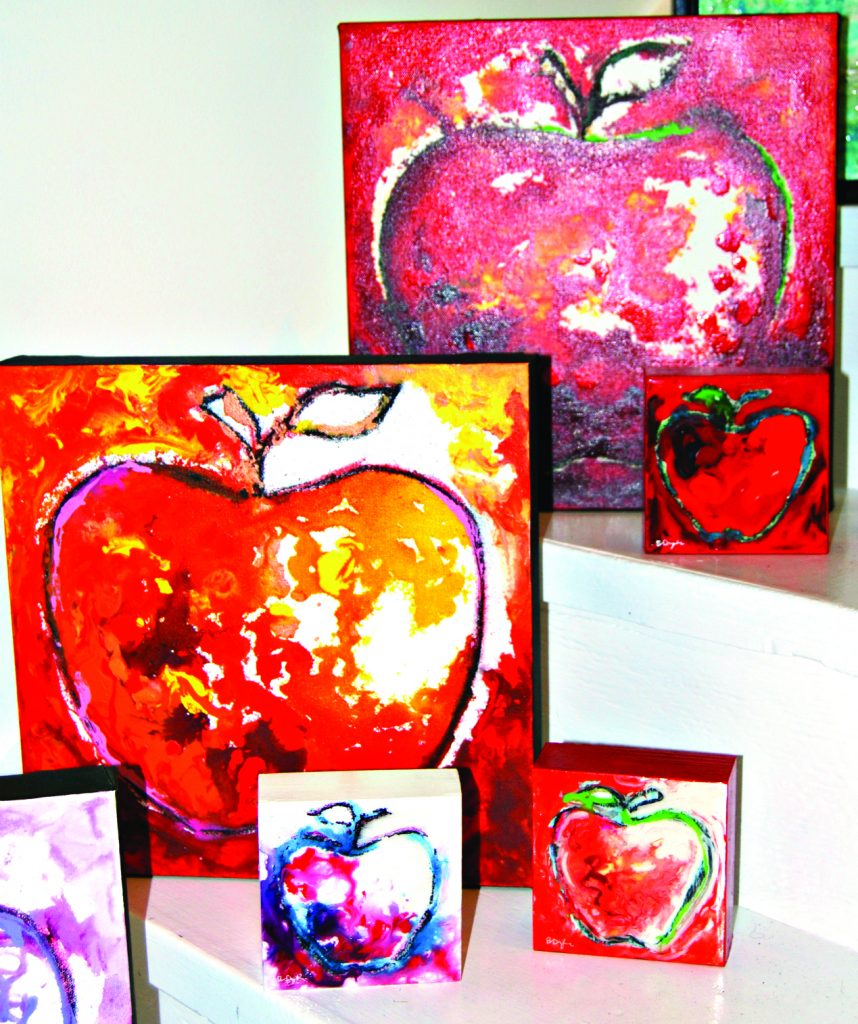 Follow the instructions near each pool and note the suggested order: spend a few minutes in the hot pool, then dunk into the freezing cold water of the next, and finally embrace down time in the sauna or eucalyptus steam room that will cleans pours and sinuses simultaneously.
Even if you're skeptical about the physiological benefits, one visit here and you can't help but experience the mental advantages — though most people eventually skip the cold and spend up to an hour basking in the warm pool while cascading waterfalls massage their shoulders.
There you go, the Apple Pie Trail — a ready-made getaway a few hours from home that's as easy as, well, pie!