A FORMER FISHERMAN'S INN HAS BECOME A LITTLE BIT OF CARIBBEAN IN THE COUNTY | by Rebecca Dumais / Photos courtesy of Lakeside Motel
A traditional roadside motel is merely for road trip respite but lakeside lodging becomes something else entirely: a blissful getaway that's not far from home.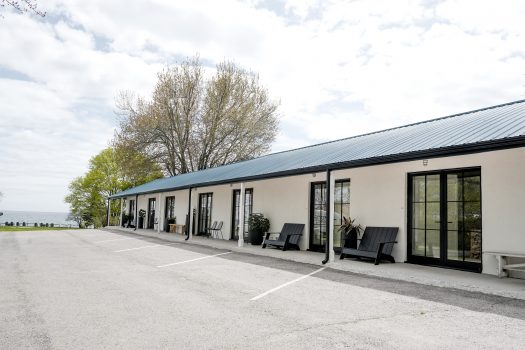 Just as the name implies, the Lakeside Motel located in Prince Edward County (PEC), boasts about 120 feet of waterfront, overlooking Lake Ontario. The property itself is two acres. The hotel opened in 2018. The previous owners gave one definitive piece of advice to new proprietor Renda Abdo: "Do not miss a season." With that in mind, a small refresh was made to the circa 1965 motel, which originally catered to anglers. Abdo's visions of the hotel's full potential were planned for and executed in the background.
The property makes you feel like you're somewhere else in the world. "I hear it over and over again that it makes people feel like they are on a holiday in the Caribbean or Miami," she says. "You lose yourself looking out at the waterfront; it's a natural reaction to order a margarita or mojito."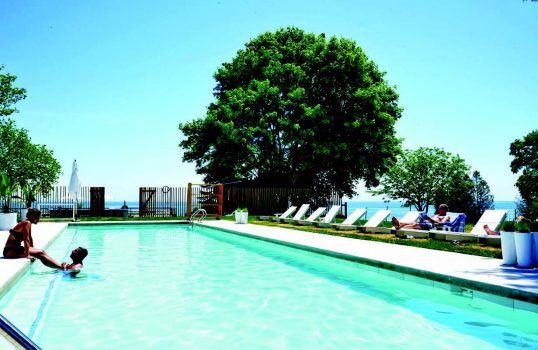 The area was already special for Abdo – she spent many childhood summers in PEC, and who wouldn't be drawn to its beachy vibes? "For me as a child it was all about the beaches, Sandbanks and the Sand Dunes were the highlight of my summers here," she says. "What made me buy the property and fall in love with it was the views from the waterfront – when you're on the deck it simply takes your breath away; it's easy, comfortable and has a very relaxed vibe to it."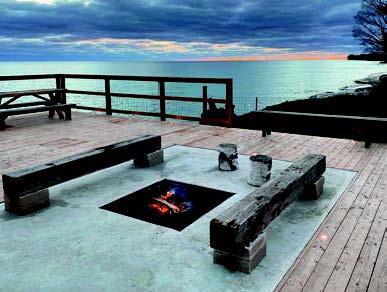 YOUR ACCOMMODATIONS
Every room in the hotel has undergone an extensive upgrade – everything from fresh Egyptian cotton sheets and plush terry bath towels and robes, to candles to set the mood – plus a fireplace, air-conditioning, a Rubinet shower, kettle, free Wi-Fi, camp blankets, pool and beach towels, and Apple TV.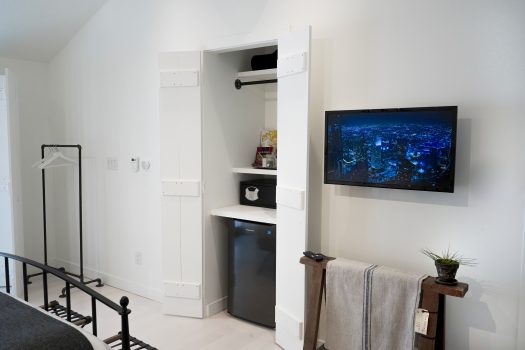 There are five standard bedrooms available, which include a queen bed and a private bathroom. The standard family room has one queen and one twin bed, plus a selection of toys, games and scary storybooks are also included, should you wish to entertain the kids. The county king suite features one king bed.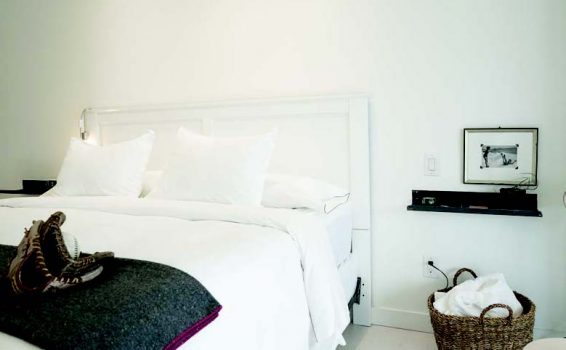 Want to book the owner's favourite spot? Ask for The Ten. It's perfect in every way for its private deck (that includes a couple of Adirondack chairs for relaxing), which looks out onto the pool and the lake. It's the closest room to the water. It also features a plush queen bed and a well-stocked mini fridge.
The two-queen bed suite can be separated by a sliding door for a bit of privacy – perfect for a family of four. The Wharf House is spacious enough for a larger group (it sleeps six), with three private rooms, two bathrooms and a private deck. It's also equipped with a full kitchen for everything you'll need to entertain. Guests are permitted to call ahead to arrange for their groceries to be picked up and unpacked before they arrive.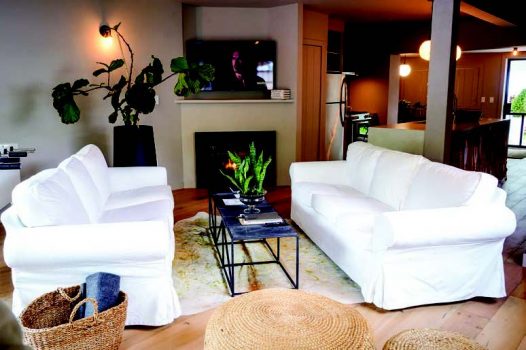 The Lakeside Bungalow has two bedrooms with queen beds, a modern bathroom, a full kitchen and living room and a private outdoor spot with a fire pit, private deck and dining area. The additional Bunkie, which is a modern detached bedroom, can provide further accommodation for your group.
All guests looking for something special on arrival can also arrange a bottle of Prosecco and a selection of local artisanal cheeses, preserves, crackers and fruit.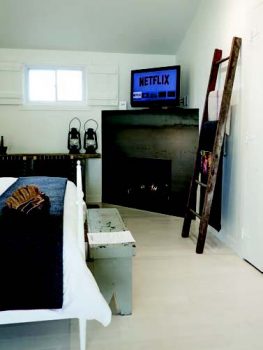 BAR & RESTAURANT
Along with the seasonal patio and bar, the restaurant serves appetizers, mains and pizza. To start, why not try the oysters – shucked to order – then the Lakeside Burger or Steak and Fries. If you're of the pizza persuasion, ask for the Diavola or Prosciutto.
The hotel also stocks kits to make "the best damn s'mores" to enjoy fireside. Campfires in the fall, winter and spring are weather permitting. Wine, beer and spirits will be available for purchase through the office post-summer stays (after October 3).
THE AMENITIES
Imagine yourself lounging on one of the daybeds or recliners that surround the 70-foot gunite swimming pool with the lake set as your backdrop. The cabanas are one of the newest offerings for guests. "We have added day-use cabanas to our property this year that can be enjoyed by both motel guests and visitors," Abdo notes. "If you're coming for a day poolside with friends or family it's the perfect addition to a day here at Lakeside."
Cabanas can accommodate from two to seven people and can be booked right up until the pool closes for the season (call ahead or check the website for updates to these services). Cabana add-ons for purchase also include a fully stocked bar cart and bottle service and are equipped with their own fire pits (for use when burn permits are granted).
Another new amenity is the Hothouse Sauna, an elegant, off-grid enclosure where you can blow off some steam, sit back and relax. Private bookings are available.
If a spa day is what you seek, the Beauty Buggy is available for a particular service or a full afternoon of treatments. Indulgences are available by appointment only.
If you decide not to trek into town, The Shoppe, located within the hotel's office) sells a range of locally made products that rotate seasonally.
Feel like an excursion? Rent a canoe and go for a paddle or borrow a bike. "Grabbing a bike and hitting the trails of PEC is a great fall activity," says Abdo. "Head to a vineyard or check out one of the many antique collectors in the area. Antiquing in the fall in PEC is unlike any other."
The area has over 20 wineries, several cideries, parks and golfing, but you will find plenty to do (or not to do) right on the premises. "We hope all our guests feel like when they visit Lakeside they are on holiday. The Italians have a phrase: 'Dolce far niente.' It means pleasantly doing nothing."
For more information, visit thelakesidemotel.com