Esthetics Meet Innovation in this Modern Oakville Marvel
By Laurie Wallace-Lynch
Nestled on a quiet street in on of Oakville's established neighbourhoods, this modern, 4,400 square foot eco-friendly home is cleverly designed to blend seamlessly into the well-established, upscale neighbourhood just off Lakeshore Road. Modern dark and light finishes combine with classic natural stone to showcase the gleaming floor-to-ceiling windows which fill the home with natural light.
"One of our first priorities was making sure our house blended nicely with the neighbourhood," say homeowners Danielle and Paul Cousin. "Our vision was a clean, modern, open-concept design in a home that was large enough that our four children could have their own space."
This modern marvel is a far cry from the original dark and somewhat dated 60s style home which the Cousin family lived in for seven years before tearing it down to build their dream home. Paul is a mining engineer by trade, and his top priority was having an eco-friendly, sustainably built home.
"The environmental approach was an investment and commitment to do things better and build sustainably," says Paul.  'This is not a house we built to flip, but rather to leave a legacy and to create a smaller carbon footprint."
Building an eco-friendly home can be challenging as you tick off the boxes on your wish list of dream home features.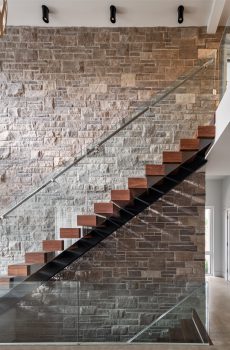 "We wanted an open concept home with big windows and plenty of light so the triple pane, high performance windows were a given," says Paul. "Sometimes there needs to be a bit of compromise to get the house you want while staying true to the commitment to build a home with a no-fossil fuel approach. It is easier to do this if the house is a shoe box, but more difficult when you have cantilevers and a large open-concept design. The key to success is hiring the right builder and collaborative team to ensure your vision becomes reality."
The 'dream team' on this house consisted of architect Darren Sanger-Smith of Structured Creations in Burlington, interior designer Patti Rosati of Patti Rosati Interiors in Toronto and Oakville builder Aaron J. Miller, owner of HummingbirdHill Homes & Construction Inc.,  a Passive Home™, and WELL™ Certified Builder.
The eco-friendly design was built from the ground up using an ICF foundation with geothermal heating and cooling and sustainable materials. Aaron Miller explains: "It was important to Paul that we deliver a very tight, high performance envelope with an air leakage rate that's just shy of a passive house rating. A lot of insulation was used on the exterior of the home to terminate thermal bridging, which drastically improves energy efficiency." Passive house is recognized internationally as the proven best way to build for comfort, affordability and energy efficiency of residential, institutional and commercial buildings, through all stages of design, construction, and livability.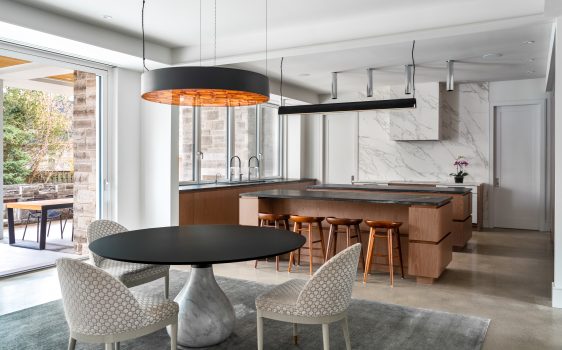 Step inside the front door and prepare to be gobsmacked by the soaring three-story natural stone feature wall in the foyer! The stone wall runs from the lower to upper levels and acts as a backdrop to show off an architectural open tread staircase with chunky six-inch thick solid walnut steps that are visible through the ultramodern glass railing. "The stairs sit just slightly off of the stone wall and it's the same stone as what was used on the front of the house to tie the exterior to the interiors," explains Paul.
Overhead, three large fretwork LED globes gently illuminate the foyer, but your eye is drawn to the movement of an orange flickering flame coming from a fireplace. Encased in a partial wall, yet open on three sides, the fireplace can be seen from almost every room on the main floor. It uses water which converts to steam to create a realistic-looking flame.
Two principal rooms are located at the front of the home: an office/den featuring those floor-to-ceiling windows and opposite this, a large formal dining room. A creamy white linen chandelier with as many curves as the Marilyn Monroe buildings, casts a subtle glow over the expansive table with seating for 10.  Overhead a custom design ceiling feature demands admiration. "It serves two purposes—it gives the room character and acts like a piece of statement art, while concealing the duct work," says Paul.
This home was designed for entertaining on a grand scale, as is evident when you walk into the vast great room which houses the kitchen and family room. The room runs the full width of the house and features floor-to-ceiling windows overlooking the inground pool, fire pit and outdoor kitchen. Binging on Netflix on the large screen TV on the large sectional in the family room, there is plenty of space for this family of six and their two dogs Almond and Praline.
"I love to cook, and the open concept kitchen and family room are my favourite areas of the house," says Danielle. "I love being outdoors and the large windows bring the beauty of the outdoors inside."
The castle-sized kitchen boasts two islands, two ovens, a steam oven and a microwave /convection oven, a cooktop, a large rectangular 'trough' sink and an entire wall of custom walnut cabinets which hide the fridge and pantry.
Topped in dark grey natural soap stone, one kitchen island serves as a handy breakfast bar while the other is a prep station. "The soap stone has a beautiful patina which darkens when it is polished and it's very hard wearing," says Danielle. "We used the same soap stone outside in the outdoor kitchen area to tie the two spaces together."
Other ingenious materials in the kitchen include a countertop and backsplash in creamy white with a grey vein that looks like Carrara marble, but is a high-performance manmade material called Neolith. Polished concrete floors are used on all three levels with an in-floor heating system.
The home has six bedrooms; four on the upper level and two on the lower level which also has a billiard room, movie room, home gym and wine cellar.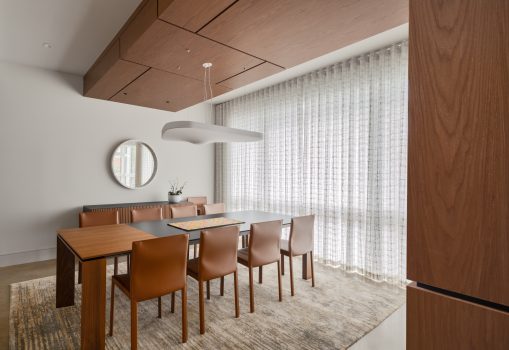 As a home builder, Aaron mentions the challenge of creating the three-storey stone wall and staircase was well worth the effort. "Each time I see it I love it even more," says Aaron. "We have a great team of inhouse finished carpenters who were able to work with Paul and Danielle to bring their vision to life. We are proud to build passive homes which are the gold standard of sustainability and as a WELL™ certified builder, we are trusted to build homes that have a positive impact on our health, wellness, and comfort. We use all five senses when building homes and take a proactive approach. In 2009, I came to the realization that eco-friendly building is the way to go and I felt ethically obliged to do the right thing. This type of building is how all homes will be eventually built as energy prices continue to rise and we realize we need to tackle climate change, but also people realize their homes can be a sanctuary from our busy lives that offers the ability to reset and rejuvenate in our quest to thrive."
Paul nods his head in agreement and adds: "What I am most proud of is the overall result. What's most important is that we have a house that is beautiful architecturally and very energy efficient."