A few years ago, when a local couple approached Michelle Mazzilli, Senior Designer at Elizabeth Interiors, to help them achieve their dream living space, she provided results that were swoon-worthy.
But time ticked along, and soon, the couple realized they were going to need more room.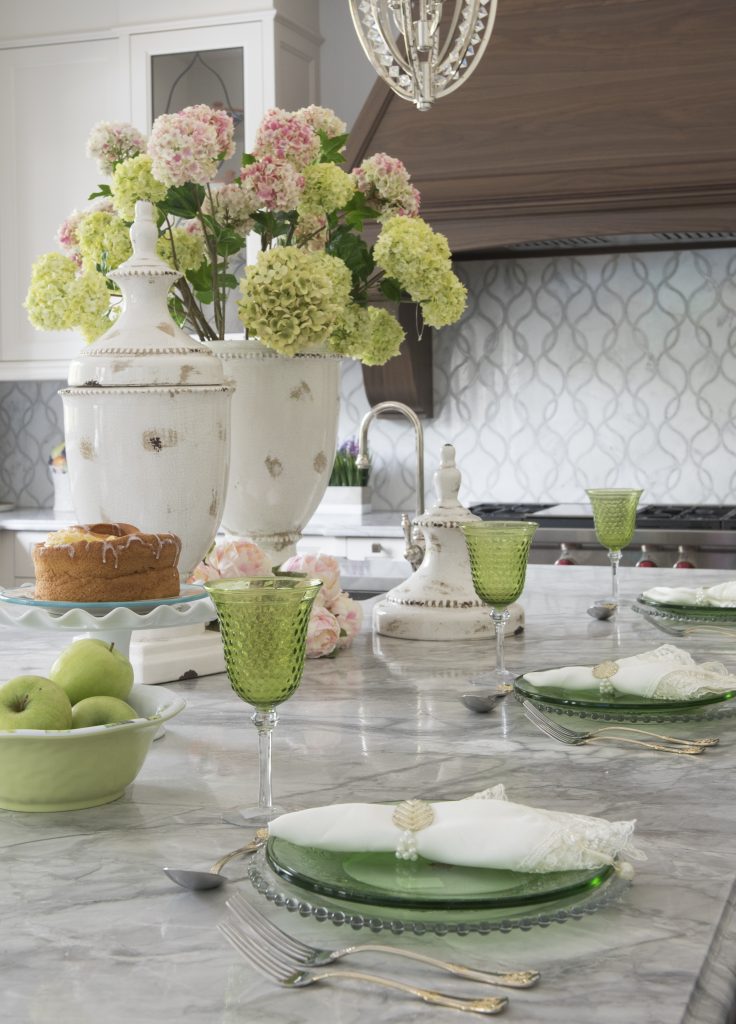 "When I first met this amazing family, they had three wonderful children," Mazzilli recalls. "They've since welcomed two more. I had worked closely with them on their first home and we'd developed an amazing relationship. It was an easy decision for them to come to me when they relocated to a larger home last fall."
In addition to furnishing and finishing their dream home, another important item on the family's wish list?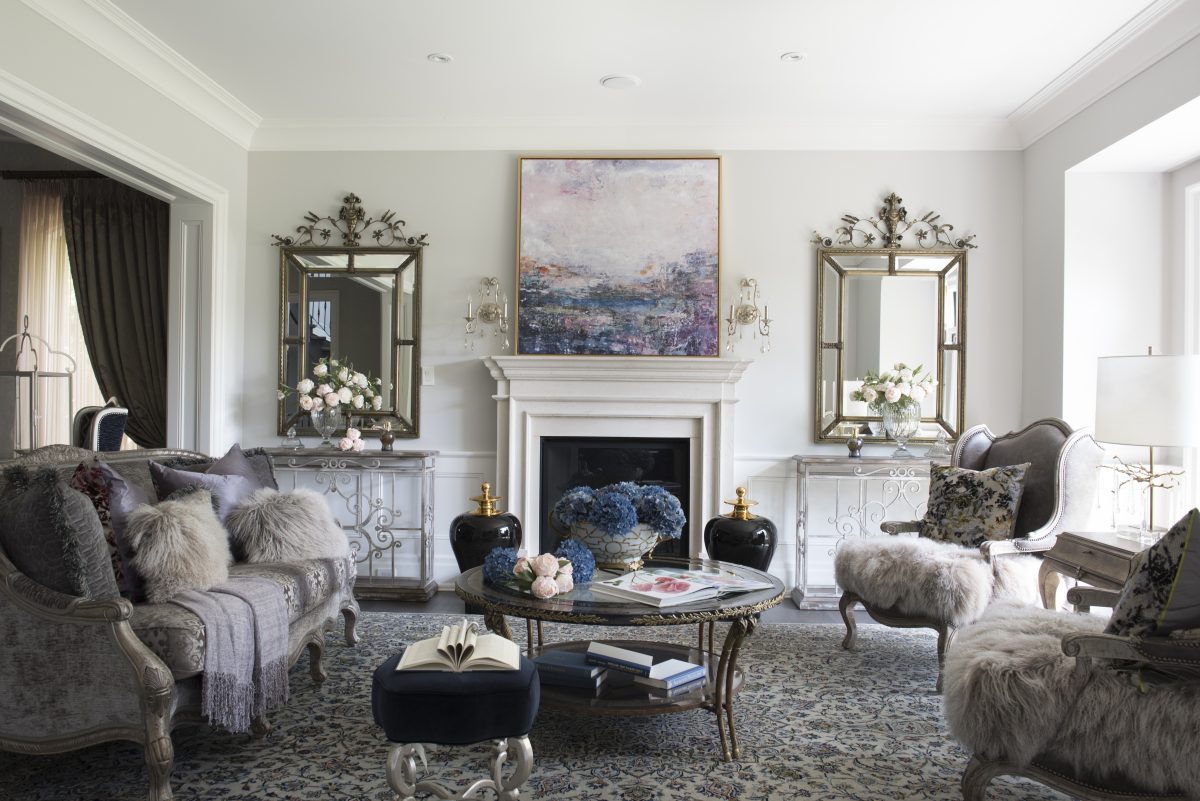 The clients wanted to be able to comfortably accommodate numerous friends and relatives from abroad, hence a need for grander dining areas, more guest quarters and plenty of cosy places to gather, scattered all throughout the abode.
"This home is twice as large as their previous residence," Mazzilli explains, "and this one has majestic high ceilings, vast vistas and large-scale rooms begging for large-scale furniture."
A custom build painted throughout in a smoky grey palette, accompanied by gorgeous grey and brown wood floors, the home's
pre-determined colour background provided Mazzilli with her first challenge. With an aesthetic that reflects their very worldly adventures and exotic culture, rich in colours, fabrics and textures, and abounding in gilded accents, how would Mazzilli marry her clients' romantic, travel-savvy inclinations with a neutral canvas?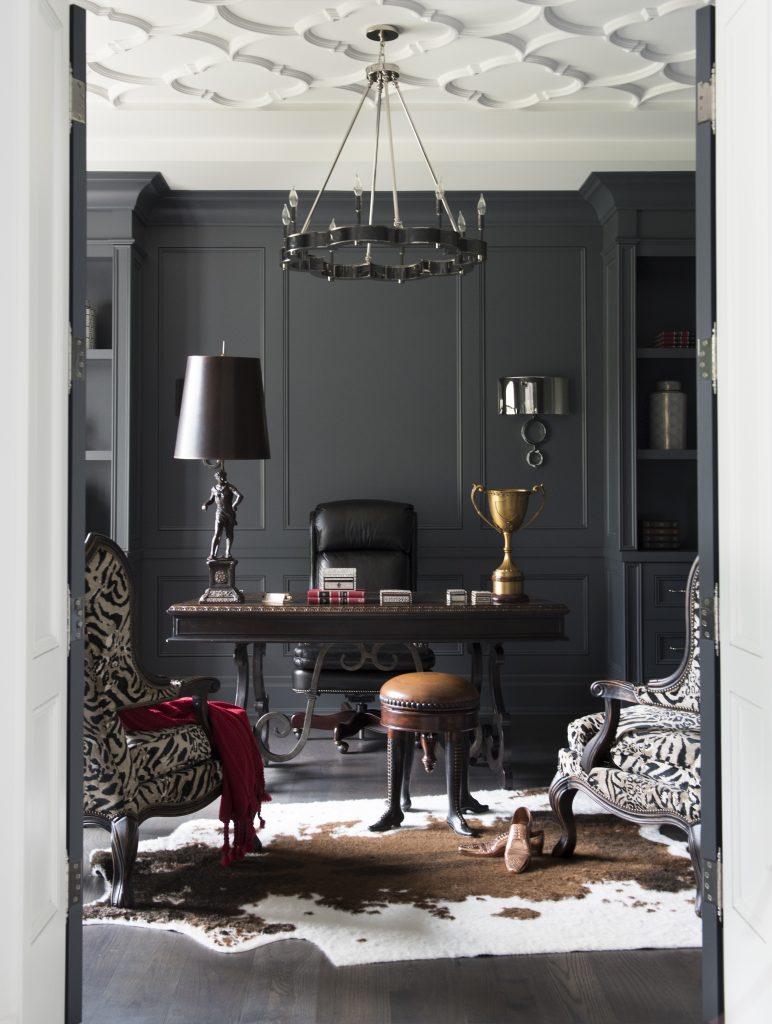 "I decided to build layers of saturated, jewel-like tones, using pops of rich purples and blues, and gorgeous textured fabrics featuring lots of embroidery, velvets and furs. The grey actually became a lovely backdrop to this cacophony of sumptuous hues," she says.
And to include the gilded elements the family loved so much, Mazzilli unearthed a new tone
called Snow Gold, a mixture of silver and gold her clients immediately embraced. She used it heavily in lighting fixtures and as an embellishment on furniture and accessories.
Grand entrance
Upon entering this luxe abode, the front hallway offers a first glimpse into the grandeur of the home. The floor is white marble with a black inlay, which creates instant drama and contrast. A gorgeous round marble table announces its presence in the middle of the hall, showcasing massive floral arrangements that are interchanged and tailored to each season. A custom smoky grey crystal chandelier hangs overhead, shimmering delicately in this expansive space and creating the perfect focal point.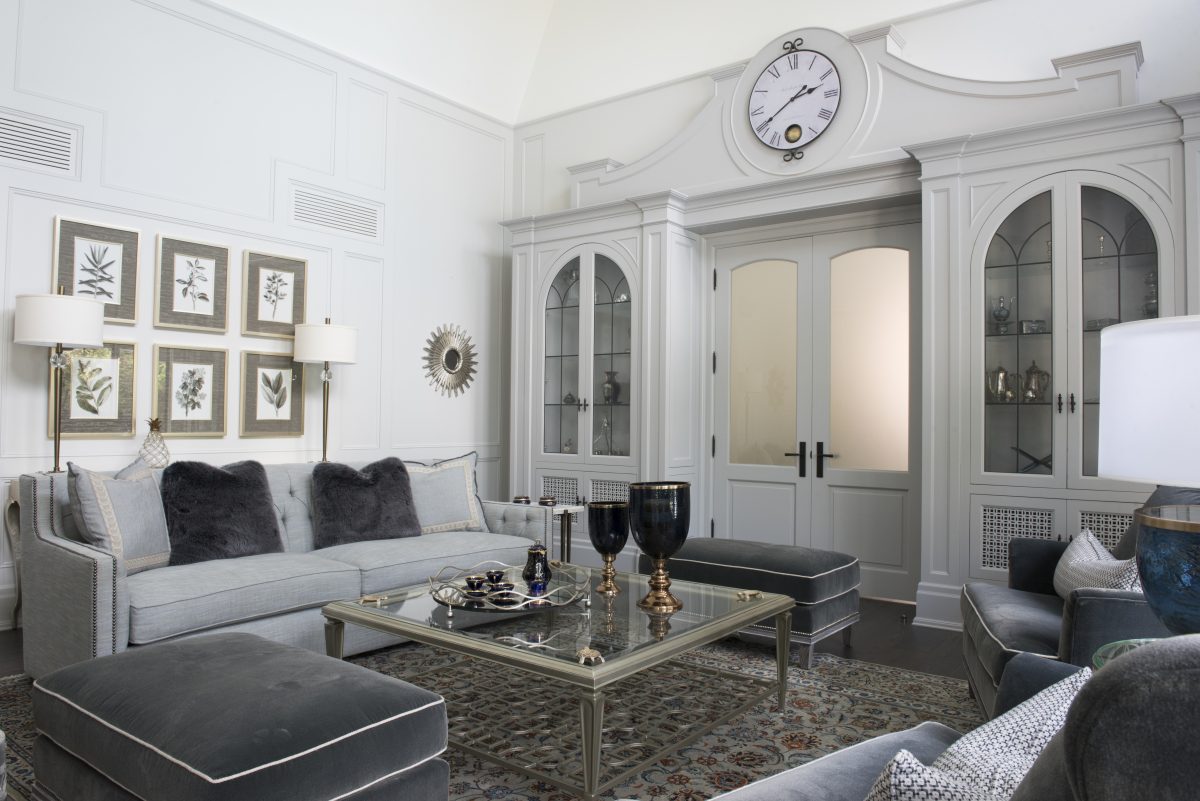 Matching velvet benches sit opposite one another, dressed in ornate trimmings, and tall closet doors are painted in a dark charcoal grey to reflect the grey theme of the home's canvas.
To the left, this busy family has included a home office, complete with built-in bookshelves and plenty of space to work. Playful touches include chairs covered in a zebra print and animal hides for rugs. Again, Mazzilli concentrated on details.
"We chose a desk with custom feet that are both whimsical and functional."
One-of-a-kind touches, like gilded men's brogues, add to a carnival-like atmosphere, making this space easy and fun to be in. For continuity, the walls are painted in the same dark charcoal grey seen on the foyer's closet doors.
To the right, the home's drama extends to an incredibly elegant living room, which adjoins the equally stunning dining room. Intended for formal functions and family gatherings, this room is impeccably designed to be a feast for the senses. Gold and silver accents co-mingle, and no detail has been overlooked, from the rich multi-layered couches embellished with seven layers of plush fabric a guest can melt into, to the carefully planned tablescape on the custom-built coffee table, adding more bursts of vibrant colour to draw the eye.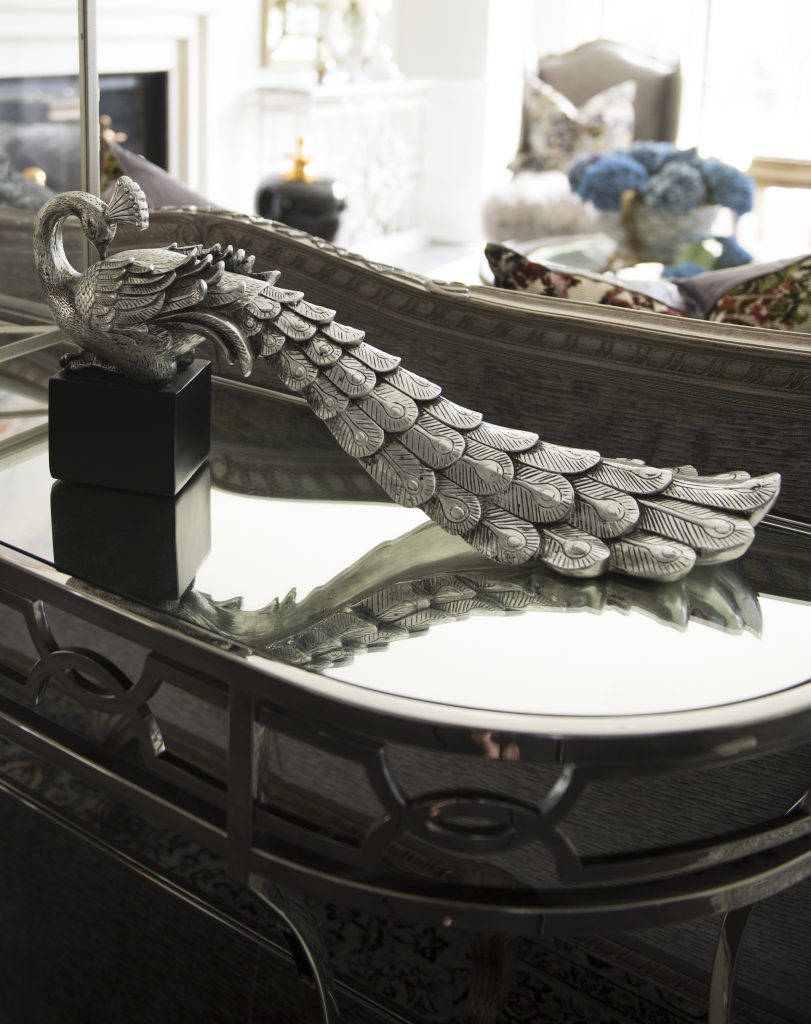 "It's all about the details," says Mazzilli, "so that everywhere you look, there's another sensational element to notice, gaze at and admire."
Adjoining the living room is the home's stunning dining room, designed for entertaining for holidays and milestone events. The piece de resistance — and one of the highlights of this space — is the massive inlaid mirrored table, custom ordered through Elizabeth Interiors, which seats 10 guests comfortably.
At either end of this spectacular piece of furniture — a work of art, truly — host chairs are dramatically oversized, boasting a regal royal blue velvet on the back. Accompanying furniture echoes the mirror theme with yet more inlaid pieces of reflective glass, while an ornate bar cart displays light-catching, glittering treasures: think royal blue and pink wine goblets.
"Accessories like this bring yet more colour to this fabulously neutral canvas," Mazzilli explains.
The dining room's ceiling is yet another unique architectural feature in this beautiful home: it's vaulted, which draws the eye upwards to the next breathtaking element, a custom smoky silver crystal chandelier.
As for her client's beloved collections from their worldwide travels, Mazzilli ensured there are plenty of intimate, yet accessible nooks, where guests can glimpse the unique taste of its owners.
"The family room, designed to the more practical hub of the home alongside the kitchen, provided a perfect opportunity to showcase the unique collectibles my clients have gleaned during their lifetime's adventures," she explains.
Extending to the kitchen, where guests are privy to an incredible view of the home's massive backyard, colourful glassware and intriguing silverware add sizzle to this very functional room.
"It's been such an honour and a pleasure to work with this family again," Mazzilli says, "and I hope this spectacular home provides a backdrop for many happy memories for them."