By Laurie Wallace-Lynch
Photography by Andre von Nickisch
If there is one good thing that came out of the pandemic, it's The Abode backyard home office.  As the remote work model persists, homeowners are challenged to find solutions at home that strike the ideal work/life balance. But with limited space, what options are there? Well, how about the backyard? This is the thinking behind The Abode – a new company based in GTA that constructs all-season, fully functional standalone "rooms" just steps from your back door.
"The catalyst behind the creation of The Abode was the pandemic when everyone was working from home and trying to home school kids," says Craig Thompson, co-founder of The Abode and Mississauga resident . "My eldest was home from university and doing classes online and my youngest was doing high school online, while both my wife and I were working from home. It was complete chaos!"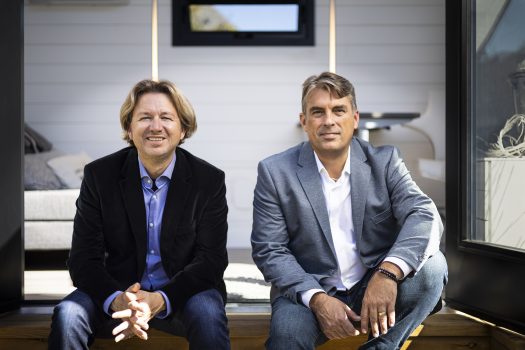 At the same time, his friend and engineer Martin Muhs was facing a similar situation. "My wife was working from home and we were trying to home school our two children (age 6 and 8) and nothing was getting done. We were using our dining room table as a home office. Like many people, we have space, but not the right space."
Enter The Abode. It's like a small house (okay room) that's 9' x 12' (108 square feet) and fits into most backyards.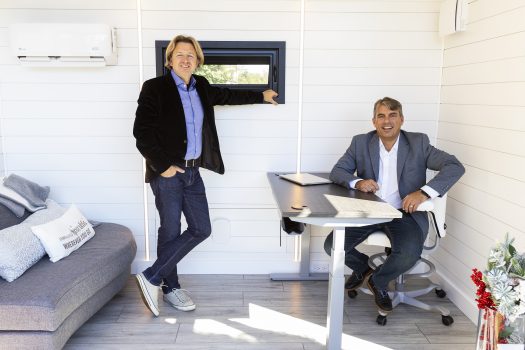 "The Abode is a multi-purpose, transitional space that can be used for whatever you need at the time," says Craig. Possibilities include office work, meditating, yoga, a hobby or just alone time. "From the time the client places the order to the installation, six weeks is the magic number. And our white glove installation means we do all the work for you from start to finish."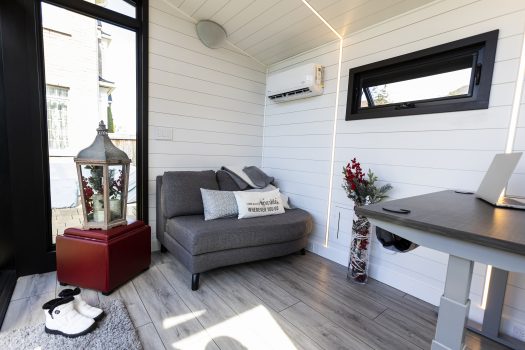 As a professional engineer with years of experience in space design, construction and project management, Martin's goal was to ensure engineering excellence. Craig specializes in customer service and satisfaction backed by years of experience with Tim Hortons and Four Seasons Hotels.
The smart looking Abode features hardwood flooring, a window wall with double glass garden doors, and rear window for cross ventilation. Features such as heat, AC, fresh air exchanger and LED lights can be controlled using your phone.  Shiplap wall treatments are used inside alongside a six-foot mirror wall and horizontal aluminum plank siding is used for the exterior.
The Abode comes in three models, including a DIY kit and a top-of-the-line package. Conveniently, it does not require permits in most municipalities due to its compact size, nor does it need a concrete foundation; the structure sits on helical piles that are like a giant wine corkscrew that screws into the ground.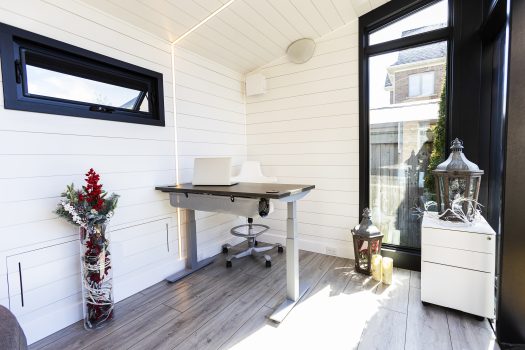 "We found the latest technology in modern design elements, top quality materials and partnered with leading Canadian suppliers to deliver a superior space that is fast, easy and purposefully designed," explains Muhs. "This is a made in Canada product that is built to withstand Canadian winters."
Call it your home away from home – even if it's just a few steps away. Sometimes a little extra space is all you need, and The Abode makes this (and the commute) easier than ever.