By Laurie Wallace-Lynch
PHOTO CREDIT: Stacey Van Berkel
Let's face it, who doesn't want to have more joy in their life? Lifestyle and TV décor expert Debbie Travis, of Painted House fame, now lives in a thirteenth century villa in Tuscany, Italy, where she offers week-long retreats for women from around the world. Living the good life 'Under the Tuscan Sun', it seems Travis has discovered the fountain of youth and vitality along with the keys to live a more joyful life. She shares her secrets in her gorgeous new book, JOY: Life Lessons from a Tuscan Villa by Debbie Travis with Jacky Brown, Nutritional Therapist and photos by Canadian photographer Stacey Van Berkel.
Travis' Villa Reniella and Porcilaia Suites sit high on a Tuscan hilltop overlooking 100 acres of olive groves, vineyards, lemon trees and boasting guest comforts like an infinity pool overlooking the rolling hills and three massage huts. Travis and her husband took five years to renovate the villa where she has been hosting week-long women's retreats for the past 11 years.
It was the retreats—and questions from departing guests—that inspired the new book, the 11th in her repertoire.
"We've had more than 1,500 guests attend our retreats and after one week, the women are smiling, their hair is shining, and they look and feel 10 years younger," states Travis. "They are having so much fun walking, talking, eating and drinking together, they are like teenagers at summer camp. Without fail, at the end of each retreat, guests ask me how they can keep this feeling of happiness and contentment alive once they get home to their condo in Toronto, Calgary, New York, or wherever. This was really the inspiration for the book. It's about how to bottle the happiness women find at the retreats and showing readers how to renew their vitality and find more joy in life. The book is about rediscovering the simple life and living like our grandparents or great grandparents did. This includes eating fresh local food, cooking more, getting enough sleep, laughing more and finding a sense of community."
Written in her witty, effervescent style, Travis takes us to her beloved Tuscany as she shares stories about local people living in the nearby medieval village, nutritional tips from Jacky Brown, and more importantly, Travis' 10 Life Lessons such as Unlocking the Power of Sleep, Living with Purpose, Move the Body, Calm the Mind, Divorce Your Devices and Just Smile."
The release of JOY seems timely considering what we've all been through during COVID-19.
"After the last year and a half, we are all craving more smiles and more connection with others and getting back our vitality," says Travis. "Building your community (Life Lesson 1) is about connecting with friends or finding new friends by joining things. This is probably the most important lesson in the book. This can include joining a walking group, foraging groups or taking an art class. It can be as simple as knocking on your neighbour's door and saying, 'hey I am making plum jam, do you want to come help?' They may look at you like you are a bit daft, but chances are they'll say yes! Or call some friends and tell them you are making pasta and tell them to bring a bottle of wine and come on over."
Travis's long, outdoor "Tuscan table" is often filled with 20 or so guests. "After the villa renovation was nearly completed, my husband and I decided to have a dinner party and something extraordinary happened. We looked down the laneway and saw all these people arriving, many of whom we had never met. Our architect arrived with his mother and one of the other guests brought their relatives. You would flip if that happened in Toronto, but this is just the way it is here (in Tuscany). Our chef calmly said he would add some more pasta to the pot and not to worry."
Not to worry seems to be a Tuscan mantra and appropriately, Life Lesson 7 is titled Worry Less. In another chapter Travis shows us how to eat and drink like an Italian – that is sitting down and enjoying a meal with others.
"You will never see an Italian eating lunch at their desk!" states Travis. "Meals are meant to be savoured and enjoyed in the company of others. Even when we were renovating the villa, the crew would get their old wheelbarrow and place some boards on it and throw a red and white checkered tablecloth over top and open their sandwiches. Then they would have a half hour nap and then go back to work."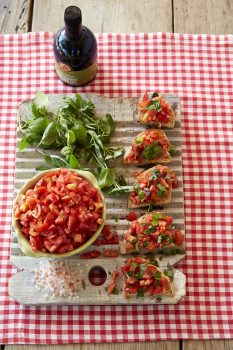 Speaking of work, Travis knows a thing or two about life in the fast lane,  hosting her wildly successful TV shows Debbie Travis' Painted House, Debbie Travis' Facelift, From the Group Up and All for One, and the six-part documentary La Dolce Debbie. She is married to Hans Rosenstein, a Canadian film producer and partner of Whalley-Abbey Media which produced all the Debbie Travis productions. The couple have two sons.
The decorating and lifestyle guru still loves to decorate. "It's an ongoing process at the villa actually. The decor is quite simple and comfortable. As I am putting fresh flowers in each guest room, I like to sit on the bed and envision the room through their eyes. That is what good decorating is all about—seeing and feeling a space through the room of those who will enjoy it."  She is also soon to release a new Debbie Travis home decor line in Canada.
Most days you will see Debbie cutting fresh flowers, preparing guest rooms,  'forest bathing' (walking in the woods and sitting under a special tree), or hiking around the grounds with her six-month-old puppy, a border collie named Alfie. "He brings me so much joy I can't imagine going for a walk without him. There is joy everywhere—you just have to look for it!"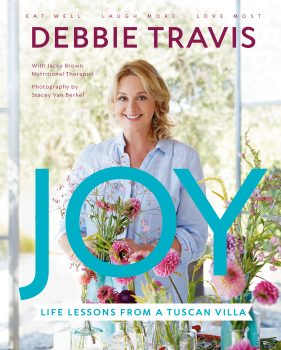 JOY: Life Lessons from a Tuscan Villa is published by Random House Canada, now available in bookshops.