By Allie Murray
While living in Germany for seven years with her husband, Ashley James was inspired by the European way of life that embraced simple living and an environmentally conscious mindset.
"I became very conscious of sustainable living during my time in Europe," says James. "I loved the simple things people were doing in their daily lives to be more environmentally conscious, and I soon began to adopt this new way of life." When she returned to Canada, settling in Burlington, she was inspired to share her passion for living simply and started an ecommerce business aptly named The Bare Home.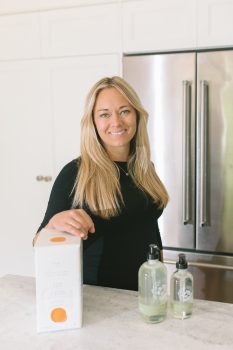 "The Bare Home started as a passion project," she explains. "After we moved back to Canada with our young kids, we knew life in Canada would be different from what we had been accustomed to in Europe, but I was feeling inspired and excited to bring some of that lifestyle home with me."
Initially, The Bare Home offered a variety of goods including fair trade foods, zero waste products and cleaning goods that she sold online and at farmers' markets. When she added an option to refill her products, she realized she was onto something good.
"I quickly noticed that customers were most interested in the refilling options for our cleaning products and I pivoted to focus on this," says James. "At one point, customers were leaving empty bottles on their doorstep, and I was driving around refilling them. It was clear that people loved the idea that they could have one bottle and simply refill it."
James relaunched her business with a full line of premium cleaning products that were refillable including liquid hand soap, dish soap, all-purpose cleaner and laundry detergent.
All her formulas are biodegradable and scented with organic essential oils. Eco-friendly packaging includes high quality glass bottles and three-litre refill boxes. Customers can also refill bottles at select retailers. The Bare Home products are also now available at large retailers including Well.ca and Indigo.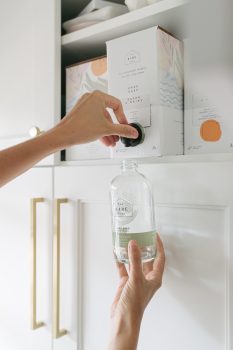 Part of James' motivation for The Bare Home is to create a better future for her children and their generation. "Our kids' enthusiasm to live more sustainably and make informed decisions without our input is extremely rewarding for us to see," she says.
James operates with the mindset that small changes make big impacts and encourages others to start small and see the positive impact of their actions.