By Amanda Lee
While 2020 was overshadowed by a global pandemic, there's another ongoing crisis that negatively affects one-third of the world's population. That is access to clean, safe water.
The Oakville-based wine and whisky club, Gargoyle, wanted to help find a solution. Gargoyle's team of experts has been curating wine and whisky since 2016. After two years ago of establishing their business, the company was ready to turn its attention to philanthropy. "We were offering amazing products like wine and whisky but, that wasn't enough," explains winemaker Will Predhomme.
"The water crisis is staggering and heartbreaking," says Predhomme. Two hundred million hours are spent searching for clean water every year, mostly by women and girls. "If young girls aren't in school and playing, they're limiting what they're able to achieve in the future," explains the winemaker. This crisis also becomes an economic problem for women, who are unable to work. "It's a solvable problem and it's something we can do to change things in the world," adds the winemaker.
Sommelier Scott Zebarth acknowledges their business is not alone in wanting to make a difference. "We knew we wanted to do something more," he explains. "And it's not just lip service."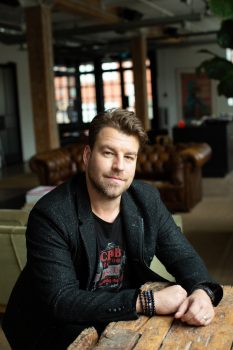 Once Predhomme and Zebarth realized how important water is to the wine-making process, working with Water.org felt like a natural fit. In addition, one of the main philosophies behind Gargoyle is the idea of drinking better. That value takes on deeper meaning through their partnership.
How Gargoyle's partnership with water.org works is simple: For every single bottle of wine curated through the Gargoyle Wine Club, one person receives one full year of clean water.
Water.org was co-founded by actor Matt Damon and its partners include Cartier and Stella Artois. "Water.org has a stellar reputation and they're careful who they work with, so we knew it wasn't a given," says Zebarth. "Their efficacy is through the roof," adds Predhomme.
Gargoyle was honoured when the global non-profit organization agreed to partner with them in 201X. "We were very transparent with what we were trying to achieve," explains Zebarth. "And we've now crossed 75,000 lives changed."
"With a lot of these communities, it's not that they can't afford the water, they can't afford the infrastructure for the water," says Predhomme. The funds raised through every bottle of wine Gargoyle curates goes towards Water.org providing access to safe water and sanitation.
Water.org provides communities with consulting expertise and affordable financing called a WaterCredit. These microloans help communities build the necessary infrastructure to access water. "It's a really intelligent model," says Zebarth.
Sadly, the COVID-19 pandemic means access to safe water is even more critical for the health of families around the world. Gargoyle's goal is to change 250,000 lives by 2022. "We need to be clear about who is donating. It's not us. It is our customers who are doing this," explains Predhomme. "When you buy a case of wine, that's 12 people's lives changed."
As well as hand-selecting some of the best wine, such as a Pinot Noir from Argentina's Patagonia region, or an Italian Barolo, Gargoyle is also curating their own brand of wine. Due for release in 2021, the label is being designed by Oakville-based Buck Productions, founded by Sean Buckley, and will speak to the story of how Gargoyle wants to be part of the solution to the global water crisis.