By Peter Bailey
Nestled outside the town of Thornbury, on the southern shores of Georgian Bay, lies the Blue Mountain Fruit Company, a family-operated business with a surprising product. It produces a unique apple known as the Red Prince, marketed in Canada by the family of Marius and Irma Botden, Dutch immigrants who set up a family business in 2004 that specializes in apple growing.
It was an apple created by accidental cross-breeding of a Golden Delicious and a Red Jonathon, discovered on the Dutch/German border after the war. Marius, 59, and Irma Botden, 55, acquired the North American rights to growing the apple, and brought it to Canada. Now it is also grown under their watchful eye in orchards in Quebec and Nova Scotia.
But this uniquely Canadian apple isn't your grandfather's Delicious or McIntosh or Northern Spy. Unlike most apples –which are sold as soon as they are harvested – the Red Prince variety is picked in October and then cellared until January, to allow the flavour to develop to its fullest potential. Like a wine.
It may surprise southern Ontarians that Niagara Region and southwest Ontario aren't the only prosperous fruit-growing areas in the province. The Apple Pie Trail in the southern Georgian Bay region celebrates the many fruit orchards that thrive in the bay's microclimate. But that's just one of the surprises associated with the Red Prince.
It's grown in special conditions: The trees are trimmed to optimize their height and exposure to the sun. Unlike grape vines, which are separated to maximize solar exposure, these trees are more densely packed.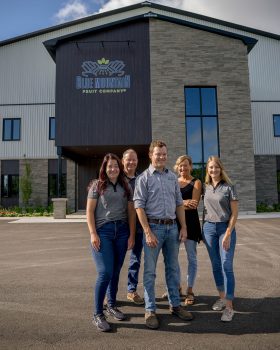 They are also grown farther north than you would expect, in a different climate zone from the Niagara peninsula.
The Red Prince's taste is described as tangy-sweet with a rich, crisp red skin that is high in antioxidants.
All of this seems to defy the common sense of people who pay scant attention to apple harvesting, but to the experts it is of utmost importance. And the product they produce stands head and shoulders above others on the market.
"It's like no other apple," says 30-year-old Gerbe Botden, Marius's son and orchard manager for the family business. When his parents first came to the Georgian Bay area, they purchased 100 acres and set to work planting apple trees. Now they have 500 acres of orchards. They produce a broad variety of apples, among them:
The Ambrosia, which was discovered on the Mennell family farm in Cawston, B.C.
The McIntosh, which was discovered by John McIntosh in 1811 on his farm in Dundela, Ont., between Brockville and Cornwall.
The Honey Crisp, which was discovered by the University of Minnesota back in the 1960s, but did not make its debut in stores until 1991.
The Golden Delicious, which is an apple variety that popped up all on its own in West Virginia. Its parentage is unclear.
The Gala, which has been voted #1 by Ontario consumers. It is a cross between a Golden Delicious and a Kidd's Orange Red, a medium sized apple with a generally round appearance.
The Empire, a cross between a McIntosh and a Red Delicious. The Empire apple makes a great choice for salads and snacks. Blue Mountain supplies this apple to McDonald's restaurants for their Happy Meal Apple Slices.
The Cortland, a highly sought after autumn apple. Its parentage can be traced back to a cross between a McIntosh and a Ben Davis.
Gerbe's two sisters Sacha and Gitty also work in the business. Sacha, 28, is assistant production manager and Gitty, 25, is plant co-ordinator.
Because the family business works year-round, "we can supply grocery stores with apples until mid-summer," Gerbe says. "Then, in August, we get ready for the new season."
That involves pruning the trees every year to get the maximum sunlight, he adds. "Everything is done to get the best quality. We're stewards of the land. We have to make sure we take care of the soil. We preach sustainability."
The company employs up to 200 workers each year, and Irma often makes meals for the workers at lunchtime, so they don't have to spend money on food.
In keeping with their commitment to the environment, the Blue Mountain Fruit Company will package their apples in special plastic bags that are not only able to decompose in garbage dumps, they are also recyclable. The bags will also be available in January.
And when that time comes, it will be an opportunity for consumers to support local businesses. The Red Prince will be available in all major grocery stores in the area west of Toronto in the new year – Sobeys, Fortinos, Loblaws, Food Basics, Walmart and Longo's.
This is a chance for consumers to start a new family tradition. Celebrate the new year with a versatile Canadian apple that can be used for snacking, baking and in salads.
This is also a chance for all of us to buy from Canadian farmers and help keep our families healthy, while supporting an economy hit hard by a disease that none of us anticipated. If an apple a day can keep the doctor away, let us make ours a fresh choice that grows close to home.