Lash Forever serves the growing interest in permanent makeup
By Allie Murray
Lauren Spencer has loved beauty for as long as she can remember.
Inspired by her mother's career in the beauty industry, Spencer switched her career plan when she was 19 from medical aesthetics to lash extensions, and later moving into the world of permanent makeup, which is when she opened Lash Forever Canada in 2012.
"About four years into my career where permanent makeup really captured me," Spencer explained. "It's so much more artistic than you think, I absolutely fell in love with it. I love teaching it, I love inspiring women to standing on their own and feel confident".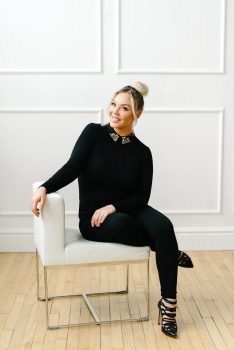 The trend of lash extensions is what initially drew Spencer into the field, but the passion she discovered within the artistry is what inspired her to grow her business and help support other women and men who are seeking a confident boost.
"It's always been an empowering feeling, when you see a woman cry because they're so happy because they've never had brows before. If you can help someone feel better and more confident, that's so rewarding to me. This industry is amazing for how it can make people feel".
At Lash Forever Canada, Spencer offers a variety of permanent makeup services, including lip blushing, permanent makeup brows, permanent eyeliner and lash lifts, tints and extensions. In addition to the permanent makeup, she also sells products, teaches classes and trains future estheticians.
In the pandemic, Spencer's business had to pivot their services, like all have had to do this past year. To ensure the safety of their students, they began offering their classes online and selling more DIY products at home to get a flawless, and lasting, makeup look.
"The DIY products we sell have actually saved my business through this pandemic," Spencer said, saying she recommends products from Revive7, which she sells at Lash Forever Canada for an easy at-home DIY makeover. "Revive7 products work to stimulate brow growth and lash growth and with that, once the brows grow in fuller, there's tinting options that you can do from home, or henna options that can be done by a professional".
While at-home DIY products are great for achieving a flawless look, Spencer loves the extra bit of perfection that permanent makeup adds to an everyday look. As a single mother herself, Spencer notes that in today's world, with something always going on, there's not enough time to dedicate to a daily makeup routine anymore.
"I truly believe that when permanent makeup is done minimally it makes you look younger, it can give you a brow lift, it adds youthfulness to your lips," she said. "People don't want to spend time in the morning getting ready, they want to get up and go. That's the beauty of permanent enhancements".
A testimonial to the power of these enhancements, Spencer herself claims she's had lash extensions since she was 19 and never plans to remove them. The ease of her daily makeup routine is what sets her up for success every day.
To learn more about Lash Forever Canada, visit lashforevercanada.com.