By Laurie Wallace-Lynch
During the COVID-19 pandemic many of us are spending more time at home and finding new passions.  Taking an art lesson (online or in-person), visiting an art gallery, or listening to an artist talk via Zoom can be an uplifting experience which offers a bit of escapism when we need it the most.
"Art has the power to transform the regular mundane into the extraordinary," says Breann Ritchie, director of Crescent Hill Gallery in Mississauga. "It offers fresh perspectives and nuanced approaches to storytelling. Artists are the great storytellers of our times."
Crescent Hill Gallery is a private gallery representing one of the largest collections of original Canadian art in North America. The gallery was able to remain open during the ongoing pandemic, adapting safety protocols including mandatory masks and limiting the number of visitors.
"There are many ways to engage and find joy in art during uncertain times, through online exhibitions, looking at gallery collections online, or listening to podcasts by your favourite artists," suggests Breann. "Podcasts can offer great insight into their practice and may form strong bonds between the artist and listener. This allows new collectors to identify with their thoughts and style and hopefully encourage them to purchase a piece to support further experimentation and research in their desired field or medium."
Breann suggests doing some research online to see what type of art appeals to you: "Start looking for original art by local artists. This may help the collector determine what they are interested in procuring, what styles they like, what materials compel them and what subject matter is of importance to them. The artists that we work with are established in their industry and represent a cross-section of style and subject matter. Their works are original, one-of-a-kind pieces. Our website offers a range of services which can facilitate these connections.  Art appreciation is a very personal thing, influenced by experiences and personal history. We try our best to unlock these stories and allow our clients to explore what interests them most by asking the right questions. We offer in-home trials and virtual consultations and encourage clients to take the art home to see how it resonates in their environment."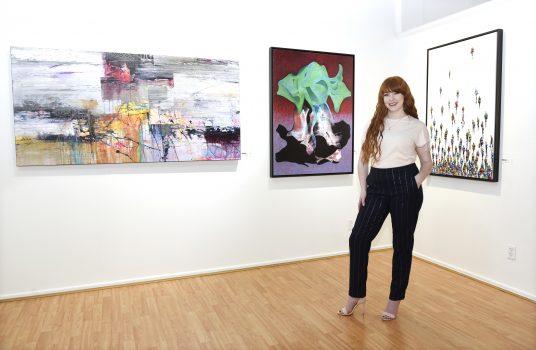 Canadian artist Maya Eventov whose art is showcased at Crescent Hill Gallery, was so influenced by what was happening in the world in 2020 that she created a new body of uplifting work called The Spectrum Series.
"From the age of six I was classically trained and in control of my work and there was a predictability factor in terms of how the colours would look on canvas," says Maya. "During the pandemic I learned to find beauty in unpredictability. It made me hit pause and reflect more on seeing things for the first time instead of running past them. This transformed my painting and life view and the paintings morphed themselves. They have elements of abstract, landscape and are a breakthrough of new work. The landscapes are magical places you want to escape to. The new series is being very enthusiastically received. I believe it shows people's need in troubled times to find joy in something beautiful and inspiring."
Indira Roy Choudhury, owner and curator of Trias Gallery in Oakville welcomes people to come in to browse and discover the joy of getting up close and personal with original art.
"Sometimes people will come in and just stand in front of a display and stare at it for awhile and then walk out, and that's okay—we are not just all about sales; we are about being a place where people come to discover the beauty and joy of original art," says Indira. "People are having a tough time and it's nice to see someone losing themselves in a painting or sculpture. At night, we leave the gallery lights on so people out for their evening walk can see the artwork on display. We know they are stopping by and looking because when they cup their hands up against the glass to peer inside, it leaves little half moon shapes on the glass! We love that they are stopping on their walk to enjoy the art on display."
Originally located in downtown Toronto, Trias Gallery relocated to Bronte Village eight years ago.
"We are known as a Canadian content gallery and feel it is important to represent artists who have studios in Canada," says Indira. "We offer free shipping in the GTA and a one-week in-home trial period. I encourage people to enjoy art by joining our Facebook page and checking out art on our website. We have seen a big increase in online sales during the pandemic."
Oakville Galleries reopened in September with a showcase solo exhibition called Show Upfeaturing the work of Vancouver-based artist Elizabeth McIntosh, one of the most influential voices in Canadian contemporary painting. Both locations, at Gairloch Gardens and Centennial Square, are open to the pubic with several health and safety protocols in place and visitors are asked to pre-book their visit through the website.
"Oakville Galleries is driven by a belief in the singular power of art and artists to deepen our understanding of ourselves and our communities and move us toward a better world," says Christina De Marchi, acting executive director of Oakville Galleries. "Many visitors shared with us that Elizabeth McIntosh's work brought them so much joy and that it was refreshing to see the gallery reopen. Oakville Galleries has pivoted to offer classes, workshops, and events online during this time. We are offering workshops and public programs including artist talks virtually, over Zoom."
Virtual and in-person art classes in various mediums are being offered by the Oakville Arts Society (OAS) which allows artists of all ages and skill levels to discover the joy found in artistic expression.
"I'm a firm believer that doing something artistic is good therapy—it quiets the mind, reduces anxiety, increases our ability to focus on the positive and it is very meditative and mindful," says Oakville artist Robin J. Mitchell, OAS Gallery director and instructor.  "I have found that I need to paint every single day and find that I am unhappy if I don't.  I often joke that painting is more fun than gambling, better for you than alcohol, and cheaper than a therapist!"
Robin teaches in-person painting classes twice weekly to a reduced number of 10 students who wear masks and are spaced six feet apart. He instructs from behind a plastic shield with a mirror overhead.
"I offer gentle critique but there's no real judgement here," says Robin. "The result of your work should be judged on the experience of how you feel during the process of creating and not necessarily on the result. It is not about comparing your art to Sue's art, because you are two different people."
Acrylics or watercolours are a good place to start learning to paint, advises Robin. "There's a great class No Fear Painting with Acrylics Level 1 that is ideal for beginners or hobby artists."
On January 27, 2021, Robin begins teaching a new session where students paint iconic Oakville scenes from photos he has taken. He suggests a DIY project anyone can do at home: "Go through your vacation photos and choose a photo that you really love and transform it into a painting. Art triggers emotions and when we look at a piece, we remember the joy of the moment. Hanging the piece of art on the wall can provide enormous pleasure which is so greatly needed right now."
(Please note that all gallery opening information was current at time of print. Please check local gallery websites for updated information relating to COVID-19).