By Jenna Mohammed
On Feb. 14, 2021, former Mississauga mayor Hazel McCallion will officially be a centenarian. The longest-running mayor in the city's history will be 100 years old.
Having served her community for 36 years as mayor, McCallion's retirement in 2014 wouldn't stop her philanthropic efforts. After her career in politics, McCallion continues to give back to her city. To celebrate her incredible milestone, she has partnered with Trillium Hospital to create a birthday photo book to help raise profits. She is the Honorary Guardian of Trillium Health Partners and a long-time supporter of healthcare and heart health.
The hard-cover coffee table picture book will reflect upon McCallion's well-accomplished life, friendships she has made along the way and her legacies that have shaped Mississauga. The visual storybook is a great collector's item where its proceeds will help Trillium Hospital create a more inclusive healthcare system that works for all patients.
"Our community needs an expanded and re-developed Mississauga hospital," McCallion said in a statement. "The arrival and continuation of the pandemic has made it clearer than ever that now is the time to invest in our hospital. We need new facilities, advanced technologies and more beds."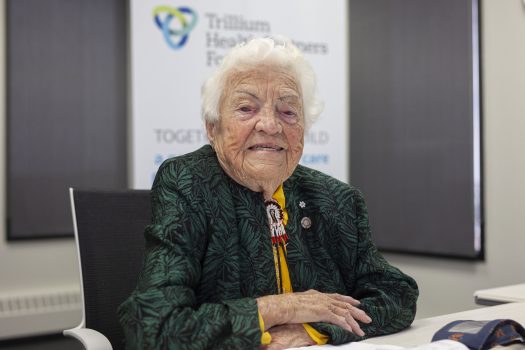 President and CEO of Trillium Health Partners Foundation, Caroline Riseboro said in a statement, the foundation is honoured to help celebrate the 100th birthday of McCallion. "The petite yet fearless politician who defied convention and became a legend as Mississauga's longest-serving mayor. She knew her growing city could only thrive with a hospital system that kept pace with that growth," Riseboro says. The goal is to raise $1.5 million and books will be sold for $100.
What is truly inspiring is McCallion's several decades of service and her perseverance for finding new ways to contribute to the city of Mississauga. For more information, visit trilliumgiving.ca.