Nova Health Club owner Josh Allen shares tips for staying fit at home.
By Jenna Mohammed
Are you looking for ways to stay fit at home while public facilities and fitness clubs are closed? Josh Allen, owner of Nova Health Club, located in The Randall Residences in downtown Oakville, shares tips on how to stay active and maintain a baseline level of fitness despite the challenges of housebound living. 
Start early
Allen always starts his day with some form of exercise. Working out first thing in the morning offers the greatest likelihood for becoming consistent, according to Allen. It can also help you burn more fat, improve your sleep cycle, and boost your mood throughout the day. 
The fitness expert suggests creating a movement routine as a healthy habit, similar to other routines you have in the morning, such as making your coffee. 
"During this time, with increased stress and adapting to a new routine, there is an opportunity to reinforce healthy habits or adopt new ones," Allen says. The idea is to re-adjust how you are going to maintain your health and wellness. It could be as simple as adding a walk or morning stretches into your daily routine. 
"Let's also remember that being healthy doesn't just mean exercising more, but adding rest and recovery into your daily routine," says Allen. Meditation, an afternoon nap and starting an earlier bed routine are all just as important as exercising, explains Allen. "Being at home more also gives us the opporunity to focus on meal prep and healthy eating with the family. With every crisis comes an opportunity. Take advantage of this time."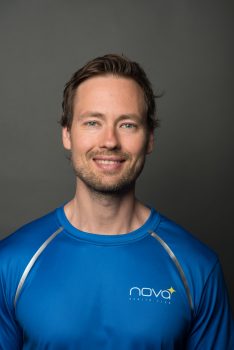 Exercise snaking
"Exercise snaking" is a term Allen likes to use around the health club. "Think of it like snacking on food, you're not hungry but you grab something to eat for the next few minutes and you're done," he says. "Exercise snaking can be done in the same way, whenever you're thinking about going for a walk or doing a few sit-ups, don't think of having everything aligned to get moving," Allen explains that all you need is the intention at the time you were thinking about exercising. "Those little bits of movement where you can fit into your day count for something." 
For anyone new to exercise routines, Nova Health Club is re-inventing how they deliver their services. Online personal training sessions are available to new and existing members along with nutritional coaching. Watch its Instagram feed @novahealthclub for live classes featuring full body stretches, working with kids and high intensity interval training (HIIT). For more information, visit novahealthclub.com or
Instagram @novahealthclub