Renowned design expert Jackie Glass shares tips on how to brighten the home for spring
by Danielle Leonard
Jackie Glass is a renowned expert in interior design but even she isn't accustomed to spending this much time in her home – or any home for that matter. Before the quarantine began, a typical week would have Glass on the road four out of five days; in other words, the new housebound routine is anything but normal. Nevertheless, the regular decor expert on Cityline and principal designer for Jackie Glass Inc. is cherishing this unique experience and shares ideas on how we, too, can bring joy to our housebound days by getting creative with the spaces in which we reside.
For Glass, the kitchen is her most coveted space. While she shares a home office with her husband, the reality of working side-by-side in one room simply didn't work on a practical level. Glass was happy to transition to the kitchen's island where she sets up her laptop to work.
"I love to cook," explains Glass about her affinity to her home's culinary centre. "I have my one bar stool I sit on to work at my laptop, then later in the day I grab cookbooks and go to the other side of the island to prepare dinner." She also walks every day – not once, but twice, now that she has the time. More hours at home also means greater opportunity to savour projects that used to be relegated to the weekend to do list. 
"I've been going through a crawl space that needed attention," she says. "I pulled everything out and have less sense of urgency to finish. It's cleansing."  Glass has also enjoyed the luxury of time to curate her myriad accessories to get creative with styling and vignettes. 
"I feel like I'm educating myself," the 25-year veteran of design says of her recent experimentation; she encourages everyone to use this time to infuse happiness into their homes by utilizing what's already in their possession.
Brush strokes of genius
While cleaning out her crawl space, Glass came across gallons of unused paint. She's betting most homeowners have a similar stash somewhere at home. So, why not put some of those colours to use? 
A simple and quick way to prepare for spring is to paint flowerpots which adds colour to indoor and outdoor planting arrangements. With  garden centres now open, it's easy to find blooms to fill them. Roadside popups are another option if you're up for a drive in the country to offset cabin fever. When you return home, simply pop the spring blossoms in a freshly painted pot to brighten any room in the house. 
For a more substantial update to a space, leftover paint is perfect to highlight a focal wall. This could be in a child's bedroom, a basement area or in your main living space. Walls can further be transformed with artwork. Glass suggests using this opportune time to review the art hanging on walls. To rework the style, start by removing all the art and then, slowly and intentionally, selecting the works that seem most befitting of the look one wants to achieve.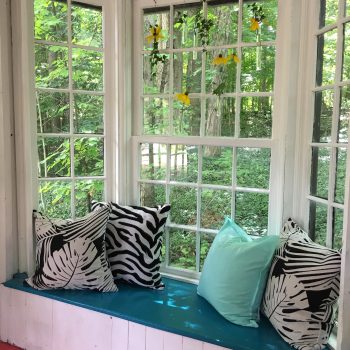 With warm weather finally here, this could be a great time to brush a fresh coat of paint on a backyard shed. Last summer, Glass transformed a tired garden shed in the backyard of her newly renovated home into a bright and cozy studio as an alternate place to do her design work on summer days. A fresh paint job went a long way in creating a new look, including a pretty window seat adorned with toss pillows. 
The art of the vignette
The great thing about vignettes, says Glass, is that they can create interesting visual areas throughout the home. She recommends starting with a room or a surface and stripping it down to nothing. Before putting accessories back, she advises grouping similar pieces together of varying heights. 
"I like to clean, and restyling is part of it," says Glass. "Cleaning, polishing then slowly putting pieces back." Vignettes work almost anywhere in the home from the bathroom, with groupings of soaps and candles to the kitchen with pretty olive oils, balsamic and a pepper mill. A tray is an ideal vessel for creating a vignette that is easily transported, and one of Glass's favourite styling tools. 
Particularly popular right now is combining organic with contemporary design, according to Glass. Although her recently renovated home is mid-century modern, the designer admits she's not a pure modernist and likes to mix clean lines with organic accessories like natural baskets or even macramé to add a cool 70s vibe. Nothing, of course, is more organic than nature, itself. With spring at our doorstep, it's the perfect opportunity to bring those blossoms indoors. 
"I'm really inspired by flowers," says Glass. "I tend to forage, clipping branches outside and then adding them to a big vase inside." Succulents are also ideally suited to vignettes and look stunning in the bedroom for a fresh spring feel. 
Adorn the floor
A rug grounds a space like few accessories, says Glass. Thankfully, the variety of rugs on the market is almost infinite with a spectrum of price points, styles and materials to suit any taste and lifestyle need. 
"It's a fast and inexpensive way to anchor a space," claims Glass who recently laid a rug beneath her kitchen table and was pleasantly surprised to discover how much it changed the open concept space.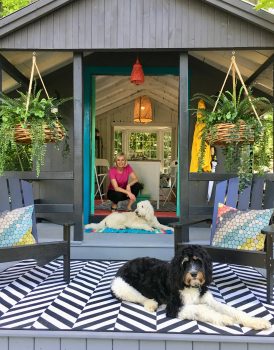 "It was stunning," she admits, recognizing however that a rug in a dining room isn't practical for families that eat there every day given the maintenance demands. Thankfully, there are few limits on where to place a rug; its design aesthetic works indoors and out. Setting a rug outdoors is an oft-overlooked opportunity to update a backyard patio. Conversely, Glass says, "Why not buy an outdoor rug for the indoors? Moroccan style runners can create a great vibe inside." 
While being housebound certainly has its challenges, a few fun design projects can infuse happiness into the home as well as the people who gather in it. All it takes is some creativity and resourcefulness along with a desire to play with style. 
Follow Jackie Glass on Instagram @jackieglassinc and 
Twitter @jackieglasscity or visit www.jackieglass.ca