The Mississauga native stars in Marvel's Shang Chi and the Legend of the Ten Rings opening July 9
Canadian actor Simu Liu is about to make history as he becomes Marvel's first Asian superhero, playing the lead role of Shang-Chi in Shang-Chi and the Legend of the Ten Rings. The film opens in theatres on July 9.
Simu grew up in Mississauga; a shy kid who spent countless hours watching superhero films at Erin Mills Town Centre.
"Growing up I thought all superheroes were pretty cool, from Tobey Maguire's Spider-Man to X-Men," says Simu. "My parents worked all the time, and they would drop me off at the movie theatre at 10 a.m. and pick me up around dinner time. I became fascinated by actor Bruce Lee. I was intrigued partly because I was a Chinese kid and I never really saw myself or my culture represented on screen."
Simu is best known for his ongoing role as Jung on the CBC TV show Kim's Convenience. He spent four years on the show when something extraordinary happened, nudged into reality perhaps by a tweet on social media.
"Five years ago, I tweeted at Marvel, 'Hey, don't you think it's time for an Asian superhero?' and when the Shang-Chi movie was announced, I tweeted, 'OK @Marvel, are we gonna talk or what? #ShangChi.' It went super viral, and I think it's because people latched on to the narrative.  After the news, I tweeted, 'Hey, thanks for getting back to me!'
When Simu got the call from Marvel, he knew his life was about to change. He was about to play a superhero on the big screen, just like those he admired as a kid.
"I attended the San Diego Comic-Con where Marvel officially announced that I would play the role of Shang-Chi," recalls Simu. "It was a surreal moment—absolutely nuts! I went from being a TV guy to having dinner with Angelina Jolie at Comic-Con." (Marvel announced several new movies that night including The Eternals, starring Angelina Jolie). "Before Shang-Chi, I dreamt of being a Marvel superhero the way that you would dream about winning the lottery or flying to Jupiter. It has completely changed my perception of what is possible and opened up so many doors that were previously not even visible to me."
Shang-Chi and the Legend of the Ten Rings was filmed in Sydney, Australia and the movie is based on the Marvel Comics character by the same name. In the film, Shang-Chi is forced to confront his past after he is drawn into the mysterious web of the Ten Rings organization who are dedicated to destroying world peace by any means necessary.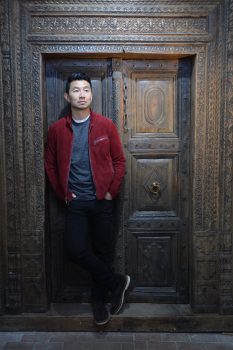 "The first time I tried on the Shang-Chi superhero costume, I can tell you that I definitely felt the air was thin as I realized how few people (let alone people of colour) have ever experienced putting on a super suit," says Simu. "There was a sense that I was stepping into a special role that would mean so much to so many people, and that would probably define my career for years to come. By the end of our third day of shooting, I was like 'get me out of this thing!' Historical moment or not, that suit does not breathe!"
Is Shang-Chi a hero, villain, good or bad or a bit of both?
"When we meet him at the beginning of our movie, he's not exactly concerning himself with anything that would be labelled heroic or villainous, but as we delve deeper into his world, we learn more about the past, what he's hiding and the darkness that he wrestles with. As someone who came of age in a similar way, I felt connected to his character right away. The rest was just a matter of being willing to be emotionally vulnerable and honest every day."
Superhero Shang-Chi is a martial arts expert and judging from the shirtless photos Simu has posted on social media, this sexy, buff actor knows his way around a gym!
"My background is more than martial arts," he adds. "I dabbled in boxing and kick boxing and was a self-taught tumbler—I thought this was a good way to talk to girls. I want my training to be a bit of a surprise, but I've always liked working out and I've always been a bit of a workaholic. There was a shot in the film where I had to do a superhero landing. As we were rolling on the first take and I was dangling from wire attached to my harness, my consciousness left my body, and I went into this whole other plane of existence. I thought, 'I am living through the greatest moment of my life'. I don't know though—maybe it was just the harness cutting off the blood flow to my brain!"
Here is perhaps a big surprise about Simu Liu. He was an accountant before he became an actor. You might wonder how that transition happened.
"I was laid off from my day job and felt I had hit rock bottom when I started searching Craig's List for jobs as extras in movies and TV shows," says Simu. "This led to parts in shows like Taken, Orphan Black and others."
The shy accountant turned larger-than-life superhero has a message he wants to share:
"There are certain things that you don't give yourself permission to want because you tell yourself it's a stupid dream," says Simu. "Now I realize that if you give yourself permission to speak something into existence, and to visualize it as vividly and as clearly as possible, you will set yourself up on the path to get there."
Simu just finished wrapping up a new movie in the Dominican Republic called Arthur the King, based on the true story of a Swedish adventure-racing team that comes across a stray dog during a race, and how this changes their lives forever. "It is very important for me to follow Shang-Chi up with a non-martial arts project," says Simu. "Arthur the King is a beautiful story about a bond between man and dog, and it affected me so much that I ended up adopting a dog from a shelter in Santo Domingo. I am hoping that Canadian audiences will get to the film in theatres in early 2022."
Credits:
Our special thanks to the following people who helped make this photo shoot and interview possible: Simu Liu, Norbert Abrams, Noble Caplan Abrams, Clothing provided by Harry Rosen, harryrosen.com, Fashion Stylist Corey Ng for P1M.ca, Sarah Smith MUA, Hair and Makeup Stylist, sarahsmithmua.com, Photography by Steve Uhraney, Transportation provided by King Limo, kinglimo.ca.