By Kelly Putter  Photography by Graham Paine
The spotlight on Canada's persecution of Indigenous peoples glares more intently with each new discovery of burial sites containing the bodies of Native children.
By now, hundreds, if not thousands, of unmarked graves have been uncovered. While suspected for many years, these discoveries act as a wake-up call for a nation smug in its reputation as a world leader of good behaviour. And while it's important to look back and learn from our mistakes, it's equally important, says a Niagara-based Aboriginal advocate, to move forward.
"It's not cool right now," Michele-Elise Burnett said in July, aptly describing the vibe as the world  was beginning to grasp the ugly reality of Canada's missing and murdered Native children. "It's like taking the band aid off and it's bleeding again. It was really painful to uncover again. But we're starting to see a whole movement happening. There's some history that's missing. We share a history in Canada and you will be richer for understanding it. And hopefully the next generation will have more compassion and understanding."
It's estimated that 150,000 First Nations, Inuit and Metis children attended residential schools in Canada between the 1860s and the 1990s. Conditions were poor, brutal even, as schools were overcrowded and diseases such as typhoid, tuberculosis and pneumonia ran rampant. In 2008, the National Truth and Reconciliation Commission reported widespread mistreatment at these schools, including emotional, physical and sexual abuse. The commission referred to the forced assimilation as a cultural genocide. Thousands of children went missing.
Set up by the Canadian government, the schools were run by churches with the aim of indoctrinating the kids into white Christian society. Children were forcibly removed from their parent's home for long periods to attend these boarding schools. They were forbidden to speak their own language or engage in aspects of their heritage. If defied, punishment was swift and severe.
The commission pegs the death toll of residential school children at 4,100. Some believe it is much higher.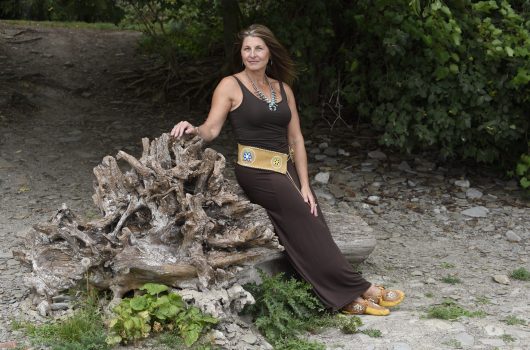 At 54, Burnett is on a mission to right wrongs by setting the record straight about Indigenous people and their accomplishments. Personable, chatty and calm, the Metis with Algonquin roots heads a Niagara-based consultancy firm called Kakekalanicks that promotes Indigenous life through art and education.
With her business partner Tim Johnson, Burnett develops arts and education programs and events such as the Celebration of Nations, a yearly arts and cultural event that takes place in September in St. Catharines, and the Landscape of Nations 360°, a not-for-profit program that works to create, design and implement educational and expressive arts programs to help the public in its understanding of Indigenous peoples. Their innovative work is also aimed at the classroom with a view to developing an Indigenous-centric curriculum about the Niagara region's Native peoples as well as working with Indigenous scholars at the provincial level to create programs that will impart Canada's Aboriginal stories as they should be told.
So committed to the idea of giving Indigenous people a voice, Burnett, an only child who longed to continue her mother's legacy, relaunched in 2016 Kakekalanicks, the company her mother Suzanne Rochon-Burnett started in the 1980s. A well-known Metis businesswoman and broadcaster, Rochon-Burnett and her daughter were the first aboriginal persons in Canada to own and operate a private commercial radio station, Welland's SPIRIT 91.7, a country music station with Niagara's most powerful signal.
A big promoter of native artists, Rochon-Burnett paved the way for Aboriginal women in media and communications and established a Native scholarship at Brock University. She is the recipient of the Governor General's Medal, the Order of Ontario and the Order of Canada.  "She was a force to be reckoned with," says Burnett. "I lost my best friend. We worked together and we were kind of like soul mates. I remember thinking, how the heck am I going to fill her shoes? It was really daunting." Weird as it sounds, a few years later, Burnett was toiling away at the radio station when a loud bang emanated from the basement. An old filing cabinet had toppled over and a file from the Kakekalanicks company her mother founded emerged. "It was freaky, but I was guided by my mom. I'm the conduit to continue her life's work."
Her love of oral traditions also stems from her father, Gordon Burnett, a radio station owner who helped shape Canada's country music scene. Inducted into the Country Music Hall of Fame, Burnett also served two terms as president of the Juno Awards. Growing up in the Burnett household meant experiencing plenty of twang. Country music entertainers dropped by constantly seeking food, shelter and support. Canadian country music singer and songwriter Caroll Baker is a de facto aunt, while Shania Twain, who was known back then as Elaine, ate dinner at the Burnett house, borrowing Indigenous-style outfits for her performances from Rochon-Burnett and much later devoting a chapter in her autobiography to the Burnetts. It was pretty much a given that Burnett would pursue a career in radio, the third generation to do so.  She would go on to graduate from Ryerson University's School of Radio and Television Arts and work in virtually all aspects of radio.
The married mother of four adult children, two from her second marriage, is an avid pilates practitioner who splits her home life between Wainfleet and Etobicoke, where her husband lives and works as a radiologist at St. Joseph's Health Centre. An avid fitness buff who holds a black belt in taekwondo, Burnett also enjoys hanging out with her family, cooking and gardening.
Burnett hears often from non-Aboriginals who say they are embarrassed they've been in the dark so long about the poor treatment of Canada's Native peoples.  "People often tell me, 'I had no clue what happened to your people.' And I remind them not to feel bad as that information was omitted and covered up so the government could keep people blinded." But their day of reckoning is upon us.
Canada's Aboriginal community is one of the fastest growing in the country, says Burnett and one of the youngest and better educated than ever before. "We need to think about how things will affect future generations, our family, our ancestors. Will they thank me for my behaviour? Think and don't just react. Let's be dignified again and build together. Let's build a cross-cultural community the next generation will thank us for."