By Kelly Putter, photography by Nikki Wesley 
If you're in pain or dying, there may be no need to look any further than Bif Naked. At nearly 50, the Canadian rock icon and humanitarian continues to turn up the volume on a variety of social sins and outrages, landing most recently as a kickass, modern-day Florence Nightingale.
Her concern for the sick and the terminally ill is a natural byproduct of her own close calls due to cancer, kidney failure and heart surgery. Naked's current interest in becoming a death doula, a person trained in offering comfort and support to people as they die, began in her mid thirties when she was fighting breast cancer.  A self-described science geek, Naked saw the chemo ward as a sorority of sorts and over time grew into the role of medical chaperone, accompanying ailing cancer patients to medical appointments, which eventually led to spending time with those who were not long for the world.
"This is my jam, it's my calling," the 49-year-old says from her condo, which contrasts striking views of Lake Ontario with quirky yet artfully displayed Kiss rock band and Star Wars movie memorabilia thanks to her third husband Snake (aka Steve). "This is a really underserved arm of the health care system. And people don't want to be around the dying.  It's about being a listener and leaving your own stuff at the door."
Naked parlays that same philosophy to her new international line of CBD products known under the brand Mona Lisa Healing. She is a big advocate of legalized cannabis products, having witnessed remarkable improvements first with family members and friends and then ultimately for her own use as a sleep aid and workout enhancer. Her ultimate goal is to build an environment in which legalized cannabis products are accessible to the poor and the vulnerable. "I'm not a scientist; I'm not a CBD expert; I'm just a girl with a big mouth," she explains of her enthusiastic advocacy. "I'm passionate about this because it's helping people."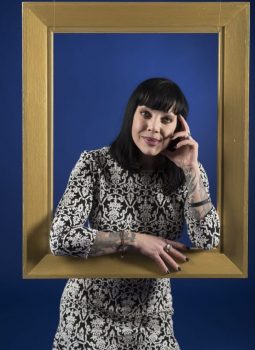 It's may be a tad ironic that Naked has become a weed activist given her "straight-edge" lifestyle up until now of no alcohol or drugs, but that's how Canada's Queen of Punk has lived since releasing her self-titled debut album in 1996. The Indian-born, Manitoba-raised dark-haired beauty is putting out the first track from her latest EP with the single Jim, a lament about the heart-breakers in our lives, being released suitably on Valentine's Day.  A podcast, New Riot Girls, and a book of poems and illustrations are also set to be launched this year.  Naked has topped charts with singles and videos like Spaceman, I Love Myself Today, Lucky, Moment of Weakness and her most recent outing Hot Box Girls. She's acted in films and television and is the author of the best-selling memoir, I, Bificus.
A vegan who loves to cook for her vegetable-phobic husband and guitarist, Naked enjoys riffing on their polar 'tomato-tamato' vibe during live performances around the world. "We've kind of developed this shtick on stage," she says. "It's funny most of the time. I basically make fun of him and my mother-in-law and tell jokes and sing songs and read from my book, but I need reading glasses now."
The ravages of age don't faze the Gold and Platinum selling singer-songwriter. Naked points to Gwen Stefani and Tina Turner as prime examples of performers whose beauty transcends their years. Prone to forgetting birthdays, including her own, Naked isn't at all anxious about the prospect of turning 50 this June. And, she emphasizes, she's just grateful she got this far. "I can't wait to be 60," Naked says. "I can't wait to be 80. I hope to god I'm alive that long because I want to be an ass kicker, like… forever."