REFINED COCKTAILS AND CUISINE IN A COMFORTABLE, CASUAL SETTING. By Peter Bailey / Photography by Jack Curran
The Beacon Social House, in the heart of downtown Oakville, is a new bar/restaurant located at 305 Lakeshore Road East near Trafalgar Road. The establishment opened on April 14 and has quickly drawn attention to itself, offering modern American tavern fare – steak, lamb, seafood and chicken – at reasonable prices in a tasteful, modern setting.
The Beacon is the brainchild of owner John Pirathap, who owns five restaurants in total. According to marketing manager George Gill, the restaurant aims to provide value to customers "without costing an arm and a leg. We also have great cocktails and an extensive wine list." Gill stresses that the management does not compromise on quality. "Our chef, Raj T., uses USDA Prime beef to make our hamburgers."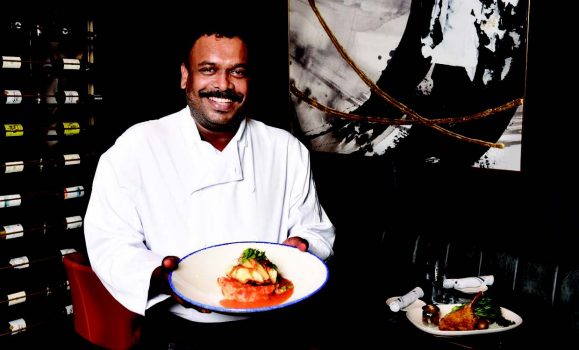 He has worked with Pirathap for 10 years, formerly in the Wallace Gastropub in Toronto. Pirathap, who prefers to remain in the background, says the name "Beacon" was chosen "because it represents a light of hope, a destination spot." And the restaurant is quickly becoming a destination for Oakville residents, especially on Friday and Saturday nights. Gill describes the decor of the Beacon as "modern chic, simple but elegant. Our goal was to be welcoming."
Because of the restaurant's layout, customers are directed to enter by the back door, which brings them first into the well-supplied bar, and then into the dining area. The restaurant can seat 24 customers at the bar, with seating for 110 diners inside and another 65 on the patio. Reservations are recommended for Friday and Saturday evenings, and weekend brunches.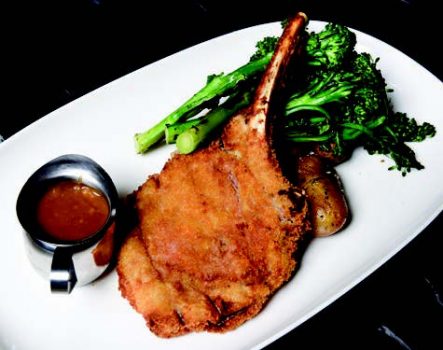 What sets the Beacon apart from other restaurants, Gill says, is "our meals offer value, with larger portions for the right price. The biggest surprise is the value you get for what you pay here." The Beacon welcomes both couples and families, he adds, explaining that couples make up the majority of evening and late-night diners.
Although the restaurant is only a few months old, it has as of press time racked up a score of 4.4 out of 5, with 55 online reviews by satisfied customers. Gill says he is encouraged by the positive response generated so far by social media.
The Beacon features two meals as signature dishes. The Chilean Sea Bass ($39) consists of bouillabaisse, fennel, rice and red pepper rouille. The Veal Schnitzel ($38) is a 12-oz. bone-in breaded veal served with broccolini, beef fat potatoes and jus. For lovers of red meat, the Shareable Cowboy Steak for two ($90) is a 24-oz. Creekstone USDA Prime ribeye, with beef fat potatoes and woodland mushrooms.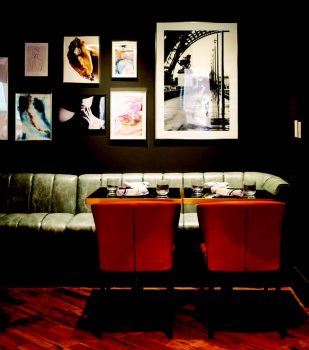 Diners who prefer gluten- or dairy-free dishes have only to ask their server, Gill says. There is no need to phone ahead for special requests. "We can also easily handle vegetarian requests," he adds.
The restaurant also features an extensive Brunch menu, offering mimosas, red and white sangria and other delights, as well as omelettes, steak and eggs, classic eggs Benedict and French toast.
"We're also well known for our cocktails," Gill adds. The favourite, he says, is the Bittersweet Epiphany, a combination of Campari, Cinzano, Sipsmith Gin, lemon, egg whites and rosemary syrup. Vegan options for this cocktail can also be created. The restaurant features an extensive selection of wines from around the world, including Niagara Region's Two Sisters Red Blend and a pair of dessert wines from Reif Estate.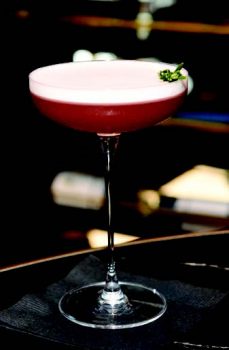 The Beacon's clientele comes mostly from the Greater Toronto Area, and the restaurant can accommodate large parties. "One of our clients is the Oakville Women's Social Club," Gill says.
Entrance to the restaurant and all washrooms are wheelchair accessible. The parking building behind the restaurant provides direct access to the restaurant's entrance, a great convenience in inclement weather.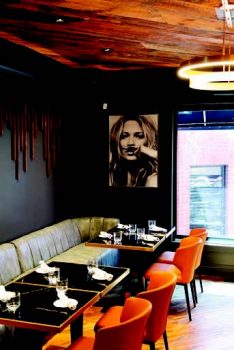 Gill says the restaurant's appeal stems from the informal atmosphere and the absence of a dress code. Customers are encouraged to come as they are and to relax amid the comfortable booths and nooks. Most of the patio is covered by an awning that shades diners from the hot sun or sporadic fall showers.
End your meal with one of the two featured desserts served at the Beacon Social House: the Basque Cheesecake, topped with a rhubarb preserve or the Chocolate Hazelnut Delice, served with a spiced chocolate sauce and chocolate crumble.
For more information visit beaconsocialhouse.com