By Cecelia Feor
Camping is perhaps one of the most polarizing activities of summer. The mere mention of the word can conjure memories of fireside glows and picturesque hikes, or the unmistakable sound of mosquitoes coupled with a twinge in your back from that time you didn't bring an air mattress.
Add two letters and drop the C and a new experience is born: glamping. Transcending trend status, glamping offers amenities like bathhouses, elevated sleeping conditions (see: a mattress and bedframe!) while not taking away from the getting back to nature vibe that is as ingrained in the camping experience as the smell of campfires on clothes.
North Carolina – Asheville Glamping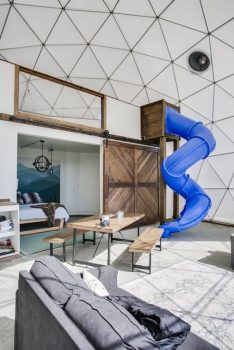 The Appalachian Mountain Range is among the oldest in the world, dating back 480 million years. Coupled with the magical forests and ancient trees found North Carolina, Asheville Glamping is the ideal locale to soak it all in.
With 14 lodging options, including a variety of domes that are perfect for stargazing, tents wide enough to fit a mattress and then some, and the Glaminal, a vintage 1952 Spartanette trailer, Asheville Glamping has it all. Some sites also include heating and AC for the added creature comfort experience. A shared bathhouse is available for some guests, while others, depending on lodging, have bathrooms built-in.
In an effort to disconnect, Asheville Glamping has no WIFI on-site. They consider this an amenity to add to the list, disconnecting from the stress of outside life and reconnecting to each other.
In the theme of connection, lighting outside domes and tents is kept to a minimum for the optimal stargazing atmosphere, perfectly adding to many of the dome's clear walls. Make sure to bring your flashlight.
The city of Asheville itself has many charms to bring you out of the forest for an urban exploration. Dubbed "Beer City USA", it has 26 different craft breweries in the city.
Foodtopia is the overarching name for the food scene in Asheville. A hub of culinary collaboration, they insist eating here is a transcendent experience.
From American fare to plant-based cuisine, there is no shortage of food options to tingle your taste buds.
Feed your arts and culture needs at The River Arts District, which houses a cluster of art galleries and more than 240 artists with one-of-a-kind works and skills to share, perfect for a gallery crawl.
Looking to keep your interests outside is easy with Blue Ridge Parkway, trails winding south of the city and culminating to a breathtaking (literally) view of the summit.
Maryland – Savage River Lodge

Good things come in round packages – that's the motto at Savage River Lodge (SRL). The atmosphere is upscale, yet woodsy. They offer a variety of accommodations, including yurts – a nomadic structure traditionally used in Mongolia with a round, moveable tent and bent-frame roof.
Each yurt has a private deck, sitting room, king-sized bed complete with luxury linens and comforters from recycled plastic bottles. In lieu of a bathhouse, a full-plumbed private bath is part of each yurt including a large shower and double sinks and a kitchenette within.
Located on-site is a fully serviced restaurant serving breakfast, lunch and dinner options including a connection to its sister restaurant in Grantsville, The Cornucopia Café, a 20-minute drive from SRL offering local food and fresh options.
SRL is based in and on nature. Guests are encouraged to engage with their surroundings in a responsible way, and the lodge itself strives to incorporate green practices in every aspect of the stay.
It incorporates several green initiatives including solar energy panels that provide 65 percent of the lodge's energy, yurts with warmboard radiant floor heat that uses heated water coiled under the hardwood rising up through the floor, and no hot water tanks, instead running the water through high powered burners as needed.
Boasting its own trail system, one doesn't have to go far to be immersed in the woods. With nine trail options well marked, a walk to a new wonderland is easy. Other activities include geocaching, fly fishing, biking and hiking, or catching up with resident dogs Koko and Karma.
New Hampshire – Huttopia White Mountains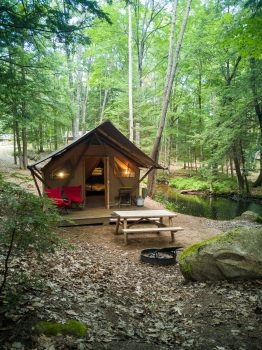 Defined by quaint towns and expansive wilderness, New Hampshire is the granite state, known for its extensive formations and quarries.
Situated on Iona Lake on the edge of White Mountain National Forest, Huttopia White Mountains is the ideal place to escape in nature.
Doing glamping since before it even had a name, Huttopia started their camping empire in 1999. An authentic experience with creature comforts, guests can expect luxury nestled in nature.
With their Wood & Canvas accommodations, Huttopia offers six separate glamping tent options, ranging in capacity for two to five people.
Some Wood & Canvas options come with private bathrooms; and for those that don't, the bathhouse is a short walk away. Each structure has a deck and outdoor furniture, perfect for lounging among the trees.
Cool down in the lake with swimming, kayaking and canoeing or spend a day at the heated saltwater pool for resort-level experience.
There's an on-site bistro built in a converted airstream trailer, with full kitchen and flatbread pizza oven perfect for the best slice.
Jump in a tube for a free-flowing excursion down Saco River, or take a spectacular drive through the Kancamagus Scenic Byway, a 34.5-mile (55.5 km) section of Route 112 running directly through White Mountain National Forest.
Nearby town North Conway features a long road of restaurants, including Mary Kelly's Cottage Bar and Restaurant, where every Sunday afternoon guests can experience Seisiún, an informal gathering of Irish traditional musicians, often in a pub, that spurs musical events all around the world.
Locally, you can book a stay with Huttopia in Sutton, Quebec.
Ontario – Whispering Springs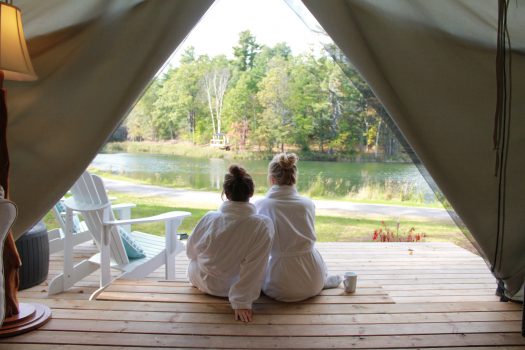 Just 90 minutes east of Toronto, in Grafton, Ontario, you can enjoy a truly glamourous camping experience at Whispering Springs. The Safari are available as junior, traditional or deluxe and are inspired by the great prospector tents of Canada's past, each situated with stunning view of spring-fed ponds and beautiful wilderness.
Enjoy relaxation on your private deck lounge on a Muskoka chair. Amenities in the tent include luxurious linens towels and robes, solar lanterns and an outdoor fire pit with seating, rustic chic furnishings a BBQ and mini fridge and tableware. Each tent has its own washroom.
With many activities to enjoy your surrounding wilderness, guests can relax in the saltwater pool and hot tub, or get active with the new outdoor gym, join a yoga class or hike along the well-maintained trails. If you're seeking a more meditative experience, visit the Forest Chapel where you can take a seat on one of the live-edge pews and soak in the energy of the forest.
Whispering Springs offers a range of signature retreats throughout the season including Glamp Yoga and luxury wellness retreats for an extraordinary experience away from the bustle of everyday living. You can also choose to bring the glamping experience to you. A fleet of fully furnished Bell Tents are available for rental in Southern Ontario; their experts can create a unique and unforgettable experience according to your wishes.