By Laurie Wallace-Lynch
The setting of this timeless traditional cottage looks like a Group of Seven painting. The cottage sits high on a pinkish-grey granite cliff surrounded by lush towering pines and breathtaking views of the clear blue waters of Bear Bay in Lake Muskoka. With its stone octagon-shaped turret and traditional architecture, the cottage looks like it has been here since the time cottagers arrived by steamship, and yet, the cottage is a newer build designed to look "Muskoka-ish".
"The cottage sits on the high point of the land and is designed to take advantage of the view of the lake from all of the principal rooms," says James C. Pitropov, principal architect and owner of Lakeside Architecture Inc. in Muskoka.
The tour begins at the Muskoka-style boathouse which has three boat slips, a bunkie with several walkouts onto private patios plus a widow's walk. James and his team are redesigning the boathouse to add a full second story. Guests are escorted up the landscaped property via a set of winding granite slab steps. The 3,800 square foot home boasts five bedrooms and five baths offering plenty of room for friends and family to visit.
"A small cottage from the 1920s sat on the site originally, but it was a tear down," explains James. "Preparing the site required some blasting of rock, as this is Muskoka where nothing is level."
Prepare to catch your breath as you enter the great room. "You walk into this room, and boom – you have this visual connection with the lake that is stunning," says James. Indeed. The two-story beamed cathedral ceiling soars 20 feet in height where massive Douglas Fir timber frame beams add to the rustic appeal. The space is open to a loft mezzanine above that is shared by a bedroom and sitting room.
James cleverly used a combination of real Douglas fir timbers and ultra light polyurethane faux timbers. "From a distance you can't tell the difference," states James. "We used the logs  judiciously to create cottage charm and didn't go the whole timber frame route, as this is a residence and not a ski lodge."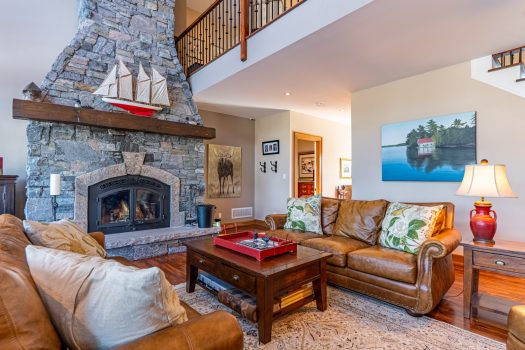 A massive stone fireplace competes with the view for your attention. "The granite sourced from a local quarry  had beautiful individual stones that were a classic find," says James. "The timber fireplace mantle was sourced from a Mennonite farm near Shelbourne and has hand carved markings."
That octagon-shaped dining room sits kitty corner to the great room. "The dining room has a 180-degree view of Lake Muskoka," adds James. "The windows drop down into the walls, so the room can be opened to a pleasant breeze making it feel like you are outside. Sometimes a chickadee or pine squirrel will get inside to steal a bit of breakfast or dinner!"
Asked how he feels about this project, James answers: "It fits sublimely into the setting and has the right materiality to look like it has been there a long time. It's hard to tell how old it is and that's part of the mystery. The stone octagon room, gables and timber frame detailing all hark back to historic Queen Anne Muskoka architecture. This cottage is large, yet it is comfortable, rustic and luxurious at the same time. It's not trying to be a mansion—it has that Muskoka charm that is timeless, sublime and dramatic, but not ostentatious."
Contemporary creates a little controversy
On the other end of the design spectrum, James talks about the 8500 square foot contemporary cottage he designed on Bass Island on Lake Muskoka.
"It has caused a bit of controversy on the lake," admits James. "People either love it or hate it. Some people say that a cottage should look like a cottage, and have that classic
Muskoka look and feel. But some people really get the deeper sense of the design. It's a beautiful, iconic place and a new way to build cottages that is not about the architectural
style necessarily, but more about the views and feeling of direct connectivity to the lake. My feeling is that it is noble to have some variety and a choice of styles on the lake. Both
traditional and contemporary design have their place here."
What James prefers not to see is a "city" house on a lakefront lot. "What I don't want to see are stucco French Chateaux style 'McMansions' all over the lake. Whether contemporary or traditional, the architectural style should be designed to meld into the landscape and look like it belongs here." The original owners were international clients who wanted a contemporary cottage where they could entertain business clients.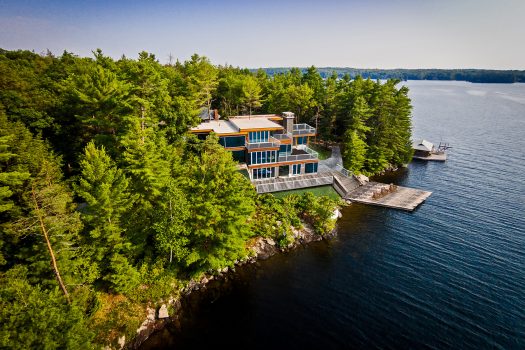 "My goal was to create a modern house that had 100 per cent window walls that open to provide panoramic views of Lake Muskoka," explains James. "When you open the wall systems, all you see is lake. The feeling is like being in a visual infinity pool. It's breathtaking!"
The cottage is built into the landscape in terraces which allow maximum views from all levels. "The use of timbers, stone and cedar along with the reflective windows provide a modern style that has a rustic feel that blends into the Muskoka setting," adds James. "By using reflective glass, all you see is the reflection of Jack Pines, sky and water. Minimal roof lines mean the roof blends with the treetops."
There's plenty of space for entertaining in this home with six bedrooms and six bathrooms, a gourmet kitchen, four wood burning fireplaces, resistance and plunge pools (with lake views), hot tub, Finnish dry sauna and steam room and a wine cellar. Sitting on a 11-acre private island it also has a two-bedroom guest house.
"I drew my inspiration from Fallingwater designed by Frank Lloyd Wright where he used structural engineering to cantilever levels over a natural waterfall," states James. "I was also inspired by the work of the late Canadian architect Arthur Erickson who built a west coast hillside home with parts that appear to float over rock and water. "It is all about making that visual and spatial connection to nature and the environment."
James sums up his contemporary cottage design this way: "It's iconic and contemporary. There is room for the old traditional vernacular architecture as well as new 'capital A'  Architecture on Lake Muskoka. We all need some creativity, and architects have a bit of freedom in their design, but the client always has the final word on design. So at Lakeside we will take design as far as the client will go, as long as it keeps true to the character of the site and the client's dreams. And if the modern design creates a bit of controversy, well it gets people talking about design, and that keeps things interesting and exciting."
A boat house with a modern twist 
If you build a better boat house, they will come. Perhaps this is the thought behind the iconic boathouse on Lake Joseph built by HummingbirdHill Homes & Construction Inc. of Oakville and Muskoka.
"The boathouse has nearly 850 square feet of living area with three boats slips underneath and we integrated lots of walkouts and seating areas where you can relax and enjoy the lake," says Aaron Miller, founder and CEO of HummingbirdHill Homes. "A boathouse like this is a special experience because you are literally one with the lake. Muskoka is a special place, and the lake is what cottage life is all about."
This was a boathouse makeover worthy of a TV show. "The existing boathouse was in need of repair and renovation and we quickly discovered most of it had to be rebuilt," explains Aaron. "One of the most sustainable things we can do as a construction firm is build to last, so we used the bones of the original boathouse, but updated everything to exceed today's standards. The boathouse now has three boat slips to store the homeowner's collection of boats as well as his stunning vintage Greavette Streamliner wooden boat. Three garage door openings provide access for the boats while a fourth opens to a special sitting area beside the water and in the presence of the boats, with an amazing view down Lake Joseph."
While inspired by the beauty of historic Muskoka boathouses, this boathouse was able to combine traditional architecture with a modern twist.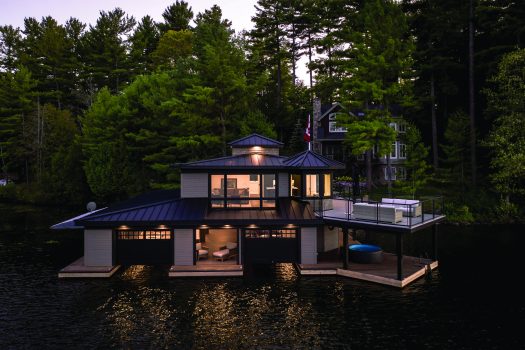 "The homeowner wanted the boathouse to have classic Muskoka styling, except for the roof, which is metal and offers a clean, contemporary flair," he explains. "It still fits with the environment and metal roofs last significantly longer than shingle roofs. The boathouse was designed to be multifunctional with a kitchen, large living area with a granite fireplace and sleeping quarters for guests. The master bedroom is designed to offer beautiful views of the lake. There are walk outs from the living room and master bedroom to the expansive veranda with a barbecue area and seating areas." The sections or wings of the boathouse offer framed views of the lake from different vantage points.
"I love how the decks and lounging areas expand over the water, so you almost feel like you are floating on top of the water," says Aaron. "You also get great views from the different angles from the second floor living room and bedroom. The deck provides a covered space below for the hot tub. This boathouse is definitely now the gathering spot!"
(Traditional cottage photos: viral real estate)