When stepping into Duran Place for Kids, expect to be greeted by the sound of children laughing and music playing in a beautiful bright space awash in natural sunlight. The three-storey building in downtown Oakville is a vision come to life for husband and wife team, Tina De Crisci and Claudio Duran – both big believers in the power of play.
They opened Duran Place over two years ago to provide children a quality of play and learning that contributes to their well-being. Unlike other children's learning centres, key to its mission is flexibility to accommodate the budding curiosity of every youngster. Exploration is encouraged. Children, after all, learn through trial and if a child loses interest in one activity, there is no obligation to stay committed. Parent and child can pick another!
As the recipient of several Oakville Beaver Readers' Choice Awards through 2019 and 2020, Duran Place has clearly connected with the community. It nabbed Diamond (the top spot) in no less than six categories, most notably, Business that gives to the community, along with Children's Entertainment, Family Activities, Recreation Facility, Yoga Centre and New Business.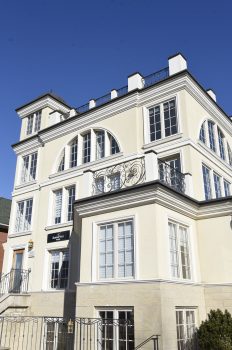 Through the pandemic, Duran Place has been a tremendous resource for parents seeking innovative ways to entertain the kids while providing downtime for mom and dad. From life size big blue blocks for outdoor fun to Batman visits to ecstatic kids outside their front door, it has continued to evolve to serve the needs of young kids and their parents. Duran Place has also partnered with federal charity Embrace Health Foundation; they are working together to provide meaningful support to address the mental health and wellness of children, youth and families.
"We're grateful for all the community support," says owner Tina. "And we can't wait to invite more families to enjoy our creative space."
As COVID restrictions lift, expect the schedule at Duran Place to increase the variety and quantity kid-centric activities in music, dance, art, yoga and special interest lessons. To stay informed, visit Duranplaceforkids.com