Seduced by the flavours and atmosphere of this new Italian gem
By Peter Bailey   Photography by Nikki Wesley
There's been a lot of buzz about downtown Oakville's newest Italian restaurant, Sotto Sotto, which opened last fall in the prestige Randall Residences. It's the second location for the tony restaurant which has been a dining destination for Toronto's most well-heeled crowd throughout its more than 22 years in Yorkville. Drake is reputed to be among its most regular patrons.
Stepping through the entrance, the promise of a sumptuous dining experience is immediately evident. A Bohemian vibe, reminiscent of a Parisienne café, creates an electric, yet intimate, atmosphere. To reach the dining room, patrons walk through the stylishly designed bar area where the far wall reveals an open kitchen with the chef and team preparing dishes. It's a great alternative for dining when reservations are full, or to unwind after a long day with a cocktail in hand. There are seats around the bar counter, as well as several tables.
In the main dining area, which seats 40, Murano glass chandeliers hang from the ceiling, casting a gentle glow throughout the refined space. The setting is, at once, both decadent and comfortable. You have a clear sense that you're in good hands here.
Sotto Sotto is the brainchild of restaurateur Marisa Rocca who opened the Yorkville location in 1989. Her presence is felt in this newest locale due to her managerial skills and a willingness to perform any job that needs doing.
"You could find her doing the dishes, cooking or training staff," says my host, Nazzareno Carlini, a veteran of 35 years in the restaurant business, 15 of them working for Rocca. "She worked in our kitchen here until the end of November," he recalls. "That commands respect."
Sotto Sotto means "underneath" or "the basement" in Italian, an homage to the original Yorkville restaurant that was in a basement. The building was destroyed by a fire a few years ago, Carlini says, although the restaurant was untouched. When a new location opened up soon after a few doors away, Sotto Sotto was back in business. Chef Luigi Sellaro ably handles the kitchen duties in Oakville. He is from Calabria and trained at the Vespucci hotel and chef school in Milan.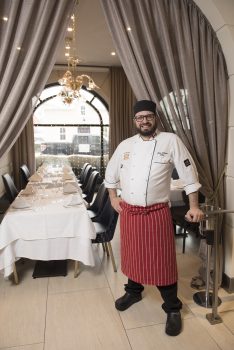 Carlini explains the three pillars of fine Italian dining are food, service and ambience: quality ingredients, welcoming guests as if they are entering your home and an atmosphere that reflects the owner's vision. He excuses himself, then returns from the kitchen with a bowl of tomato sauce and a small plate garnished with a tomato, garlic cloves and a sprig of basil.
"It's really simple," he says. "With these three ingredients we can make fresh, wonderful flavours." He sets bread beside the sauce. We break off pieces, one at a time, to dip in the sauce and cover with freshly ground Parmesan – it's hearty and delicious.
This is followed by a light Provimi Veal Chop Milanese with cherry tomatoes and arugula salad. Chef Sellaro also brings out a Chilean sea bass done to perfection with Swiss chard. It has been cooked in salmoriglio, a southern Italian vinaigrette. The attention to detail is impeccable; a segment of lemon to squeeze over the veal and fish is wrapped in a fine plastic mesh to prevent lemon seeds from landing on the food.
A Villa degli Olmi Pinot Grigio is a perfect accompaniment to both dishes. When asked, Carlini says the restaurant's signature dishes are Roman, namely the Spaghetti alla carbonara, Mezzi rigatoni cacio e pepe (pecorino cheese and black pepper) and All'amatriciana
Can they accommodate diners who want gluten-free or dairy-free food? "One hundred per cent," Carlini replies. "We keep separate cooking utensils. Simply tell the server; no need for advance notice. We cook al momento." Although most products served are sourced locally, he adds that some particularly Italian foods include imported pure olive oil and water buffalo milk mozzarella.
The restaurant proudly features Italian wines and beers. It serves many wines, that are hard to find in Canada, like pecorino. With 2,000 bottles of 30 different types of wine in the collection – including selections from Canada and California – aficionados should have no problem finding the perfect pairing for their dishes.
The restaurant can accommodate groups of up to 58 and also caters to larger groups off-site. Reservations are advised. The entrance, dining rooms and washrooms are all wheelchair accessible.
There is little doubt that the community of Oakville and surrounding areas will quickly be seduced by the exquisite flavours and pleasing atmosphere of the new Sotto Sotto location. With the Lakeshore Rd. construction more than halfway finished, this upscale Italian restaurant's presence is a welcome gem that brings a shine to what will soon be a stunning downtown transformation and destination for locals and visitors, alike.