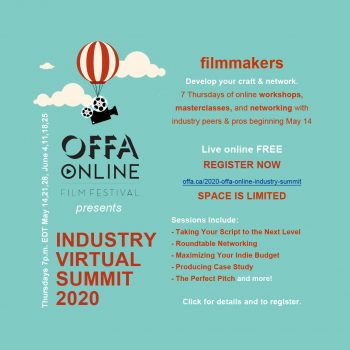 OFFA Online Film Festival presents the industry virtual summit 2020, check out these titles and upcoming event times. Click here to register. 
Wednesday June 17th, LAUNCH EVENT 7:00 pm
LOCAL SHORT FILM FESTIVAL (in partnership with Sheridan Alumni)
Short films from Oakville and surrounding communities – 2hrs 4min
541: a Place for the Community – Dir: Scott Morris (Sheridan College)
Pawsitive Impact – Dir: Hailey Tsolakis (Sheridan College)
Dagwoods Brig – Dir: Alec J Macri (Sheridan College)
Cosmo – Dir: Sarah Gonyea (Sheridan Alumni)
Deescalate – Dir: Cathleen MacDonald (Mississauga)
The Paperboy – Dir: Michael James Regan, Mark Brombacher
Online – Dir: Courtenay Lazorka (Oakville)
Willa – Dir: Corey Mayne (Etobicoke)
Mute – Dir: Constance Hilton (Sheridan Alumni)
Backseat – Dir: Emily Sadler (Oakville) Sheridan College Animation
The Day of Hitman – Dir: Ji Suhaun  (Sheridan College Animation
I Am Here – Dir: Amalia Williamson & Matt Long (Sheridan Alumni)
Q&A: to follow film with selected filmmakers
Thursday June 18th, 7:00 pm
QUEEN OF THE MORNING CALM   Trailer.
Digital Festival Premiere| Canada | Drama | 1hr 26m
Synopsis: Follows 29-year-old immigrant sex worker Debra, and her self-aware 10-year-old daughter Mona, as they embark on a journey of emancipation. Debra attempts to escape cycles of abuse and poverty while learning to become a more nurturing mother and discovering her own self-worth.
Director: Gloria Kim
Starring: Elle A, Marlaina Andre, Pedro Miguel Arce
FILM FACT: Dir. And writer Gloria Ui Young Kim won the Toronto Screenwriting Conference's Telefilm Canada New Voices Award for her script in 2013.
SHORT FILMS: Showstopper (Canada, 12 min, Dir: Jacquile Kambo), The Writing Room (Canada, 2 min, Dir: Alexandria Phillip), Rruga: the Path (Kosovo,  14 min, Dir: Besim Ugzmajli).
Q&A: to follow film with Director Gloria Kim and lead actress Tina Jung.
Friday June 19th, 7:00 pm
MILITARY WIVES (in partnership with Capstick McCollum and Associates)   Trailer.
UK | Comedy/Drama | 1hr 52m
Synopsis: With their partners away serving in Afghanistan, a group of women on the home front form a choir and quickly find themselves at the center of a media sensation and global movement.
Director: Peter Cattaneo
Starring: Kristin Scott Thomas, Sharon Horgan, Emma Lowndes
FILM FACT: The film was inspired by the true story of the Military Wives Choirs, a network of 75 choirs in British military bases across the UK and overseas, featured in the UK television series The Choir.
SHORT FILMS: A Long Weekend with May Blossom (Canada, 7 min, Dir: Chorong Kim), Tokens (Canada, 12 min, Dir: Winnifred Jong)
Q&A: to follow film at 9 pm with representatives from the Canadian Military Wives Choir.
Saturday June 20th, 10:00 am – 1:00 pm
CARING FOR OUR CLIMATE FILM COMPILATION (in partnership with Halton Environmental Network)
WATER BE DAMMED…
WORLD PREMIERE | Canada | Documentary | 35m (made in collaboration with School of the Environment and Department of Geography, University of Toronto
Synopsis: We live on "the blue planet", abundant with water. Yet, we are now facing a crisis created by decades of mismanagement, unlimited depletion and pollution of the earth's water bodies, issues accelerated now by climate change. So how did we reach this crisis point?  Our documentary shows that by not following the four pillars of water sustainability – science, economics, governance AND spiritual connections, we have damned one of our most precious resources. Through the lens of the Satluj river in Punjab, India, we trace the story of challenges, hopes and aspirations of water's will to survive and rejuvenate.
Director:  Vanita Khanna, Writer/Producer Dr. Romila Verma and Prab Kainth
FILM FACT: This screening is the World Premiere of the documentary Water Be Dammed
SOCKEYE SALMON, RED FISH   Trailer
CANADIAN PREMIERE | Russia | Documentary | 51m
Synopsis: Sockeye, a species of wild salmon, is born in Kamchatkan waters and spends its entire life in the Pacific Ocean. Only once does it return to fresh waters – to give offspring, start the circle of life, and die. It is an inexhaustible resource that feeds billions of people on the planet, restored every year. But soon, we may find ourselves facing the unimaginable: humans will exhaust the inexhaustible.
Directors: Dmitriy Shpilenok, Vladislav Grishin
FILM FACT: salmon poaching is so dangerous in the Kamchatkan wildlife sanctuary that the filmmaker faced insurmountable delays shooting. Every night, over 700 kilos of sockeye caviar was poached causing filming to shut down for a time.
SHORT FILMS: Traces (Belgium, 12:05, Dir. Sebastien Pins), It Only Takes a Minute (Oakville, 1:35 Dir. Katie Wang & Hayden Chan, Our Plastic Legacy (11:58, Dir. Dave Tourchin), Halton Climate Collective: Every Action counts (Oakville, 2:50, Dir. Nicholas Wandel), Guardians of the Grasslands (Canada, 12 min, Dir: Sarah Wray and Ben Wilson)
Q&A: with Romila Verma (Writer/Producer Water Be Dammed) and other filmmakers to follow screening.
Saturday June 20th, 2:00 pm – 5:00 pm
THE GREAT DISCONNECT   Trailer
CANADIAN PREMIERE | Cayman Islands | Documentary | 1hr 6m
Synopsis: This timely documentary invites us to reflect on the relationships we have with those around us and raises the question: is it possible to overcome our modern culture of disconnectedness and rediscover how truly essential we are to one other?
Director: Tamer Soliman
FILM FACT:  While filming took the filmmakers to mega cities like Toronto, Vancouver, Los Angeles, the idea to pursue a film about community well-being was sparked during a trip to a small mountain camp in the Blue Mountains of Jamaica.
SHORT FILMS: Once Upon a Pandemic (Canada, 15 min, Dir: Ryan Northcott), Instant Doctor (USA, 7 min, Dir: Bernardo Romero), Hypernova (Canada, 14 min, Dir: Tate Young), Yarne (Nepal – Canadian Premiere, 15 min, Dir: Andrew Krakower)
Q&A: with Producer, Director, Co-Writer Tamer Soliman and Sarah Douglas (Writer, Story Editor)
Saturday June 20th, 7:00 pm – 10:00 pm
THE REST OF US (in partnership with 100 Women Who Care)  Trailer.
REGIONAL PREMIERE | Canada | Drama | 1hr 20m
Synopsis: Two mother-daughter duos must contend with their grief and complicated feelings for one another when the man who connects them dies.
Director: Aisling Chin-Yee
Starring: Heather Graham, Sophie Nélisse, Jodi Balfour
EVENT DETAILS: Katie Nolan, Lindsay Tapscott, and Aisling Chin-Yee will be available after the screening for an online Q&A
SHORT FILMS: Men At War (Canada, 13 min, Dir: Calyx Passailaigue), House of Balls (USA, 9 min, Dir: Kristina Thomas)
Q&A: Q&A to follow films with The Rest of Us Producers Katie Nolan, Lindsay Tapscott, and Dir. Aisling Chin-Yee
Sunday June 21st, 10:00 am – 1:00 pm
FAMILY FUN SHORTS FEST (in partnership with Visit Oakville)
1hr 29min
Waters of March – Dir: Elizabeth Lewis (Canada)
Dia De Las Carpas – Dir: João Dall'Stella (USA)
100% Girl – Dir: Chen Liangyu (Taiwan)
Pawsitive Impact – Dir: Hailey Tsolakis (Canada)
The Butterfly Affect – Dir: Stephanie Blakey (Canada)
Stood Up – Dir: Cjay Boisclair (Canada – BC)
The Lighthouse Man – Dir: Matthew Walton (Sheridan animation, Canada)
Let the Tracks Lead Back – Dir: Christina Jingyu Zhang (Canada)
Little Star – Dir: Sonya Oliaji (Sheridan animation, Canada)
Pancake – Dir: Caitlin Rego (Sheridan animation, Canada)
A Statue's Best Friend – Dir: Ryan Byrne (USA)
How Does Animation Work – Dir: Tyler Pacana (Sheridan animation, Canada)
Puppy Love – Dir: Jennifer Yun (Sheridan Animation, Canada)
Rororo! – Dir. Camille Alonzi (Sheridan Animation, Canada)
The Hockey Cares Story – Dir: Mark Holmes (Canada)
Q&A: to follow with short filmmakers for families.
Sunday June 21st, 2:00 pm – 5:00 pm
A CELEBRATION OF DADS FILM COMPILATION (In partnership with A 71 Entertainment and Caju Multimedia)
FROM THE VINE  Trailer
Digital Premiere | Canada/Italy | Comedy/Drama | 1hr 37m
Synopsis: A downtrodden man experiences an ethical crisis and travels back to his hometown in rural Italy to recalibrate his moral compass. There he finds new purpose in reviving his grandfather's old vineyard, offering the small town of Acerenza a sustainable future, and reconnecting with his estranged family in the process.
Director: Sean Cisterna
Starring: Joe Pantoliano, Wendy Crewson, Paula Brancati, Marco Leonardi
FILM FACT: the film is based on a novel called Finding Marco, by Italian-Canadian Ken Cancellara. Ken grew up in Acerenza, where the film takes place, and the filmmakers were able to access many of the locations because of Ken's close connection to his former hometown.
SHORT FILMS: Catch (Canada – World Premiere, 2 min, Dir: Jenny Dayen Kim), Father By Law (Canada, 18 min, Dir: Maria De Sanctis), European Tour '73(Canada, 16 min, Dir: Ross Munro)
Q&A: with Director Sean Cisterna, Actress Wendy Crewson, and actor Joe Pantoliano
Sunday June 21st, 7:00 pm – 10:00 pm
NATIONAL INDIGENOUS DAY SCREENING (in partnership with Celebration of Nations)  The film will feature a pre-taped traditional opening and closing from the Mississagua of the Credit First Nation
THE BODY REMEMBERS WHEN THE WORLD BROKE OPEN  Trailer
Canada | Drama | 1hr 45m
Synopsis: After a chance encounter on the street, a woman tries to encourage a pregnant domestic abuse victim to seek help.
Director: Kathleen Hepburn, Elle-Máijá Tailfeathers
Starring: Violet Nelson, Elle-Máijá Tailfeathers, Charlie Hannah
Film Fact: the film is nominated for six Canadian screen awards, including best motion picture.
SHORT FILMS: Laura (Canada, 13 min, Dir: Kaayla Whachell), Even In the Silence (Canada, 4 min, Dir: Jonathan Elliott)
Q&A: with filmmakers Elle-Máijá Tailfeathers and Kathleen Hepburn to follow screening (9 pm)
Monday June 22nd, 7:00 pm – 10:00 pm
SHORTS FOR ALL SORTS FILM COMPILATION (in partnership with Film.ca)
Canadian and International Comedy and Dramatic Shorts – 1hr 50min
House of Balls (USA, 9 min, Dir: Kristina Thomas)
La Benvinguda – Dir: Carmen Puche Moré (Spain)
The Empire's Surgeon – Dir: Guillaume Main (Switzerland)
Headshots – Dir: Shane Murphy (Canada)
Cheat Meal – Dir: Jacqueline Godbout (Canada)
White Feather – Dir: Daniel Arbon (UK)
Anna – Dir: Dekel Berenson (UK)
Sah Mata – Dir: Thomas Gailhard (France – World Premiere)
Tangle – Dir: Maliheh Gholamzadeh (Iran)
Portraitist – Dir: Cyrus Neshvad (Luxembourg)
Sainte-Tite – Dir: Florence Pelletier (Canada – Quebec)
Only Death Never Lies – (Netherlands – Canadian Premiere, 15 min, Dir: Sam Yazdanpanna
Rruga: the Path (Kosovo,  14 min, Dir: Besim Ugzmajli)
Q&A- filmmakers to follow the screening