Tannery Park Beacon Striking Blue Every Night in November
Have you been to Tannery Park recently?  You may have noticed that some of the banners along the pathways have changed for Children's Grief Awareness Month. Head to The Observation Deck and you'll find out more, with an encouraging ask – to pause and reflect to acknowledge the impact of grief on children.
The biggest change, however, is at nighttime when the crowds have disappeared.  The Tannery Park Beacon and Oakville sign is awash with a striking blue light.  The light installation called 'Hope' shines brightly over the Oakville harbour, and across to the headlands of Toronto, Burlington, St Catherines and Niagara.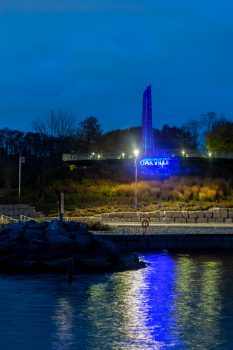 This awareness project has been led by The Lighthouse for Grieving Children, who were looking for an engaging way to shine a light on Children's Grief Awareness Day,  recognized internationally to bring awareness to the needs of grieving children and families.  The blue butterfly is a symbol of hope, and is adopted by all grief agencies as part of the annual campaign.
Hope was officially lit on November 1st with Minister Anita Anand, Town Councillor Dave Gittings, Doug Sams, ED of the Kerr St Village BIA, Dmitry Bernadiner, CEO & President of GVA Lighting and Deirdre Thomas, ED of the Lighthouse for Grieving Children present for the unveiling.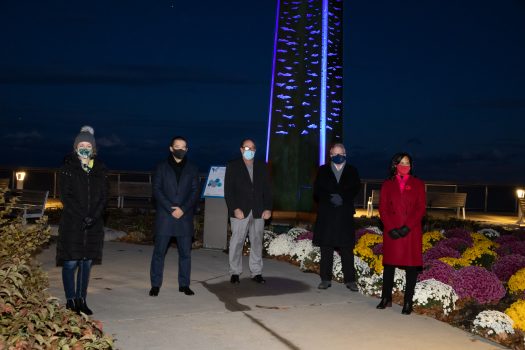 Deirdre Thomas, Executive Director, says "We wanted to build awareness for children's grief by illuminating a prominent landmark in Oakville in blue during Children's Grief Awareness Month. Tannery Park's Observation deck and memorial benches tie in with our ask to 'pause and reflect' " says Deirdre.  "Our aim each year is to ignite, inspire and encourage #one conversation about children's grief – this year we are sharing statistics to educate the public to the 1 in 14 children in Canada will experience the death of a parent or sibling before they reach 18 years old"
The project planning started in February – just before COVID hit – as Lighthouse approached GVA Lighting Inc. based in Oakville. GVA is a globally leading high-end LED lighting systems manufacturer with projects that illuminate architectural landmarks around the world.  They are the 3rd ranked lighting company in the world, their innovative lighting products bringing light, art, science, and technology together to places like the Prince Edward Viaduct in Toronto, the Washington's metro system in USA and other numerous signature lighting projects worldwide.  When Lighthouse approached them for this philanthropic project in their hometown of Oakville, they immediately connected with the cause and set about making sure it would happen.
"We are pleased and honored to have this amazing opportunity to contribute for such an important cause and to partner with The Lighthouse' passionate team", says Dmitry Bernadiner, CEO & President of GVA Lighting, "We are deeply rooted in Oakville which is our Corporate Headquarters and our home. We believe light is an art that inspires and engages. I hope that by sharing our passion we will help to raise awareness in the community."
Lighthouse are asking local residents, photographers and all visitors to post their night-time photos of Tannery Park on social media, tag them @lighthouse4grievingchildren and use the hashtags #oneconversation #CGADHope to help raise awareness.