Buddy Valastro, a.k.a. "Cake Boss" from the mega hit TV series Cake Boss and Buddy vs. Duff, is about to open his first Carlo's Bakery in Canada, located in Port Credit. The 3,200 square foot bakeshop is slated to open in August.
"This will be the first brick and mortar Carlo's Bakery in Canada," said Valastro during a phone interview from Las Vegas. "I love Canada and love the Canadian people, and this is what attracted me to open a bakeshop. It's a magical location with an outdoor patio, a gelato window and cases filled with signature cakes, cupcakes, cannoli and other Italian specialties in addition to sandwiches and New York style brick oven pizza slices."
Asked what three treats he recommends I try first, Valastro quickly answers: "Lobster Tails, Cannoli and one of our cake slices. They are all so good, but the Rainbow Cake is one of the most popular."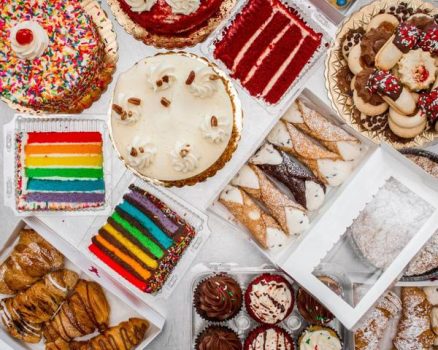 Canadians may have had a chance to try cake slices by The Cake Boss at one of the many Carlo's Bake Shop Express ATM vending machines found across the GTA.  The success of the cake kiosks prompted Valastro to expand his operations in Canada. "We hope this is the first of many Carlo's Bakeries in Canada," states Buddy.
Renowned for creating enormous, over-the-top cakes for his TV shows, Valastro finds inspiration everywhere he looks.
"Today I was walking down the Las Vegas strip and I saw this woman wearing a beautiful dress, and I immediately started wondering how I can achieve that draping effect on a cake. I look at the fall foliage and see vivid colours on a cake. I live, eat, and dream cakes."
Valastro has just wrapped up filming for Season 3 of Buddy vs. Duff. The hit TV series pits chefs Buddy Valastro and Duff Goldman against each other in a baking competition to see who will earn the title of the "Undisputed King of Cake". Duff won Season 1 while Buddy took Season 2, so tied at one all, the competition during Season 3 was fierce. And then part way through the season, Buddy had a life-changing accident which could have ended his baking career, when his hand got lodged in a bowling pin cage mechanism at his home bowling alley. "A metal spike went through my right hand," explains Valastro. "I had no strength in my hand, and this really set me back. Several operations later, my hand is back to about 90 per cent strength."
Despite the injury, Valastro managed to make what he calls 'the cake of his dreams' for the finale of Season 3. "It is my favourite cake that I have ever made, called the Nuclear Dinosaur," states Valastro. "The theme was monsters, and the cake was 20 feet long and weighed 2,000 pounds. It took six people six days to make it. When it was finished, I started to cry—that is the first time I have ever cried over a cake! I was just so proud of what my team and I had accomplished in light of my injury."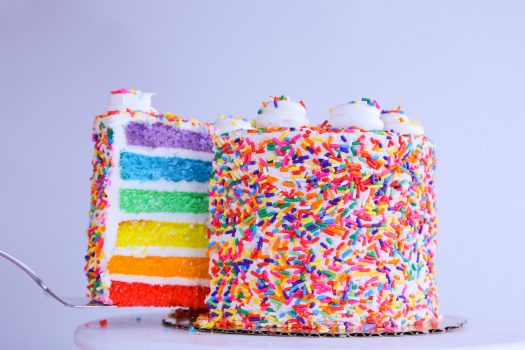 Knowing there was an embargo on information about who won Buddy vs. Duff, I still had to ask.
"I can't tell you, but what I can say is that Season 3 was the most challenging and we made some of the best cakes imaginable," he answers. "I greatly admire Duff and his team. It did not really matter to me if I won or not, it is about the quality of the work. We took cake making to new heights."
Baking is in Buddy's blood. At age 14 he started helping in his family's bakeshop, named Carlo's after his grandfather who founded the business. The young Buddy Jr. worked alongside his father and mentor (Buddy Sr.) His father passed away suddenly when Buddy was 17. Buddy, his mother and sisters took over the bakery and Buddy became a Master Baker.
Valastro talks about his late father coming to him in a dream when he was struggling to make his father's famous Lobster Tail pastries: "I would help dad, but he always made the Lobster Tails. We tried making them, but they just were not as good as his. I am an incredibly determined person as you can tell from my TV shows, and this was driving me crazy! Then one night about three months after dad had passed, he came to me in a dream. He said, 'I'm not here to stay, I am here to show you how to make Lobster Tails.' I get goosebumps when I talk about this, but it is a true story. He reassured me I could do it and, in my dreams, I started making the pastry. The next day I went to the shop and my Lobster Rolls tasted just like Dad's. This was his way of showing that he is watching over me."
What began as one small family bakeshop has now grown into a successful empire with several bakeries in New Jersey and New York, TV shows, Buddy V's restaurant in Las Vegas and a slew of New York Times best-selling cookbooks.
When it comes to cakes, if you can dream it, Valastro and the Carlo's Bakery team can make. After all, Valastro has made cakes in the shape (and size) of dinosaurs, a whale, and a giant edible NASCAR race car cake. One of his cakes was voted by The Today Show viewers as The Best Cake in America.
For some of the best cakes in Canada, Carlo's Bakeshops in Port Credit will sell a wide variety of cakes as well as design custom cakes for special occasions. Whether you want a cake shaped like the Port Credit Lighthouse or one that resembles your pet, the Cake Boss has readily proved that anything is possible.
Carlo's Bakery is located at 167 Lakeshore Road West in Port Credit, carlosbakery.ca