What's your jam?
A Master Preserver shares tips on crafting homemade jams
As the fall season gives way to winter, the bounty of local produce will sadly depart along with the beautiful weather. How many of us wish we could bottle summer to keep handy for the cold dark days ahead? There is, in fact, one way to preserve the taste of summer – making homemade jams. While it may not result in a suntan, it can brighten your day as well as perk up your menu. A gratifying and creative way to enjoy delicious fruits all year long, Jam Bake, a new book by chef and author, Camilla Wynne, may be all the inspiration you need to give it a try.
Just as the pandemic gave rise to home bakers, crafting homemade jam is yet another way to get more connected to our earth and our health. If you've dabbled in making homemade jams or are curious to give it a try, then Jam Bake is perfect for you. A writer, recipe developer, and cooking teacher based in Toronto, Camilla is a trained pastry chef and one of Canada's only Master Preservers. Jam Bake offers a simple streamlined process for preserving as well as a selection of her mouthwatering recipes for jams and baked goods.
West of the City reached out to the preserving whiz to get the scoop on her new book and to glean her expertise on the joys and challenges of preserving fruits.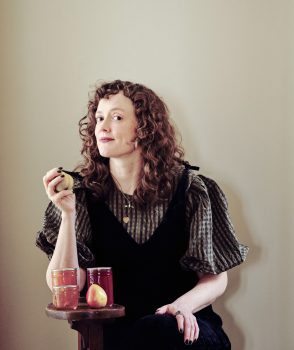 Have you noticed an increased interest in preserving over the past year, particularly because of the pandemic with all of us homebound?
Definitely there has been an increased interest in preserving, as evidenced by the unprecedented Mason jar shortages all over North America last year. Certainly one of the silver linings of a very difficult time was that a lot of people were able to explore some new hobbies and connect with their foodways, which maybe they never had time to do before.
What do you think people find so appealing about preserving fruits?
There's something very satisfying about making something for your future self that you'll stash away in the cupboard and open up months later. Maybe it's the depths of winter when there's no local fruit available, but you can open a jar of homemade peach jam and be transported to sunnier days. It's also such a great way to eat locally all year, visiting farmers' markets and buying what's seasonal to preserve.
Is a jar of jam a lot tastier preserved from home than one you can pick up at the grocery store?
Well, it depends on your tastes, of course, but for me homemade jam is always going to be superior because I make it exactly to my tastes. Most importantly, because my jams have less sugar and no added pectin like most commercial jams, they have a more concentrated fruit flavor. You also have the opportunity to get creative and create flavor combinations that aren't sold in stores.
What is the biggest hurdle most people have to preserving at home?
A lot of people have preconceived notions about preserving– that you have to make huge batches, that you need a lot of equipment, that it's really dangerous. My passion is dispelling those myths and showing people that they can fit preserving into their lives, probably just using what they have in their kitchen right now. My streamlined method is so easy you can spread the steps out over the course of the week, and you don't even need a big pot of boiling water! As for safety, preserving fruit is extremely low risk, but I make sure to teach folks the science behind it so they can really understand the process.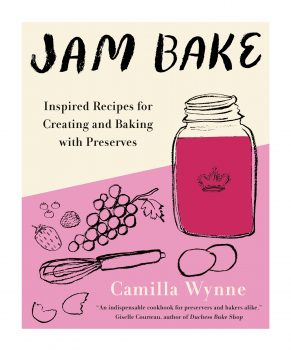 What are your favourite fruits to preserve?
I don't think I could ever pick a favorite, but three things I make every year without fail are apricot jam, black currant jam, and Seville orange marmalade. We grow such wonderful apricots in Ontario and the jam has a little tartness and a bewitching almond flavor that is so good for baking. Black currants are a joy to make into jam, as they are high in pectin and acid, plus I love their texture and musky flavor. Finally, Seville oranges are so special with their short season, high pectin and rich flavor; I must always have it in my cupboard.
What is the weirdest thing you've ever preserved?
I ran a preserving company in Montreal and Hamilton for 7 years. One of our most popular products was a Caesar pickled celery. In an effort to mitigate food waste, we tried pickling the celery bottoms, which we would usually throw out. Sliced, they looked a little like fennel, so we added fennel seeds, orange zest, white wine vinegar, and called them "Faux Fennel." Let's just say it wasn't a bestseller.
Is fall a good time of year to preserve?
People generally only think of preserving come fall, but so much great fruit is already out of season by then! I preserve all year round but really ramp up during summer berry and stone fruit season, as well as in the winter for marmalade. I love fall for putting up tomatoes, apple sauce, crabapple jelly, pear jam and other delights.
You're a trained pastry chef, and this book marries baking and preserving. What are your favourite ways to enjoy jam with baked goods?
Again, picking favorites is impossible! Jam combines with pastry goods in so many delicious ways, whether it's sandwiching cookies, swirled through cake or brownie batter, rolled up in sweet dough or meringue… And then, of course, there's always a big dollop on a scone with clotted cream– that cannot be beat.
What do you hope readers personally gain from your book?
I really want readers to be empowered by understanding the science behind preserving processes. Once you understand this you are free to get creative and express yourself through the medium of preserves. I also want them to understand that preserving and baking are skills that are acquired through repetition– never get discouraged, just try, try again! Everyone can do it, and I want to help them by simplifying the process and providing solid, tested recipes to help them succeed.
Recipes excerpted from Jam Bake by Camilla Wynne.Copyright © 2021 Camilla Wynne. Photography by Mickaël A. Bandassak. Published by Appetite by Random House®, a division of Penguin Random House Canada Limited. Reproduced by arrangement with the Publisher. All rights reserved.