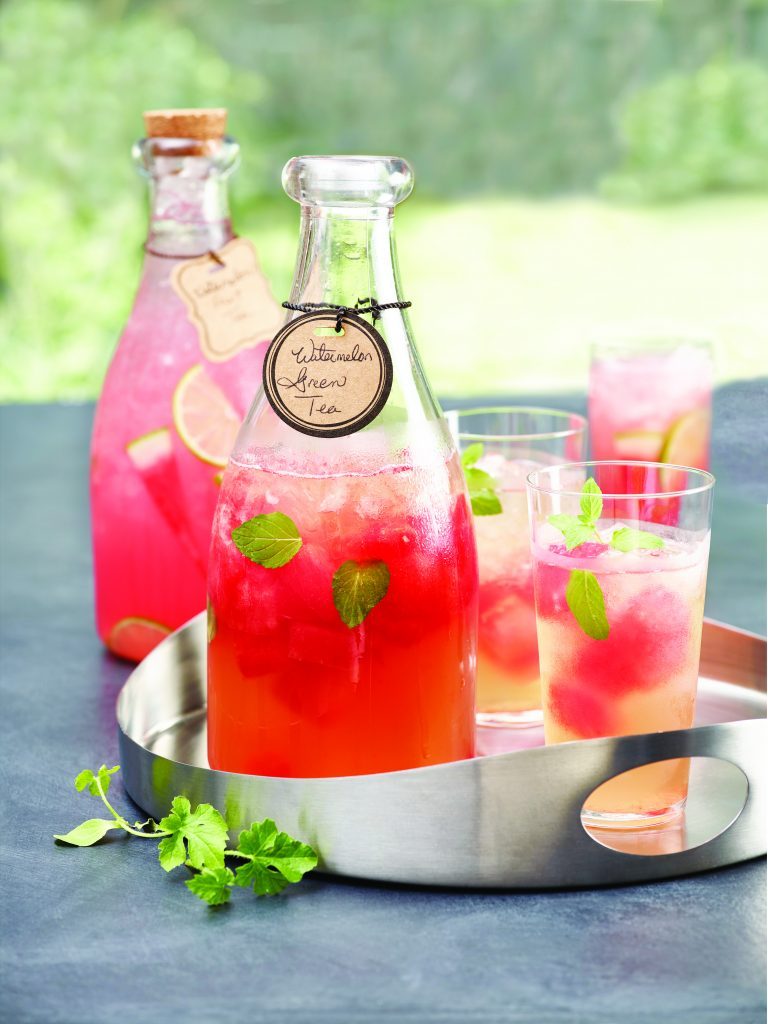 Watermelon Green Tea
A caffeinated take on infused water, this tea is perfect for brunch or an afternoon pick me up.
Ingredients
2 cups (500 mL) green tea, homemade or pre-made, store-bought
1 cup (250 mL) watermelon, cubed and frozen
Honey, to taste
Fresh mint leaves
Ice (optional)
Instructions
Add all ingredients into a pitcher and stir. Add ice if desired.
Sweet Watermelon Pizza
The hardest part of making this sweet pizza is deciding what toppings to use. Healthy enough for breakfast and sweet enough for dessert, this watermelon pizza will quickly make its way into your weekly meal rotation.
Ingredients
1-inch (2.5 cm) thick watermelon round
Greek yogurt of choice
Berries of choice (blueberries, strawberries, blackberries)
Shredded coconut
Slivered almonds
Mint
Instructions
Place watermelon on a cutting board and spread yogurt over top to cover.
Top with fresh berries, sprinkle with coconut and slivered almonds and garnish with fresh mint. 
Fun facts
• Watermelon is comprised of 92 per cent water. This means that eating one cup of watermelon is almost the same as drinking a cup of water.
• Watermelon freezes well. Try it instead of ice cubes to cool and flavour water.
• You can eat watermelon rind! The white of the rind is nutritious and versatile. Try it in a coleslaw or stir-fry; alternatively preserved as pickles, jerky or kimchi.
• Watermelon is the lycopene leader in fresh produce, having higher concentrations of lycopene than any other fresh fruit or vegetable. Proponents of lycopene suggest that it can contribute to overall heart health and even help protect our skin from harmful UV rays.
• Watermelon is one of the few natural foods with an abundance of the amino-acid L-Citrulline. Research indicates this helps with good cardiovascular flow for heart health, as well as faster recovery for athletes.
• Did you know you can feed up to three dozen people from just one watermelon? An average seedless watermelon yields about 11 cups of fruit when cut into cubes.
• Canadians love watermelon! Due to the short local season, we import most of it from the States during the hot summer months. Each year, Canadians buy over 300 million pounds of US watermelon.
• Watermelon can be stored uncut at room temperature for seven to 10 days.
Once cut, watermelon can be kept fresh in the refrigerator for three to four days in a plastic container or plastic wrap.
• Watermelon is fat free, with just 80 calories for a two-cup serving.