By Danielle Leonard
There's a new kind of appliance showing up in kitchens across Canada that calls itself "the world's smallest, smartest kitchen." When I was first introduced to the Thermomix brand, I was flummoxed to comprehend how a compact countertop appliance could deliver its brazen promises. Its latest model, the TM6, claims to replace several appliances with its ability to chop, beat, blend, whip, weigh, grind, knead and mince at the touch of a button. I was delighted to be given the opportunity to put its claims to the test.
Invented 50 years ago by Hansjörg Gerber in France, the latest version of the Thermomix, TM6, is the ninth model since the original. Gerber was a sales manager for blenders when a bungled sales call inspired him to create a blender that could heat as well as mix – a novel idea in 1971. Today, the inventor explains his model quite simply in a recent video celebrating the company's 50th anniversary: "Thermomix means heating and mixing at the same time." A unique combination for the time, the appliance has long since expanded its repertoire. Although the brand has graced kitchens in Europe for decades, it's relatively new to Canada having entered the North American market a few years ago. With busy schedules, and at-home offices, the timing is ripe for new solutions to the age-old question: What to make for dinner?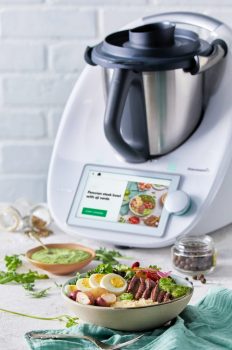 My first recipe using the TM6 is a risotto – a dish I long gave up on because of the labour-intensive task of stirring required. With the Thermomix, absolutely no stirring is needed. The appliance leads me through each step in the recipe, providing simple instructions on what ingredient to add, even measuring as I pour them into the large metal pot that carries out its various functions. As each function is completed, a pleasant chime plays to alert me that it's time for the next step. Much of my cooking with the Thermomix is performed with the use of a single button that I press or turn – as it instructs me. When finished, the risotto dish is cooked to perfection and cleanup is a breeze (I had lots of time to tidy up between chimes).
The big test, for me, was whether I could entice my teens to make dinner. I scored when my 19-year-old son was curious to experience the high tech appliance that had taken residence in his kitchen. Together, we scrolled the online recipe selection using the TM6's touch screen and settled on a beef ramen dish with vegetables. On a typical day, his attention would wane after 10 minutes, but the Thermomix made the process so enjoyable, he eagerly continued through each step as it appeared on the screen instructing us to pour this, add that, and turn the button dial as required. When the chime played to signal the next step, he would emerge from his bedroom to continue with the recipe. Fancy technology makes everything seem more exciting, even for a millennial who you'd think had seen it all by now.
When we served the noodle dish at dinner, his two brothers marveled at how delicious it was. Perhaps an indictment against my own cooking skills, but one that I warmly welcome. If the Thermomix encourages my kids to cook, I'm happy to take a back seat to a machine.
My new favourite feature is the boiled egg function. But how hard is it to boil an egg, you ask? Not hard at all, but it's even easier with the Thermomix which cooks it to exact doneness – soft, medium soft, medium, medium hard and hard. All I need to do is add water, push a button and walk away until the chime rings. Egg salad sandwiches are having a resurgence in my home.
The many ways to use the Thermomix seem countless – which is why the company offers a try before you buy option as well as a consultant to provide tutorials on how to use it. As intuitive as it is, the machine does look quite overwhelming when it's unboxed. It doesn't take long, however, before this helpful appliance becomes the favourite home chef.